Strong year sees Sony climb above Microsoft in revenue rankings
But Tencent still the world's biggest games company with 37% growth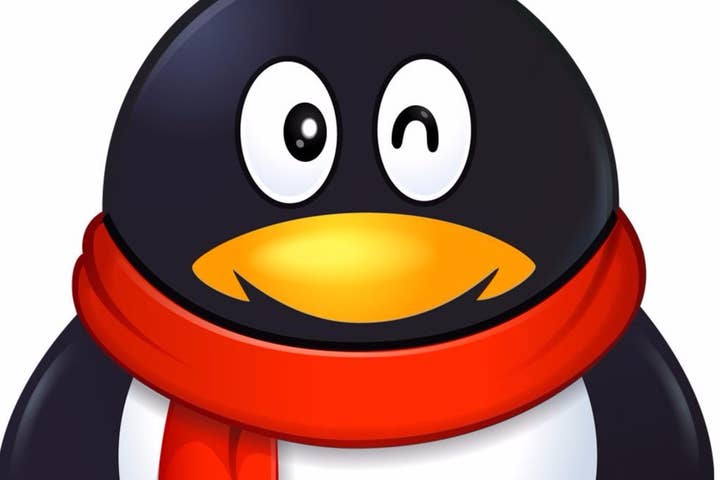 Newzoo has updated its chart of the world's biggest games companies by revenue, painting a picture of a year of almost universal growth across the industry's top 25 companies. Between them, those 25 firms accounted for 65 per cent of the global industry's revenues, a total of $54.1 billion. The figures come from the research firm's 2014 Global Games Market Report.
Tencent retained its position as the world's biggest public gaming company, registering an incredible 37 per cent in annual growth to book a total of $7.2 billion in sales. Sony comes second, leapfrogging Microsoft, with a 27 per cent YoY growth from $4.7 billion to $6 billion. third placed Microsoft only managed a 3 per cent upswing to a total of $5 billion. However, the biggest gains in the top ten come from Google, which jumped 89 per cent from $1.4 billion to $2.6 billion.
Google now sits just behind Apple in the table. Between them, the two firms account for 83 per cent of the world's $24.5 billion mobile gaming market. Whilst Google has closed the gap a little this year, Newzoo sees the pivotal battle for the Chinese market as the key factor in deciding whether that trend continues.
"Apple had a great year in China in 2014, becoming the biggest tech brand in China by revenues with $37.1Bn of sales and an equally impressive $14.1Bn in profit," reads an extract from the full report. "If the surge in hardware sales in China, which will soon be the world's biggest mobile games market, converts to game spending, Apple will enjoy a strong boost in revenues and may pull away from Google again."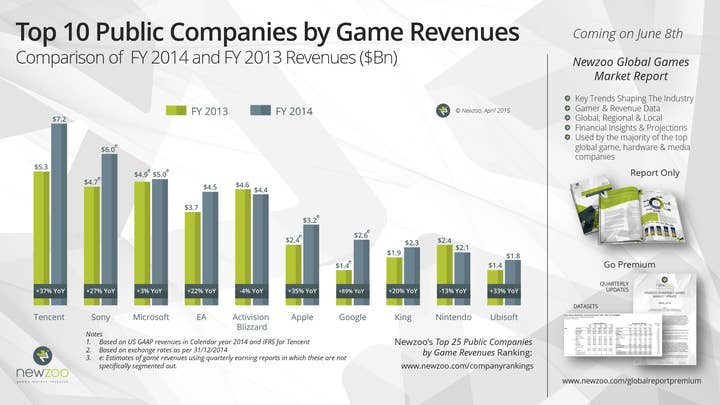 In geographical terms, Japan had a tricky year, despite Sony's growth. With particular losses in the mobile sector, Japan nonetheless suffered once more from shifts in the currency markets.
"In 2013, Japanese companies accounted for 33.7 per cent of all revenues generated by the top 25 companies," reads the report. "Last year this fell to 29.8 per cent and the decline in absolute terms was -2.5 per cent, despite Sony's strong performance. Without Sony, the numbers would have looked much worse. Tellingly, 9 out of the 16 publically listed Japanese companies reported a year-on-year decline in revenues in 2014.
"The weak Yen obviously hurts the share of global revenues of Japanese companies when expressed in US$, but the Japanese industry also suffered from two fundamental weaknesses: being very exposed to the traditional console market with low growth and the three of Japan's four mobile powerhouses Nintendo (-13 per cent YoY), DeNA (-38 per cent YoY) and GREE (-23 per cent) being big in the 'wrong' mobile sub-segments, notably feature phones and handhelds. Both issues are being addressed with a shift in focus towards iOS and regular Android games, but whether the partnership between Nintendo and troubled DeNA is the best route to global success on mobile remains to be seen."
Although the rankings are only for public companies which release their financial figures, Newzoo has also calculated that the world's biggest private gaming firm, Supercell, would be ranked 11th.
Disclosure: GamesIndustry.biz receives a commission for referred sales of this Newzoo report.