Star Wars is the sixth highest grossing video game franchise in UK history | UK Time Tunnel
Ahead of Star Wars Jedi: Survivor, we look at the biggest Star Wars games and launches over the last 30 years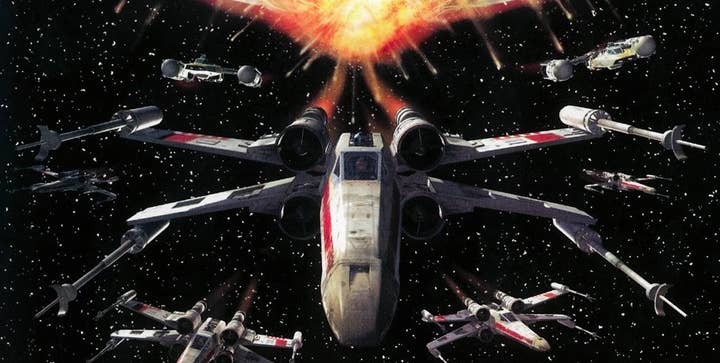 The upcoming release of Star Wars Jedi: Survivor will by the 119th Star Wars video game released since 1993 (when LucasArts published X-Wing).
That's an average of almost four Star Wars games a year over the last three decades.
That's according to Dorian Bloch, the games lead at GfK. It means that there are more games based on Star Wars than any other IP, including Mario and The Sims (with all its various expansion packs).
Combining data from GfK, Gallup and Chart-Track, the charts company says that £492 million has been made by physical Star Wars video games since 1995, making it the sixth biggest video games IP in the UK. It's bigger than Pokémon, but behind the LEGO franchise (note: All data is based on boxed game sales only). For clarity, LEGO Star Wars games are counted under both 'LEGO' and 'Star Wars' for the below chart.
Biggest Selling Games Franchises UK
| Pos | Franchise | Total Boxed Revenue | Title Count (since 1995) |
| --- | --- | --- | --- |
| 1 | FIFA | £1.96bn | 51 |
| 2 | Call of Duty | £1.53bn | 33 |
| 3 | Mario | £1.07bn | 101 |
| 4 | Grand Theft Auto | £769m | 23 |
| 5 | LEGO | £506m | 80 |
| 6 | Star Wars | £492m | 107 |
| 7 | Pokémon | £486m | 96 |
| 8 | The Sims | £438m | 108 |
| 9 | Assassin's Creed | £409m | 29 |
| 10 | Need for Speed | £378m | 31 |
The biggest boxed Star Wars game launch came in 2015, when EA released Star Wars Battlefront for PS4, Xbox One and PC. The game sold more than double the previous best-selling Star Wars game – The Force Unleashed back in 2008.
This week's Star Wars Jedi: Survivor will want to beat its predecessor -- Fallen Order -- which is in sixth place. The game is likely to have charted in the Top Five with digital data included.
Star Wars game releases have slowed down in recent years, but when they come they launch big. Last year's LEGO Star Wars game was the fourth biggest Star Wars launch of all time (and the biggest in the LEGO Star Wars sub-series). In terms of EA's recent Star Wars titles (since 2015), only Star Wars Squadrons missed out on the Top Ten.
Biggest Star Wars Game Launches (UK)
Pos
Title
Publisher
Platforms
Release Year
1
Star Wars: Battlefront
EA
PS4/Xbox One/PC
2015
2
Star Wars: The Force Unleashed
LucasArts
PS2/PS3/360/
Wii/DS/PSP
2008
3
Star Wars: Battlefront II
EA
PS4/Xbox One/PC
2017
4
LEGO Star Wars: The Skywalker Saga
Warner Bros
PS4/PS5/Xbox Series/Switch
2022
5
Star Wars Episode 3: Revenue of the Sith
LucasArts/Ubisoft
PS2/Xbox/DS/GBA
2005
6
Star Wars Jedi: Fallen Order
EA
PS4/Xbox One
2019
7
LEGO Star Wars: The Force Awakens
Warner Bros
PS3/PS4/Xbox One/
360/3DS/Vita/PC
2016
8
LEGO Star Wars III: The Clone Wars
LucasArts
PS3/360/Wii/
DS/3DS/PSP/PC
2011
9
Star Wars: The Old Republic
EA
PC
2011
10
Star Wars: Battlefront
LucasArts/Activision
PS2/Xbox/PC
2004
As for the biggest Star Wars games in the UK, there are many that rose up the charts over time. Games like LEGO Star Wars: The Complete Saga and Star Wars: Battlefront II (the 2005 original) didn't deliver big day one numbers, but found an audience more gradually. In fact, the three best-selling LEGO Star Wars games didn't feature in the biggest launch list at all.
Out of 107 games, Star Wars Jedi: Fallen Order is No.8 in the biggest Star Wars games of all time, setting a high bar for EA's new game this week.
Biggest Star Wars Games (UK)
Pos
Title
Publisher
Platforms
Release Year
1
Star Wars: Battlefront
EA
PS4/Xbox One/PC
2015
2
LEGO Star Wars: The Complete Saga
LucasArts
PS3/360/Wii/
DS/PC
2007
3
LEGO Star Wars 2: The Original Trilogy
LucasArts
PS2/Xbox/360/GC/ DS/GBA/PSP/PC
2006
4
Star Wars: Battlefront II
LucasArts
PS2/Xbox/PSP/PC
2005
5
LEGO Star Wars
TT Games
PS2/Xbox/GC/GBA/PC
2005
6
Star Wars Episode 3: Revenue of the Sith
LucasArts/Ubisoft
PS2/Xbox/DS/GBA
2005
7
Star Wars: The Force Unleashed
LucasArts
PS2/PS3/360/
Wii/DS/PSP
2008
8
Star Wars Jedi: Fallen Order
EA
PS4/Xbox One
2019
9
Star Wars: Battlefront II
EA
PS4/Xbox One/PC
2017
10
LEGO Star Wars III: The Clone Wars
LucasArts
PS3/360/Wii
DS/3DS/PSP/PC
2011
Every Star Wars Boxed Game Released In The UK (Since '93)
Pos
Title
Publisher
Format
Release Year
1
X-WING
LUCASARTS/US GOLD
PC/PC
1993
2
SUPER STAR WARS
NINTENDO
SNES
1993
3
STAR WARS CHESS
MINDSCAPE
PC/Mega CD
1993
4
X-WING: IMPERIAL PURSUIT
LUCASARTS/US GOLD
PC
1993
5
B-WING
US GOLD
PC
1993
6
REBEL ASSAULT
US GOLD/LUCASARTS
PC/3DO/Mega CD
1993
7
THE EMPIRE STRIKES BACK
JVC
SNES/Game Boy
1994
8
X-WING / B-WING / IMP. PURSUIT
LUCASARTS/US GOLD
PC
1994
9
STAR WARS ARCADE
SEGA
Sega 32X
1994
10
TIE FIGHTER
LUCASARTS
PC
1994
11
TIE FIGHTER: DEFENDER OF EMPIRE
LUCASARTS
PC
1995
12
REBEL ASSAULT 2
LUCASARTS
PS1/PC
1995
13
X-WING COLLECTOR'S CD
LUCASARTS/AVALON
PC
1996
14
SUPER RETURN OF THE JEDI
THQ/AVALON
SNES/Game Boy/Game Gear
1996
15
DARK FORCES
LUCASARTS
PS1/PC
1996
16
TIE FIGHTERS COLLECTOR'S CD
LUCASARTS/AVALON
PC
1996
17
DARK FORCES EXTRA
US DREAMS
PC
1996
18
X-WING EXTRA
US DREAMS
PC
1996
19
SHADOWS OF THE EMPIRE
LUCASARTS/NINTENDO
PC/N64
1997
20
YODA STORIES
LUCASARTS/THQ
PC/GBC
1997
21
X-WING VS TIE FIGHTER
LUCASARTS
PC
1997
22
STAR WARS
US GOLD/NINTENDO/UBISOFT
Game Gear/Master System/Game Boy/NES
1997
23
REBEL ASSAULT / X-WING COLLECTORS
AVALON INTERACTIVE
PC
1997
24
DARK FORCES 2 - JEDI KNIGHT
LUCASARTS
PC
1997
25
MONOPOLY STAR WARS
ATARI/BANDAI NAMCO
PC
1997
26
X-WING VS TIE FIGHTER: BALANCE OF POWER
LUCASARTS
PC
1998
27
JEDI KNIGHT: MYSTERIES OF THE SITH
LUCASARTS
PC
1998
28
STAR WARS: TERA KASI
LUCASARTS
PS1
1998
29
STAR WARS SUPREMACY
LUCASARTS
PC
1998
30
REBEL ASSAULT/REBEL ASSAULT 2
AVALON INTERACTIVE
PC
1998
31
X-WING/TIE FIGHTER
AVALON INTERACTIVE
PC
1998
32
JEDI KNIGHT & MYSTERIES OF THE SITH
LUCASARTS
PC
1998
33
STAR WARS: X-WING COLLECTOR SERIES 3
LUCASARTS
PC
1998
34
STAR WARS: ROGUE SQUADRON
LUCASARTS
N64/PC
1998
35
X-WING / BALANCE OF POWER
LUCASARTS
PC
1999
36
STAR WARS: X-WING ALLIANCE
LUCASARTS
PC
1999
37
STAR WARS DROIDWORKS
UBISOFT
PC
1999
38
STAR WARS EP 1: THE PHANTOM MENACE
LUCASARTS
PS1/PC
1999
39
STAR WARS EPISODE 1: RACER
LUCASARTS
N64/Dreamcast/GBC/PC
1999
40
STAR WARS: GUNGAN FRONTIER
UBISOFT
PC
1999
41
STAR WARS: PIT DROIDS
UBISOFT
PC
1999
42
STAR WARS: YODA'S CHALLENGE ACTIVITY
UBISOFT
PC
1999
43
STAR WARS: FORCE COMMANDER
LUCASARTS
PC
2000
44
STAR WARS: JEDI POWER BATTLES
LUCASARTS/THQ
PS1/Dreamcast/GBA
2000
45
STAR WARS EARLY LEARNING ACTIVITY
UBISOFT
PC
2000
46
STAR WARS MATHS: JABBA'S GAME GALAXY
UBISOFT
PC
2000
47
STAR WARS EP 1: DEMOLITION
LUCASARTS
PS1/Dreamcast
2000
48
STAR WARS EP1: OBI-WAN'S ADVENTURES
THQ
GBC
2000
49
STAR WARS: THE COLLECTION
LUCASARTS
PC
2001
50
STAR WARS: BATTLE FOR NABOO
LUCASARTS/THQ
PC/N64
2001
51
STAR WARS: STARFIGHTER
LUCASARTS
PS2/PC
2001
52
STAR WARS: SUPER BOMBAD RACING
LUCASARTS
PS2
2001
53
STAR WARS: GALACTIC BATTLEGROUNDS
LUCASARTS
PC
2001
54
STAR WARS: RACER REVENGE
LUCASARTS
PS2
2002
55
STAR WARS: JEDI KNIGHT II - JEDI OUTCAST
LUCASARTS/ACTIVISION
XB/GameCube/PC
2002
56
STAR WARS: JEDI STARFIGHTER
LUCASARTS/ACTIVISION
PS2/XB
2002
57
STAR WARS: OBI WAN
LUCASARTS/MICROSOFT
XB
2002
58
STAR WARS: ROGUE LEADER
LUCASARTS/ACTIVISION
GameCube
2002
59
STAR WARS: CLONE CAMPAIGNS
LUCASARTS
PC
2002
60
STAR WARS EP 2: ATTACK OF THE CLONES
THQ
GBA
2002
61
STAR WARS: GALACTIC BATTLEGROUNDS SAGA
ACTIVISION
PC
2002
62
STAR WARS: THE CLONE WARS
LUCASARTS
PS2/XB/GameCube
2002
63
STAR WARS EP II: NEW DROID ARMY
THQ
GBA
2002
64
STAR WARS: BOUNTY HUNTER
LUCASARTS/ACTIVISION
PS2/GameCube
2002
65
STAR WARS: KNIGHTS OF THE OLD REPUBLIC
LUCASARTS/ACTIVISION
XB/PC
2003
66
STAR WARS: JEDI KNIGHT - JEDI ACADEMY
ACTIVISION
XB/PC
2003
67
STAR WARS GALAXIES: AN EMPIRE DIVIDED
LUCASARTS
PC
2003
68
STAR WARS: REBEL STRIKE – Rogue Squadron 3
LUCASARTS
GameCube
2003
69
STAR WARS: FLIGHT OF THE FALCON
ACTIVISIO/THQN
GBA
2003
70
STAR WARS: BATTLEFRONT
LUCASARTS/ACTIVISION
PS2/XB/PC
2004
71
STAR WARS TRILOGY: APPRENTICE OF FORCE
UBISOFT
GBA
2004
72
STAR WARS GALAXIES: JUMP TO LIGHTSPEED
LUCASARTS
PC
2004
73
STAR WARS: KNIGHTS OF THE OLD REPUBLIC 2
LUCASARTS
XB/PC
2005
74
STAR WARS: REPUBLIC COMMANDO
LUCASARTS
XB/PC
2005
75
LEGO STAR WARS
TT GAMES
PS2/XB/GameCube/
GBA/PC
2005
76
STAR WARS EP III: REVENGE OF THE SITH
LUCASARTS/UBISOFT
PS2/XB/DS/GBA
2005
77
STAR WARS GALAXIES: RAGE OF WOOKIES
LUCASARTS
PC
2005
78
STAR WARS: BATTLEFRONT II
LUCASARTS
PS2/XB/PSP/PC
2005
79
STAR WARS EP III: ROTS ACTIVITY CENTRE
UBISOFT
PC
2005
80
STAR WARS: EMPIRE AT WAR
LUCASARTS
PC
2006
81
LEGO STAR WARS II: THE ORIGINAL TRILOGY
LUCASARTS
PS2/XB/360/GameCube/
DS/GBA/PSP/PC
2006
82
STAR WARS: E.A.W. FORCES OF CORRUPTION
LUCASARTS
PC
2006
83
STAR WARS GALAXIES: COMPLETE ADVENTURES
LUCASARTS
PC
2006
84
STAR WARS REVENGE OF THE SITH ACTIVITY CENTRE
FOCUS MULTIMEDIA
PC
2006
85
STAR WARS: LETHAL ALLIANCE
UBISOFT
PSP/DS
2006
86
STAR WARS: THE BEST OF PC
LUCASARTS
PC
2006
87
STAR WARS: EMPIRE AT WAR GOLD
LUCASARTS
PC
2007
88
STAR WARS BATTLEFRONT: RENEGADE SQUADRON
LUCASARTS
PSP
2007
89
LEGO STAR WARS: THE COMPLETE SAGA
LUCASARTS
PS3/360/WII/DS/PC
2007
90
STAR WARS: THE FORCE UNLEASHED
LUCASARTS
PS2/PS3/360/
WII/DS/PSP
2008
91
STAR WARS CLONE WARS: JEDI ALLIANCE
LUCASARTS
DS
2008
92
STAR WARS CLONE WARS: LIGHTSABER DUELS
LUCASARTS
WII
2008
93
STAR WARS: CLONE WARS - REPUBLIC HEROES
LUCASARTS
PS3/360/WII/
PSP/DS/PC
2009
94
STAR WARS BATTLEFRONT: ELITE SQUADRON
LUCASARTS
PSP/DS
2009
95
STAR WARS: FORCE UNLEASHED SITH EDITION
LUCASARTS/ACTIVISION
PS3/360/PC
2009
96
STAR WARS: JEDI KNIGHT GOLD PACK
ASPYR
Mac
2010
97
STAR WARS: THE FORCE UNLEASHED II
LUCASARTS
PS3/360/WII/DS/PC
2010
98
STAR WARS MAC PACK
ASPYR
Mac
2010
99
LEGO STAR WARS III: THE CLONE WARS
LUCASARTS
PS3/360/WII/
DS/3DS/PSP/PC/
2011
100
STAR WARS: THE OLD REPUBLIC
EA
PC
2011
101
KINECT STAR WARS
MICROSOFT
360
2012
102
STAR WARS KOTOR COLLECTION
LUCASARTS
PC
2012
103
ANGRY BIRDS STAR WARS
ROVIO
PC
2012
104
ANGRY BIRDS STAR WARS II
ROVIO
PC
2013
105
STAR WARS BATTLEFRONT
EA
PS4/XB1/PC
2015
106
LEGO STAR WARS: THE FORCE AWAKENS
WARNER
PS3/PS4/XB1/360/
WIIU/3DS/Vita/PC
2016
107
STAR WARS BATTLEFRONT: ULTIMATE EDITION
EA
PS4/XB1/PC
2017
108
STAR WARS BATTLEFRONT II
EA
PS4/XB1/PC
2017
109
STAR WARS PINBALL
SOLUTIONS 2 GO
Switch
2019
110
STAR WARS JEDI: FALLEN ORDER
EA
PS4/PS5/XB1
2019
111
THE SIMS 4 STAR WARS: JOURNEY TO BATUU
EA
PS4/XB1/PC
2020
112
STAR WARS: SQUADRONS
EA
PS4/XB1
2020
113
VADER IMMORTAL: A STAR WARS VR SERIES
PERP GAMES
PS4
2021
114
STAR WARS: JEDI KNIGHT COLLECTION
THQ NORDIC
PS4/Switch
2021
115
STAR WARS: RACER & COMMANDO COMBO
THQ NORDIC
PS4/Switch
2021
116
LEGO STAR WARS: THE SKYWALKER SAGA
WARNER
PS4/PS5/XBS/Switch
2022
117
LEGO STAR WARS: THE SKYWALKER SAGA - GALACTIC EDITION
WARNER
PS4/PS5/XBS/Switch
2022
118
STAR WARS: TALES FROM THE GALAXY'S EDGE
PERP GAMES
PS5
2023