Spider-Man: Miles Morales is PS5's biggest launch game as Call of Duty grabs No.1 | UK Boxed Charts
Early Black Friday deals boosts sales of FIFA and Watch Dogs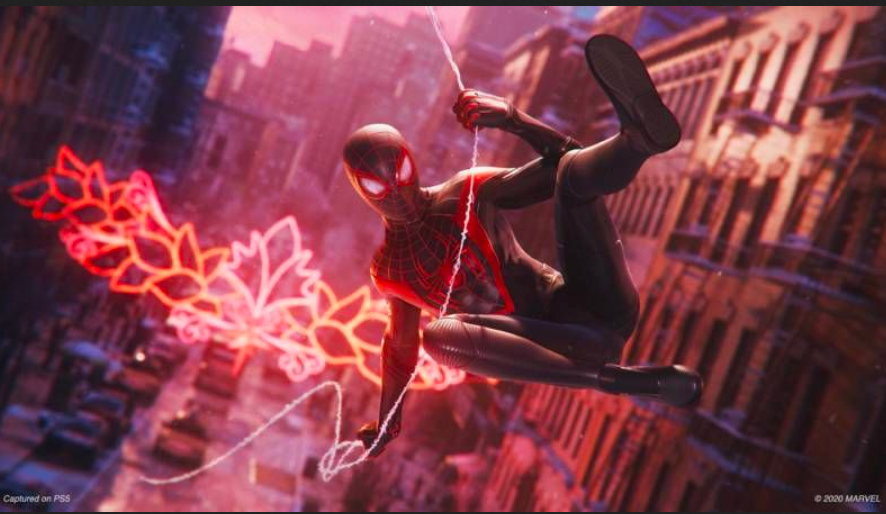 Call of Duty: Black Ops Cold War may have missed out on the top spot in its debut week, but it made up for it in week two. The Activision shooter claims No.1 in the latest UK boxed charts, despite a 27% drop in sales week-on-week.
It's actually a very slight drop over a launch week compared to what we'd usually report. Call of Duty has performed much lower than usual at UK retail, but that's because most consumers have downloaded the game instead. This chart purely tracks physical retail sales.
No.2 in the boxed charts is FIFA 21. The football game has been discounted as part of early Black Friday sales, and as a result it surged 121% in sales week-on-week.
Down in third place is the PlayStation exclusive Spider-Man: Miles Morales. The game was one of the key launch titles for PlayStation 5, which also launched last week. We don't have the console hardware sales available, but retailers told us last week that they expect PS5 to be one of the biggest console launches in UK history.
PS5 games were actually available last week, despite the console not being on sale yet. Therefore, to get an accurate picture of the best-selling PS5 physical launch games, we would have to combine this week's sales with last week. Here is the GfK Top Ten.
| Position | PlayStation 5 Launch Title |
| --- | --- |
| 1 | Marvel's Spider-Man: Miles Morales |
| 2 | Call of Duty: Black Ops Cold War |
| 3 | Assassin's Creed Valhalla |
| 4 | Demon's Souls |
| 5 | Sackboy: A Big Adventure |
| 6 | Watch Dogs: Legion |
| 7 | Godfall |
| 8 | Fortnite: The Last Laugh Bundle |
| 9 | Dirt 5 |
| 10 | Mortal Kombat 11: Ultimate |
Despite a strong launch, Miles Morales' physical sales don't come close to the original Spider-Man game. Sales for the first two weeks of this new game is almost 57% smaller than the first two weeks of its 2018 predecessor. However, it's worth considering the absence of digital data (we will see how significant download sales for PS5 are later in the week). Miles Morales is also a smaller game compared with its original, and it isn't billed as a full sequel. Nevertheless, we should expect it to keep selling well as and when new PS5 consoles are made available at retail.
All of this means that Ubisoft's Assassin's Creed Valhalla loses its No.1 spot and falls all the way to No.4 after a 70% drop in sales week-on-week. The game was a massive hit last week, with physical sales double that of its predecessor (Assassin's Creed Odyssey), and digital sales were up more than 200%.
In terms of new releases, there are a couple of new games in the charts this week. The highest charting title is Fortnite: The Last Laugh Bundle. This bundle includes in-game currency for Fortnite, alongside costumes and more extras inspired by Batman villains (including The Joker). The bundle sold best on Xbox (which combines Xbox One and the Xbox Series machines) representing 32% of sales. Nintendo Switch accounted for 30% of sales, PS4 accounted for 29% and PS5 9%.
At No.6 is the new Nintendo Switch game, Hyrule Warriors: Age of Calamity. The game has been heavily promoted as a prequel to the hit Zelda game, Breath of the Wild, so it's no surprise to see sales significantly up over the previous Hyrule Warriors Switch title (launch sales are nearly 324% bigger). However, it's not quite at the level of traditional Zelda games. Compared with last year's The Legend of Zelda: Link's Awakening remake, launch sales are 43% lower. Hyrule Warriors gameplay is based on the Japanese action series Dynasty Warriors, which doesn't sell in huge numbers in the UK. Once again, digital data is not available from Nintendo.
Overall, it looks like another strong week for Nintendo Switch. Animal Crossing: New Horizons may have fallen from No.5 to No.8, but sales are up 36% week-on-week. Mario Kart 8: Deluxe drops from No.8 to No.9, but sales are 39% bigger, while the Switch version of Minecraft drops a spot to No.10, yet sales are up 47%. Even at No.11, Super Mario 3D All-Stars enjoyed a 2% increase in sales week-on-week, despite falling four places. The Nintendo Switch games were all boosted by a variety of new console bundles.
Nintendo Switch boxed game sales last week are up 52% week-on-week.
To complete our Top Ten analysis, Ubisoft's Watch Dogs: Legion is at No.7, rising three places after a 149% jump in sales. Like with FIFA 21, this was due to early Black Friday discounting.
Other big Black Friday risers include Marvel Avengers at No.12 (sales up 234%), Star Wars Squadrons at No.14 (sales up 178%) Spyro Reignited Trilogy at No.21 (sales up 276%), Fallout 76 at No.31 (sales up 248%) and Crash Team Racing Nitro-Fueled at No. 33 (up 123%).
Elsewhere, the Ultimate edition of Mortal Kombat 11 debuts at No.30, thanks primarily to the PS5 edition (66% of sales) followed by PS4 (15%), Xbox (14%) and then Switch (5%). Last week's new dancing game - Just Dance 2021 - drops from No.11 to No.15, but the game continues to perform very well, with sales down just 1% over the previous week. In fact, there are two Just Dance games in the Top 20, with last year's game at No.20. The older title performed well thanks to a Nintendo Switch bundle available at Amazon.
Finally, Codemasters' Dirt 5 has broken back into the charts at No.28. The racing game managed No.38 in its first week, but failed to chart in its second. It achieves its highest position so far thanks to the launch of the PS5 version, which accounted for 72% of the game's sales this week.
Here is the GfK Top Ten for the week ending November 21st:
| Last Week | This Week | Title |
| --- | --- | --- |
| 2 | 1 | Call of Duty: Black Ops Cold War |
| 4 | 2 | FIFA 21 |
| 3 | 3 | Marvel's Spider-Man: Miles Morales |
| 1 | 4 | Assassin's Creed Valhalla |
| New Entry | 5 | Fornite: The Last Laugh Bundle |
| New Entry | 6 | Hyrule Warriors: Age of Calamity |
| 10 | 7 | Watch Dogs: Legion |
| 5 | 8 | Animal Crossing: New Horizons |
| 8 | 9 | Mario Kart 8: Deluxe |
| 9 | 10 | Minecraft (Switch) |