South Park Studios objects to THQ auction
Licensor for Stick of Truth game wants to keep project from being sold off without consent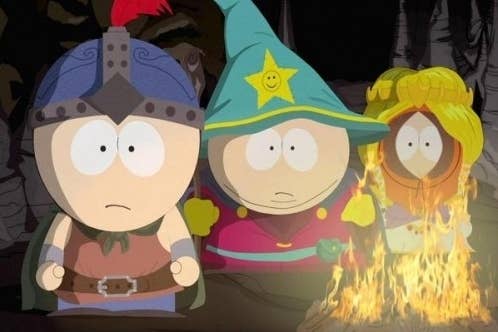 THQ is being auctioned off today, but the company's South Park: The Stick of Truth game may not be included in the sale. As reported by NeoGAF user sangreal, South Park Studios has filed an objection to the game's inclusion in THQ's asset auction.
The animated show's production company is claiming that its license allowing THQ to publish the game is non-transferrable, saying those rights can't be assigned to another party without prior consent. South Park Studios is also claiming that its deal with THQ gives it the right to buyback the entire project at any time if it compensates THQ for its actual expenditures on the game. On top of that, the company is claiming that THQ has defaulted on more than $2.27 million in monetary and nonmonetary obligations to South Park Studios.
In THQ's response to the claim, the beleaguered publisher said the license it negotiated was an exclusive one, and is legally transferrable without consent. It did not address how much it had spent on the South Park project to date, but it did take issue with the claim of defaulted obligations, and anticipated working with South Park Studios to resolve that situation.
THQ's assets are scheduled to go up for auction today. A hearing on the sale is set for tomorrow morning, with closing on the deal(s) expected the day after. Stalking horse bidder Clearlake Capital Group has offered $60 million for substantially all of THQ's assets. Those properties could be split up and sold if the combination of piecemeal bids from all parties exceeds that total by $1.75 million or more. Warner Bros. Interactive Entertainment, Electronic Arts, and Double Fine Productions are among the potential bidders who have reportedly expressed interest in parts of THQ's business and assets.