South Korean PC gaming cafes take a hit during COVID-19 peak
Interpret: But the industry appears on the cusp of a rebound as restrictions lift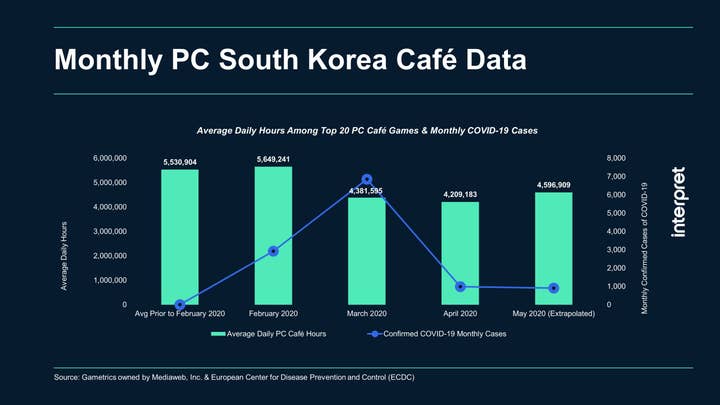 PC gaming cafes in South Korea saw an unsurprising drop in use in March, coinciding with the peak of COVID-19 in the country, though it wasn't as steep a drop as might be expected.
According to market measurement firm Interpret, the total average daily gaming hours at the top 20 South Korean PC gaming cafes dropped from 5.65 million hours in February of this year to 4.38 million in March -- a 25% decline.
Prior to February, the average monthly gaming hours was at 5.53 million.
"While South Korea's PC cafe market fell from its pre-COVID level, the impact could have been far worse, especially in contrast to the outcome with PC gaming cafes in America, which are seeing zero business due to shelter-in-place restrictions," said Interpret vice president of research and strategy Jesse Divnich
"A 25% haircut during a global pandemic is actually fairly encouraging, and data is already pointing to signs of recovery for South Korea's PC cafe market."
In April, average daily hours for the same set of cafes were down only slightly from March to 4.21 million hours.
And Interpret anticipates a rebound to begin in May, projecting around 4.6 million average daily hours for the month. Already, data from the first week of May indicates a 9% increase in time spent from the previous month.
However, Interpret also notes this may be reflective of a more permanent change to how South Korean PC gamers play, as there was a significant uptick in purchases of assembled PCs, accessories, and parts during the first quarter of the year.
Specifically, Korean online retailer Danawa reported that unit sales of assembled PC jumped near 20% in Q1 of 2020, and in April, multiple categories of PC parts -- including keyboards, CPUs, and RAM -- all saw significant increases.
South Korea isn't the only country where a robust PC gaming cafe industry has seen impacts from COVID-19. In its Q1 financial results, Nexon cited closure of cafes in the country as partially responsible for year-on-year revenue declines for its business in the country.