Sony settling PS3 Other OS suit
Six-year court battle over removal of Linux installation option to end with payouts of up to $55 per affected owner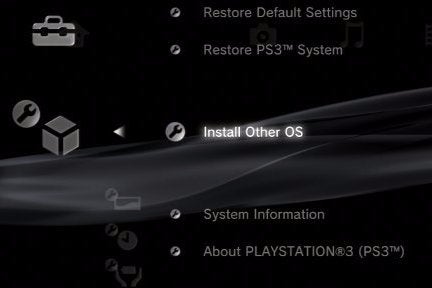 After more than six years of litigation, a class-action lawsuit over Sony's removal of the "Other OS" option on the PlayStation 3 is nearing a resolution. As reported by Ars Technica, Sony has agreed to a settlement (pending judicial approval) that could see it pay out millions in claims, and millions more in attorneys' fees.
The suit covers everyone who purchased an original PS3 (referred to as "a Fat PS3 model" in the settlement) between November 1, 2006, and April 1, 2010 (the date Sony released a firmware update nixing the option), a class of about 10 million people. According to the terms of the settlement, Sony will pay out $55 to any user who can prove that they used the feature to install an alternative operating system (typically Linux) on their original PS3 systems. Those who can show that they purchased a PS3 and attest that the system lost value or desired functionality as a result of Sony pulling the feature will receive $9.
Each of the named plaintiffs who initially brought the case will receive an incentive award not to exceed $3,500. The lawyers representing them will ask for $2.25 million in attorneys' fees and expenses.
Sony originally killed the Other OS functionality after a hacker released an exploit that he said fundamentally broke the security of the system.