Sony admits first-party lineup "a little sparse"
Andrew House says PS4 maker is placing a greater emphasis on securing third-party support, calls Vita and PS TV "legacy platforms"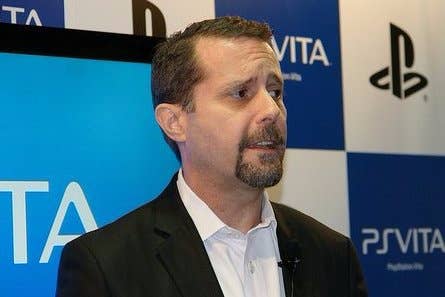 At Sony's 2015 Investor Relations Day today, Sony Computer Entertainment president and global CEO Andrew House detailed the company's strategy for the coming year, including how it will address some shortcomings.
House began his presentation on a positive note, talking up PlayStation 4 as "the fastest selling hardware platform in our history," showing better-than expected growth and pushing PlayStation Plus subscriptions to twice what they were in fiscal year 2013. He said the company has a competitive advantage for the moment, and laid out three ways it hopes to maintain that. In addition to next year's launch of the Project Morpheus virtual reality headset and continued cost reduction efforts, House said the company needs quality software.
"We are working very hard to continue very strong support from third-party pubs and devs," House said. "Our first-party lineup is a little sparse this year, so I think this places even greater emphasis on getting good third-party support."
That doesn't necessarily mean exclusive third-party support. To date, House said Sony has been primarily trying to get multiplatform developers to simply take advantage of features the PS4 has over the competition, like SharePlay, or maybe include extra content in the PS4 version or give players early access to add-on content. Third-party exclusives are still an option, just not a frequently used one.
"I will admit that these are, in the current publishing landscape, few and far between, but we were able to announce a full exclusive around a franchise like Street Fighter so that Street Fighter 5 is a complete exclusive for PlayStation 4," House said, adding, "Although given publishing dynamics and development costs, those are increasingly difficult to secure."
House also talked about the decline in Sony's other platforms. As much as the PS4's growth has exceeded expectations, so too has the PlayStation 3's decline. House said the system's price simply isn't as competitive in the market as the PlayStation 2 and PSone were after their successors launched, and added that the shift toward more connected console experiences has also made less capable offerings less attractive.
House also cast a dim view of the company's handheld business. While he noted that the Vita platform remains "strong and vibrant" in Asia and Japan, his outlook for the current fiscal year included declines in the US and Europe. Additionally, he referred to the PlayStation Vita and its microconsole counterpart the PlayStation TV as "legacy platforms" when discussing a write-off of hardware components for the two.
"I would characterize 2015 as the beginning of a harvest period for the PlayStation 4 platform," House said. "The beginning of a harvest period. That being said, we are also undertaking to invest in the future, and 2015 will also be a year of investment."
That investment will be focused on a few areas. There's the Morpheus, of course, as well as continued spend on original PlayStation entertainment content like the TV show Powers (which was recently greenlit for a second season). On top of that, House said Sony would be investing in the expansion of its PlayStation Vue television streaming platform and a continued re-architecture of its PlayStation Network with an eye toward increasing stability and reducing maintenance downtime.