Sonic Dash passes 100 million downloads
Mobile title is the most downloaded Sonic game in history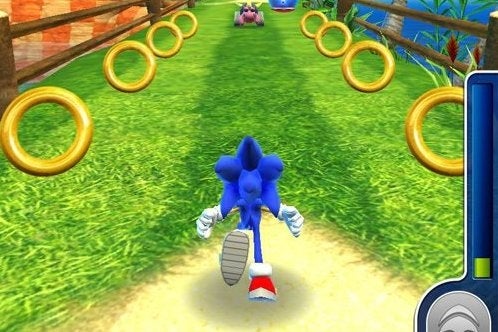 Sonic, by most accounts, is long past his glory days, and while the last several years of console and handheld titles in the franchise have not lit up the sales charts, Sega's mobile runner Sonic Dash has been faring much better. The publisher today announced that Sonic Dash (released in March 2013) has eclipsed 100 million downloads, across Apple's App Store, Google Play, Amazon App Store, and Windows Phone, officially making it the most downloaded mobile title in Sonic's history.
Developed by Sega's UK-based Hardlight studio, Sonic Dash has 14 million players per month. Sega has been making a bigger push in mobile this year, as Sega Networks acquired Marvel Puzzle Quest studio Demiurge while also making investments in Space Ape and Ignited Artists.
In a fiscal report released in March, Sega revealed that, as of this year, 13 games from its mobile lineup earn more than ¥50 million a month, and 6 earn more than ¥100 million ($825,000), with 2 generating over ¥500 million ($4.1 million) - Chain Chronicle and Puyopuyo!! Quest.