Starborne studio sees a universe of potential
Solid Clouds originally stemmed from CCP, but it's aspirations are shaped more by Paradox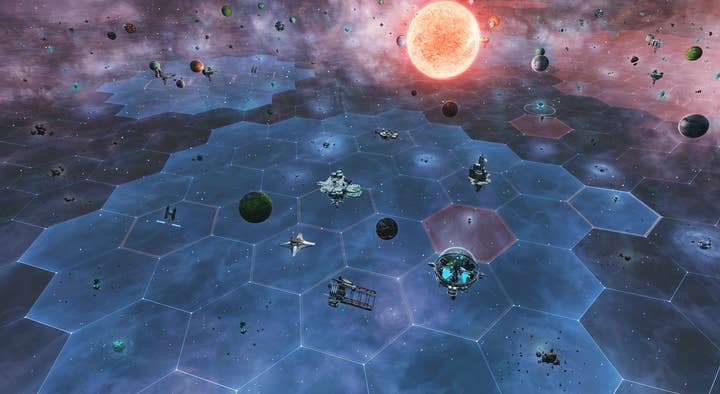 In many ways, Reykjavik-based developer Solid Clouds has its origins in CCP and Eve Online. It was founded by early CCP investor Stefán Gunnarsson, who recruited a number of ex-CCP developers, including Eve Online senior game designer Hrafnkell Oskarsson and art director Ásgeir Ásgeirsson. CCP co-founder and former CEO Sigurdur Arnljotsson is also Solid Clouds' chairman of the board.
But speaking with GamesIndustry.biz, Solid Clouds head of marketing and growth Haukur Steinn Logason is clear that whatever role CCP played in the studio's past, it is not the template for its future. While he expresses admiration for everything CCP and Eve Online have accomplished, Logason notes that Oskarsson and Ásgeirsson no longer work at Solid Clouds, and Arnljotsson isn't involved in the day-to-day business.
"We don't want to be the CCP spawn or something. We just want to be Solid Clouds"
"We're 17 people strong and we're forging our own path," he says. "We don't want to be the CCP spawn or something. We just want to be Solid Clouds."
However, that statement comes with an asterisk, as Logason admits there is another company Solid Clouds would very much like to emulate. Perhaps the company's name should have been a clue as to which one.
"We've always looked at our Nordic cousins at Paradox, who've managed to do a similar thing to what we want to achieve," Logason says. "They created the Clauswitz engine, which they were able to put out multiple different IPs on, and with each different title, their community grew. That's something we want to achieve as well. Starborne is our debut title, but we have plans to put out MMORTS games in different settings with different gameplay, but based on the same engine."
He adds, "CCP has done amazing things with Eve, but we want to create multiple titles. That's something Paradox has achieved, and not a lot of game studios achieve it. But we feel like we have the DNA to pull that off. That's very much where we look, in terms of inspiration to getting there."
Of course, the studio needs to have one successful title before it can have multiple. Fortunately, its first effort, the free-to-play MMORTS Starborne, appears to be well on its way.
"While still being alpha, we have had over 150,000 players join the frontier," Logason says. "Those players have had an average daily playtime of over three hours. We have also seen good retention and monetization performance indicators that have been growing. We are certain we can continue to build on this success and turn Starborne into a cornerstone for Solid Clouds to build upon for many titles to come."
If Starborne is to be the cornerstone, than the foundation would be a type of game that to Solid Clouds' view fell out of favor in the industry.
"We loved what we were seeing in the early 2000s with browser-based strategy games that featured rapid innovations," Logason says, pointing to Travian and OGame as examples. "You had thousands of players playing over long periods with features like deceit, politics, and strategy at a scale that had never been presented before."
"MMO strategy has kind of stagnated for the past 10 years in the PC space, while single-player 4x experiences are just getting better and better"
But Logasson believes the arrival of mobile gaming and smartphone app stores drew many of those developers to greener pastures, while the demise of Flash as a widely supported browser standard further stifled that particular genre.
"MMO strategy has kind of stagnated for the past 10 years in the PC space, while single-player 4x experiences like Civilization and Stellaris are just getting better and better," Logason says. "That's kind of what we want to create. We want to be at the intersection between this massive scale and this high production quality. And that's clicking with our players. They got what we are trying to achieve. It's a massive scale."
The sense of scale was particularly important for Solid Clouds, and a focal point for the underlying tools and technology. The goal was to make a universe that felt coherent and complete rather than splitting the player's view into the game world through a series of disparate interfaces.
"We didn't like what we were seeing of these games on mobile, as you had all these different city views and you're always loading," Logason explains. "We wanted all the action in Starborne to be seamless. So when you enter a Starborne server, you're just on the map. And you can seamlessly travel 700,000 hexes north, and there are no loading screens breaking that immersion."
Another early point of emphasis for Solid Clouds that has paid off was community management.
Starborne isn't even in beta, but it has had three fanfest events for the community since 2016
"One of the things we're still reaping the rewards of today is that [community] was not an afterthought," Logason says. "The fourth hire into the development team was a community manager. Just plowing the field and fostering it from a super early standpoint meant that certain personalities and players in our community wanted to contribute because they felt how much we were bleeding for this dream."
Logason offers high praise for Solid Clouds' community manager Arelíus Arelíusarson, specifically the intense excitement for the game he exudes and the way he "can calm himself down and truly listen to people." He also makes a point to be available to fans; when the team does new server launches, Arelíus joins voice chat on the studio's Discord server and just hangs around to answer questions and take feedback. It's apparently working, as Logason says the Discord community itself has gone from about 1,000 people online a year ago to a daily total of 10,000 people online these days.
While these are duties other developers commonly take on in addition to their core responsibilities, Logason says it was invaluable having someone dedicated purely to this role from such an early point of development. And after several years with Arelíusarson handling community management full-time, Solid Clouds expanded the community team to provide him more support, freeing him up enough to add game designer duties to his role as well.
Another notable part of the community-building effort at Solid Clouds has been fanfests. The gatherings have been nearly annual, with events in the November 2016, November 2017, and January of this year.
"These are not the biggest of events, but they're flying in from all over the place and getting to know us, and they've been contributing their time," Logason says. "They know our ideals and what we want to build. Having champions like that in your player base is invaluable. We've been creating different types of roles for those players to contribute to fostering the community."
Solid Clouds is also investing more in its community response team, hiring more community representatives internationally to ensure round-the-clock support for the game as the player base approaches a critical mass.
The first alpha version of Starborne launched in 2014. It is now on its ninth alpha, with Solid Clouds expecting to hit open beta early next year.