Microsoft SmartGlass aims at Wii U, Apple TV
New feature is designed for true cross-platform functionality with tablet, smartphone support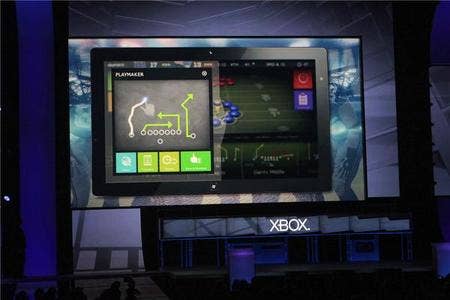 Microsoft today officially revealed details for its rumored SmartGlass control and app service. The cross-platform feature is designed to work on Windows PCs, Windows Phone, and the Xbox 360 and will also have support for Android and iOS.
Users will be able to experience something like a movie on one platform and then send it over to their Xbox 360 to resume the playback. It also offers detailed media information on TV and movies playing on the big screen at home or on the go, an example given was displaying a map of Westeros while the second season of Game of Thrones played.
Another major feature is the ability to use SmartGlass to use a mobile device to communicate with an Xbox 360. An example was given was modifying a play call using a mobile phone in Madden NFL 13.
Users will have access to Internet Explorer on the Xbox 360 as well. Using a tablet or phone as a keyboard and UI device, users can browse web pages with relative ease.
Smart Glass seems designed to counter both Apple's AirPlay and Nintendo's Wii U controller. The service is expected to release later in 2012.