Skábma: Snowfall writer on preserving cultural identity in games
Marjaana Auranen and Stanislas Jun Peyrat discuss the emotional journey of reclaiming and retelling the nuances of Sámi culture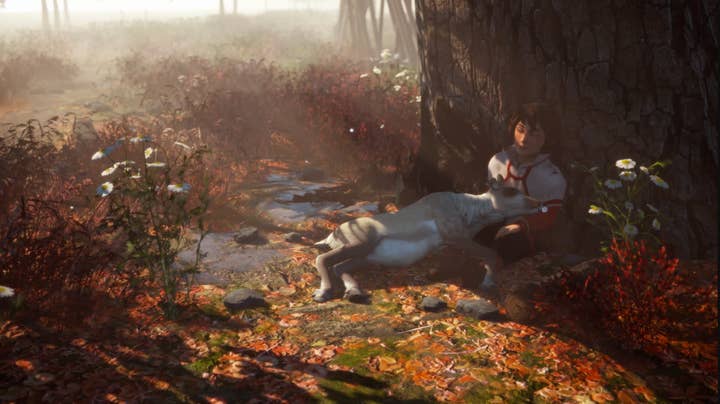 Skábma: Snowfall from Finnish indie studio Red Stage Entertainment launched on Friday.
It is also the day we talked to the studio's co-founder and writer Marjaana Auranen, as well as Stanislas Jun Peyrat, lead product manager at PID Games, the publishing arm of Plug In Digital that's handling the game's launch.
And as you would expect from an interview done on launch day, it's a stressful and emotional time for the team. For Auranen, that's ten years of pondering over an idea finally coming together in one beautiful package.
Skábma tells the story of Áilu, a young Sámi reindeer herder, and her quest to restore the land around her. The game is rooted in Sámi history and culture, an Indigenous people from Northern Europe spanning four countries: Finland, Sweden, Norway, and Russia.
Skábma is fully voice-acted in one of the ten Sámi languages, Northern Sámi. It is the most spoken one, but as the title's website highlights, they are now all considered endangered languages.
"When you have these wounds in your identity, as an artist it means that you want to handle those through your art"Marjaana Auranen
Auranen is Sámi herself and she describes wanting to make a game about her culture as an "urge" that she's had for a long time, and particularly having it fully voiced in Sámi.
"I think the language part is very important because my grandmother never passed on the language skills," she tells GamesIndustry.biz. "So I never learnt my mother tongue and I have learnt that now as an adult. So in my family [the language] is an issue that we are still trying to revive and tackle. That is one reason I wanted to have this game in one of the Sámi languages.
"And of course, when you have these wounds in your identity, or it's not whole so to speak, and there are these tears, as an artist it means that you want to handle those through your art. I had this urge to write about Sámi, write about my culture. And I've had it for ten years now."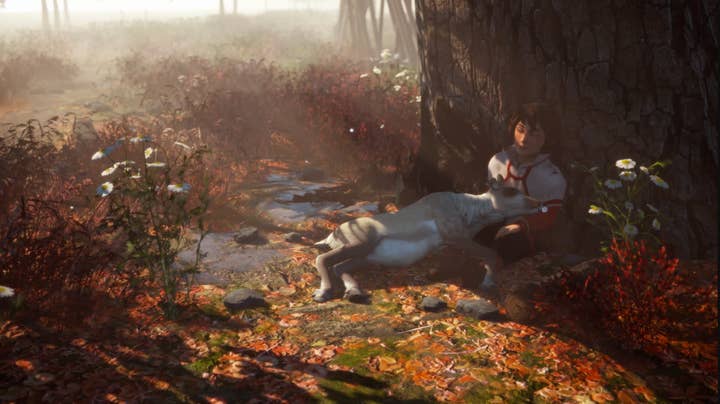 The very first idea for what would become Skábma emerged during Auranen's game studies, in 2012, when a teacher gave the assignment to put a pitch together. Auranen and her team came up with a Sámi-themed game idea.
"I think the idea of creating something about my background and my culture came from there to me," Auranen recalls. But it wasn't until 2017, when Red Stage got the funding required, that Skábma really started taking shape.
"I think I did it mainly for the [Sámi] culture," Auranen says. "But I also want to show people -- and educate [them] a little -- that there are Indigenous cultures in the world that we should explore more, and know more about.
"Because usually when we are making games, it is either Vikings or, I don't know, ancient Rome, basically. We are missing a lot because we are not telling these stories and not handling cultural diversity."
"I want to show people - and educate [them] a little - that there are Indigenous cultures in the world that we should explore more, and know more about"Marjaana Auranen
The language wasn't the only important aspect Auranen wanted to showcase in Skábma; she was keen to include the fundamental role played by rhythm and music, and explore the complexity and nuances of Sámi culture.
Áilu's journey is one to become a Noaidi, a Sámi healer, helped by a traditional drum, invoking spirits to help her. The title also features yoik-singing.
"We knew from the start that we would want to include yoik-singing in our game because it is an essential part of Sámi vocal tradition," Auranen says. "It is so unique and it has this whole philosophical meaning behind it when you yoik something, when you yoik a person, or a scenery, or an animal.
"Of course the challenge is to find right the right artist and get them to trust you, because there has been so many cases when the Sámi culture has been used wrong, presented wrong. That took a little time and then we finally found Hildá ​[Länsman, a Sámi singer, yoiker, and musician] and just everything went great from there."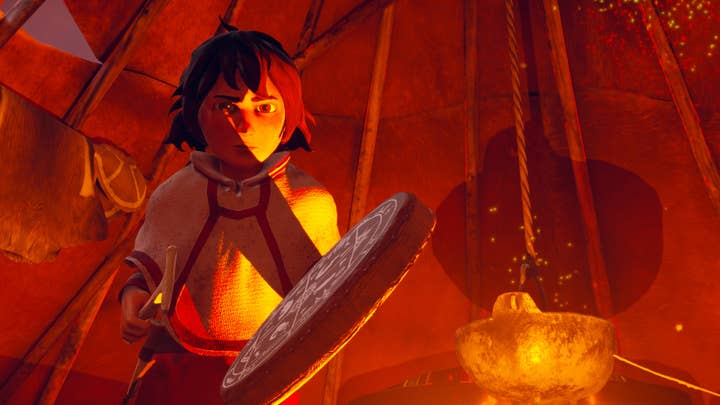 As an industry gathering as much cultural importance as film and music, games have an important role to play in introducing, showcasing, and retelling folklore from Indigenous communities, and Auranen highlights the importance of having that representation in the media, particularly coming from the people who are part of these marginalised cultures.
"I grew up in the era where we didn't have any Sámi in the media," she says. "So I didn't see my culture anywhere else but in my family. And then when the first representation came, it was a comedy show where they kind of ridiculed us. It's so important that we create this content on our own terms and that we are involved with that process. There is the saying 'Nothing about us without us' -- we have to be involved when working on these games."
That's not to say that making a game about your own culture is an easy feat. Auranen highlights that making a game is "so hard" -- but, for her, making Skábma was also a challenge beyond the traditional hurdles of game development.
"It's so important that we create this content on our own terms. There is the saying 'Nothing about us without us' - we have to be involved when working on these games"Marjaana Auranen
"[Game making] is so difficult in many ways. And if I'm thinking about it culturally, I don't think that someone from outside the culture and writing these things would have been that emotional mess," she smiles.
"As I was writing this I went through all my family traumas and losing the language, and all of that stress there. I was tearing myself apart and then sewing myself back together like, 'Okay, I'm a full person now'. So that was a challenge for me.
"But of course it was a challenge for the team because they weren't familiar with Sámi culture. So [they] had to first [learn] the basics about Sámi, because they don't teach those things in Nordic countries."
Auranen's frustration at her culture being simply erased from educational programmes is palpable, really emphasising why games like Skábma are important.
"I think there are one or two pages about Sámi [in curriculums] -- I guess it's because we don't matter," she says drily. "We are not important enough, so it is okay to use us for tourism, but when it comes to actually teaching the language, for example, to Finish people, or cultural history, then it really doesn't matter [to them]. It matters, for example, in New Zealand where they teach the kids Maori language. But what can I say..."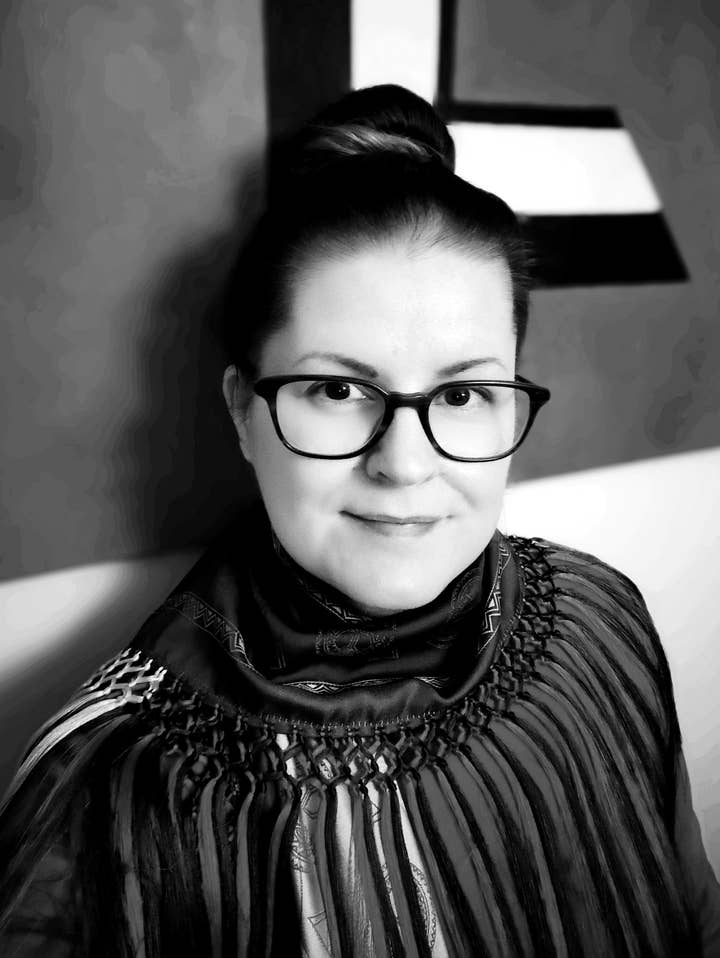 The lack of academic material made the process of developing Skábma even more arduous. Even though the team could draw on Auranen's first-hand knowledge of the culture, she says there's still many things she didn't know.
"As I read about my own history, I realised how much I didn't know. So yes, it was a task. I read up at least 50 academic studies, and books about Sámi, and journals that these explorers and priests used to write when travelling in Lapland or Sámiland from the 15th century to the 18th century.
"I read everything I could get my hands on because I wanted to know more about my history. But the tricky part I think was to pick what stories and strings I was going to put in the game, and understanding what parts of the culture these explorers might have misunderstood, and what were the actual historical facts. This has also been tricky because we haven't had written history -- I think the first Sámi book was published in 1910. Before that, we didn't have a written history, so everything has been written by outsiders, basically. So it's been a lot," she laughs.
Red Stage was keen to avoid a stereotypical representation and convey the full complexity of the Sámi culture. But making a game about a lesser-known culture really highlighted the ugly truth of indie development, with the studio turning down publishers that wanted to make a myriad of changes to the game.
"I think the biggest one was the language," Auranen says. "'Does it have to be in Sámi language?', 'People are not interested in the Sámi language, it has to be in English'. That was the main thing, and that was always a deal breaker."
As a result, the partnership with PID Games didn't come together so easily, Peyrat recalls.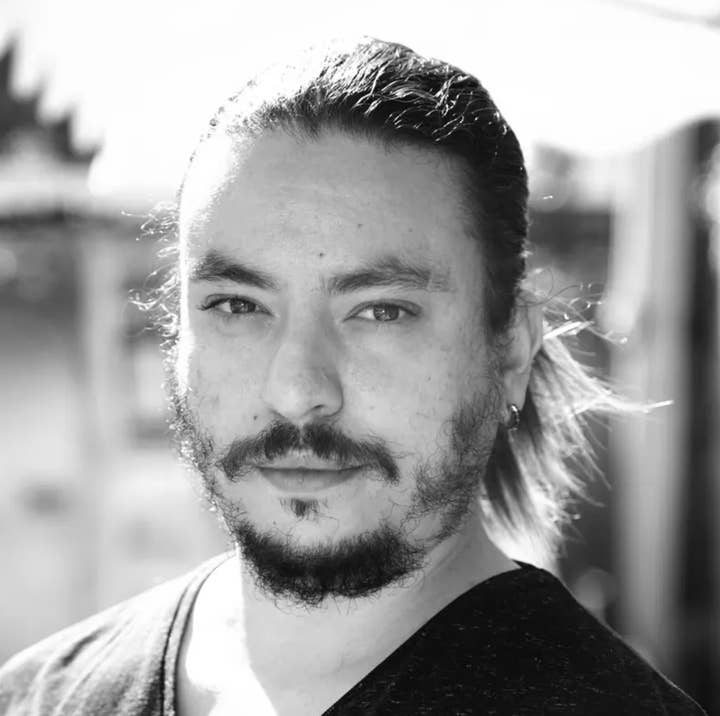 "I chased them down -- literally," he smiles. "They didn't really want to talk at first. I gather now because we've known each other for a while [that] they were kind of turned down by a lot of publishing discussions where they wanted to change things.
"I think they were kind of worried about that at first, 'Oh no, not another publisher!' It took a while to tame the beast, but I literally chased them down for months until they even agreed to speak to me."
Marjaana points out that they were not playing hard to get -- there were legitimate worries about, once again, the Sámi story being told in a way dictated by outsiders.
"I legitimately think there was some trauma there," Peyrat continues. "But I chased them, because I just saw something in this game and so I wouldn't take 'okay, not interested' for an answer. Then it was another few months of discussion before we entered agreements. But I think overall, it's a good match.
"It's a game with something to say, we were very involved and also respectful of the material and art, and we would make sure that everything we suggested would enhance the experience and not take away from it."
Auranen confirms that PID Games never "demanded any ridiculous changes," with Peyrat adding that they didn't even want to consider the possibility of adding an optional second language.
"I hope it raises some conversation, and maybe makes other Indigenous game developers start creating their own projects, and dream big"Marjaana Auranen
"Of course it's publisher versus studio, it's producer versus developer, it's business development versus writer, so there are times with friction," he says. "But we had the same goal, which made it fairly easy altogether I reckon."
Auranen points out the long journey it was to get to the finish line -- funding wasn't necessarily easy to find. When asked whether there were times where she considered moving on from the project, she laughs.
"Do you want an honest answer? Of course there are moments where you are on the verge of everything ending in one month if you don't find the funding. Those are the tricky parts because you really love the project and you have poured your heart and soul into it and the team is dedicated, and all that. And then you are like, 'Okay, let's find this one person who is going to give us more money'.
"But the whole company I think had this weird stamina of... I always say 'Arctic weasel', in the way that we stay alive and we refuse to die," she smiles.
When we ask Auranen what her hopes are for the game now that it's out, she takes a moment to answer.
"I hope it doesn't crash," she jokes. "I want people to find it and play it. But I don't know, I cannot imagine the ripple effects it [could have] in so many ways. I hope it raises some conversation, and maybe makes other Indigenous game developers or young people start creating their own projects, and dream big. And I want people to love it, have fun with it and enjoy it."