Shuhei Yoshida's first play of God of War - "He was horrified"
At Devcom 2018, creative director Cory Barlog laid out the difficult user responses to the in-development God of War, from both playtesters and SIE's top brass
There may still be more than four months still to go, but God of War seems certain to among a small handful of names in the conversation for best game of the year. With a Metacritic average of 94 and opening weekend sales somewhere north of three million units, Sony Santa Monica's five year labour achieved rare levels of greatness.
According to Cory Barlog, the game's creative director, that greatness wasn't always so apparent; not to him and his team, not the people brought in to playtest the game, and not even to Shuhei Yoshida, the president of SIE's Worldwide Studios. Speaking at Devcom yesterday, Barlog laid out God of War's "convoluted" development in unflinching detail; a process that arguably produced one of the best games of the decade, but to many onlookers appeared perilously close to coming off the rails.
"'What are you doing to Kratos? You're ruining Kratos. He's picking flowers! He's picking flowers?!'"
"Part of it was that we were building the engine and tools, as we were building the mechanics, as we were designing the mechanics, as we were then designing the levels," Barlog said, explaining why his team found it difficult to assemble a "first playable" version of the game. "All of those groups had to build everything at the same time."
This uneven progression was matched by the feedback Sony Santa Monica received from playtesting. Barlog admitted that he believed the studio had proved to be expert at playtesting across the course of the God of War franchise, but the larger scope of the new game proved to be a different challenge.
"I thought we were really good at playtesting. We had our own little playtesting lab in the studio," he said. "But I didn't know anything. To playtest a game of this scale, of this size, the way we'd done it before was not going to work.
"Playtesting is very good for finding out all of your problems. But if your game looks rough, all of the things that are not problems suddenly become problems."
Barlog turned to a different playtesting lab in San Mateo, California, one commonly used by other Sony studios, and it soon became clear that the not all of the results were reliable. He cited a sequence in the game where Kratos is sent by his son, Atreus, to collect a plant called lamb's cress from the forest. The cinematic was "really rough", he conceded, with the animator's voice as a placeholder and a host of visual quirks.
"People were very protective, and if they thought something was wrong they did not hesitate to tell me how much I suck"
"It didn't look that great," he said. "Probably some of the most verbose and vicious commentary came from that: 'What are you doing to Kratos? You're ruining Kratos. He's picking flowers! He's picking flowers?! This is ridiculous!' One guy wanted to leave the playtest, he was so angry that Kratos was picking flowers. After that I said there's going to be an achievement; you're going to have to pick 100 flowers now.
"But that kind of feedback happened throughout, because everybody knew about the game - after E3 [2016, where the game was revealed] especially. People were very protective of the franchise, and if they thought something was wrong they did not hesitate to tell me how much I suck. Doubt was definitely always there, throughout all of that."
Doubt was an abiding theme in Barlog's remarkably honest talk - expect a full account of it later this week - and that came from within Sony as well as without.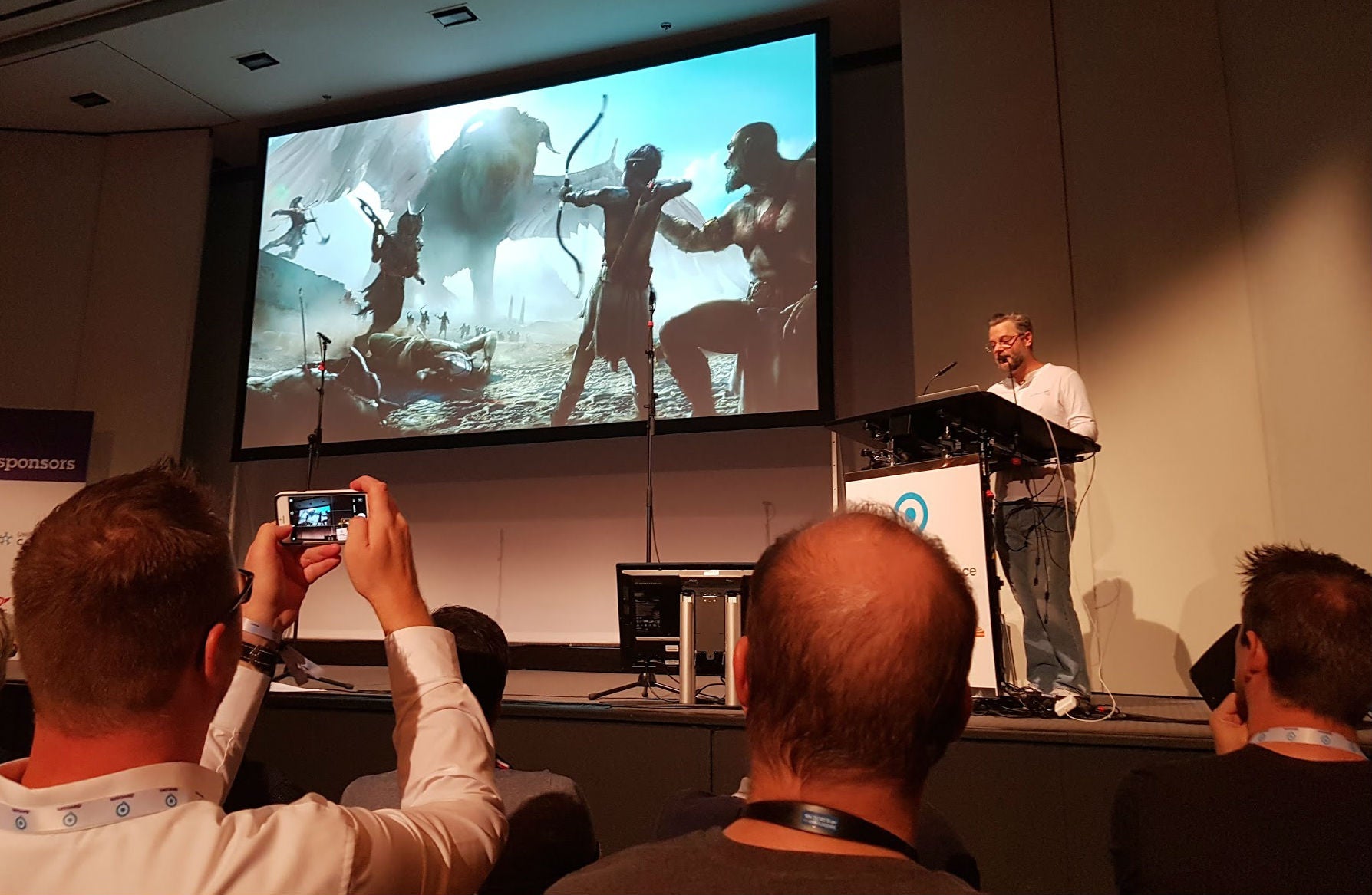 One of the pain points right up until the final months of the game's five-year development was combat. Previous titles in the franchise had a tight core combat loop - "square, square, triangle, evade" as Barlog put it - that was used as a foundation for everything else. With God of War, however, the core loop was taking, "forever to get done."
"[In previous games] it felt good. We got that feeling good early and we built on that," Barlog said. "But we didn't have anything feeling good. The core loop didn't feel good, but the combat team was super confident and I trusted them. They got it, but I needed them to get it way earlier, so I was really trying to force it."
One tactic for doing so is to request a demo, which Barlog did ahead of the PlayStation Experience in December 2017. It would give the team cause to rally and focus on getting the job done, he reasoned, but it also meant inviting Shuhei Yoshida to visit the studio and play the game.
"Shuhei Yoshida kinda just shook his head and walked out the door. He never told me how he felt"
"He [Yoshida] comes in once in a while, but we don't let him play," Barlog said. "We don't let anybody play. If the game is ready to be played by somebody we give them the controller, but very rarely do we do that.
"I mean, the framerate was terrible, everything just felt bad... He's playing, he's got scrunched up shoulders, head shaking a little bit. I definitely get the feeling while he's playing that he's not having the greatest of times - which is great. I mean, it bums me out a little bit, but that's what I brought him in here for."
Barlog left the room to instruct the combat team that there was work to be done. Shortly after, Yoshida left had to leave the studio to catch a flight.
"He kinda just shook his head and walked out the door," Barlog said. "He never told me how he felt. In fact, he only told one of my friends, who he saw at a party. He [Yoshida] said, 'Oh, you're working on God of War? I just gotta say, I played the game the other day. I was horrified.'
Barlog paused at the recollection, and said in mock disbelief: "Horrified? Shuhei said he was horrified while he was playing the game."
This was, it should be noted, only six months before the game was eventually released to universal acclaim, and that disappointment was what Barlog needed to galvanise the team to finish the job; to "nail that core loop down, and get the framerate back up" in time for another visit from Yoshida.
"Everyone had to rally together; not just the combat team, but the engine team, the rendering team," Barlog said, showing a slide that compared photos of Yoshida on his first and second times playing the game. "In the end it worked. He played it again, and you can see the two different poses of Shu. Horrified is much more rigid. The second time, he was not horrified. It was super good. Very exciting.
"The lesson I had to keep learning was to put the difficult thing in front of us, and not get comfortable. We need to force ourselves sometimes to be very uncomfortable."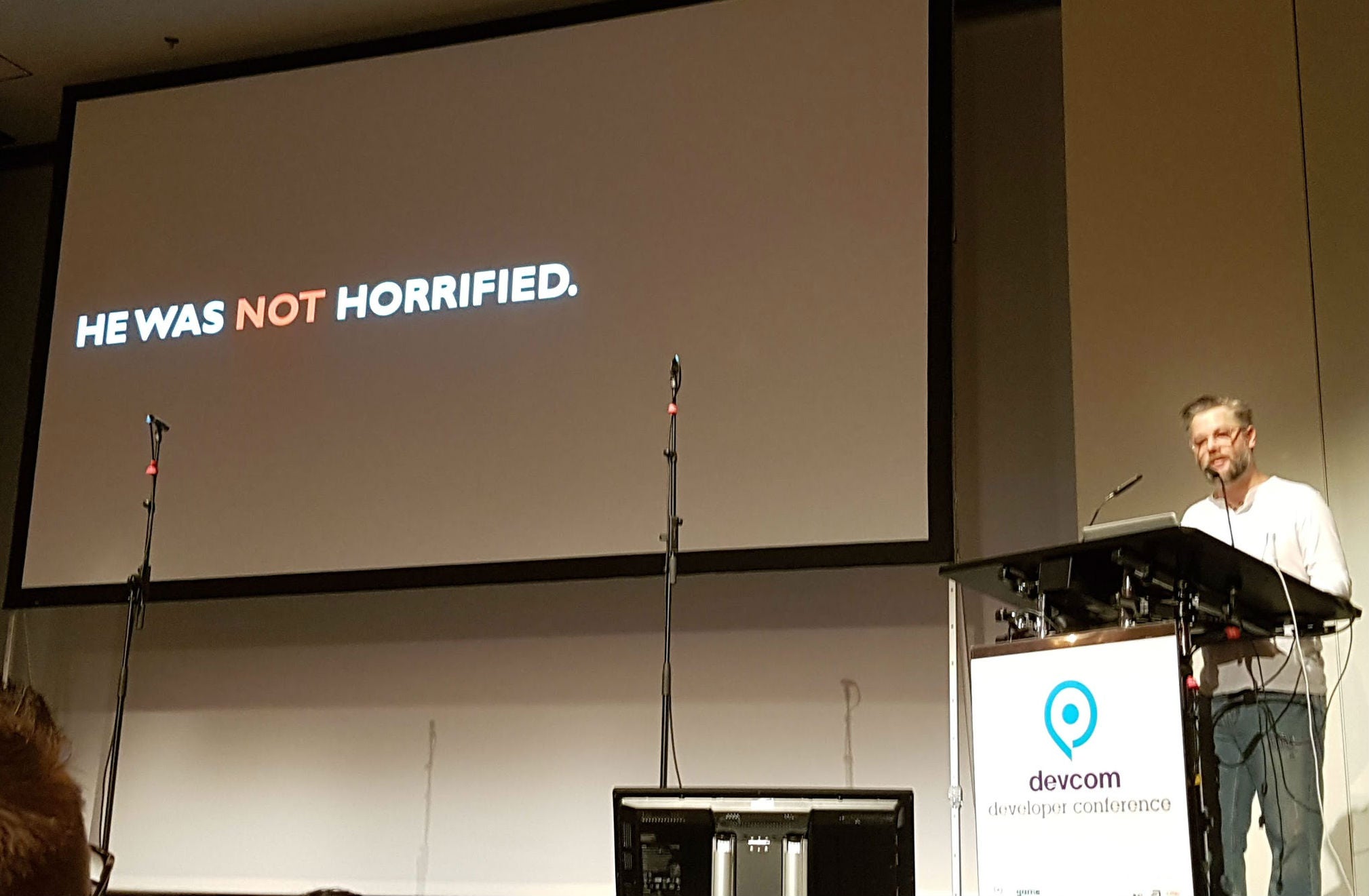 GamesIndustry.biz is a media partner for Devcom. We attended the show with assistance from the organiser.