Sega's London 2012 takes gold again
Official Olympics tie-in makes it 3 weeks at UK chart number one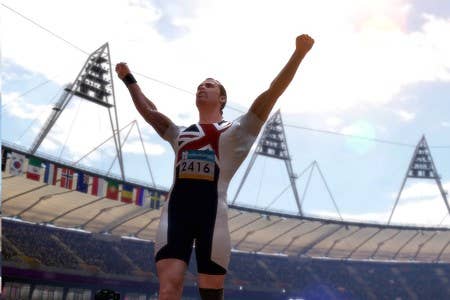 The Olympics may be over but Sega has hung on to the top spot with London 2012: The Official Video Game.
It was another quiet week for releases, so there was no change in the top four, with LEGO Batman 2 keeping second and another sporty title, Mario & Sonic London 2012 Olympic Games, sticking at three.
A PC release for The Amazing Spider-Man gave it a boost to 5, while further down the chart Grand Theft Auto Episodes: Liberty City managed to re-enter the top 20 at 17.
All chart data is courtesy of Gfk Chart-Track.
| Last Week | This Week | Title |
| --- | --- | --- |
| 1 | 1 | London 2012: The Official Video Game |
| 2 | 2 | LEGO Batman 2: DC Super Heroes |
| 3 | 3 | Mario & Sonic London 2012 Olympic Games |
| 4 | 4 | Batman: Arkham City |
| 7 | 5 | The Amazing Spider-Man |
| 5 | 6 | The Elder Scrolls V: Skyrim |
| 8 | 7 | Battlefield 3 |
| 6 | 8 | Assassin's Creed: Revelations |
| 12 | 9 | Dead Island: GOTY Edition |
| 9 | 10 | Tom Clancy's Ghost Recon: Future Soldier |
| 11 | 11 | FIFA 12 |
| 13 | 12 | Call Of Duty: Black Ops |
| 15 | 13 | Mario Kart 7 |
| 18 | 14 | Super Mario 3D Land |
| 14 | 15 | Risen 2: Dark Waters |
| 16 | 16 | Skylanders: Spyro's Adventure |
| Re-entry | 17 | Grand Theft Auto Episodes: Liberty City |
| 20 | 18 | Moshi Monsters: Moshling Zoo |
| 17 | 19 | WWE '12 |
| Re-entry | 20 | LEGO Harry Potter: Years 5-7 |