Sega Europe announces fully recyclable packaging for all PC titles
Building on work from Sports Interactive last year, Sega Europe introduces blanket policy for PC titles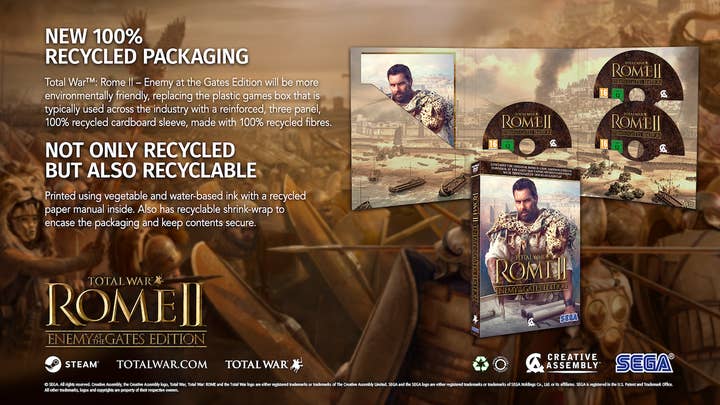 Sega Europe is abandoning plastic packaging for its physical games, after it today announced the introduction of recycled cardboard cases for all its PC products.
The news comes just months after Sega subsidiary Sports Interactive revealed it would be using specially designed recyclable cardboard cases for Football Manager 2020.
Studio director Miles Jacobson said at the time that he hoped the wider industry would soon follow suit.
Now, three months later, Sega Europe has expanded upon the work done by Sports Interactive to deliver recyclable packaging across its entire PC portfolio, starting with Total War: Rome II - Enemy at the Games Edition, which is set to release next week.
Much like the packaging used by Sports Interactive for Football Manager 2020, the new cases are more expensive to produce, but are made from 100% recycled and recyclable materials.
This increase is partially offset by savings in shipping costs, thanks to the reduced weight overall. Sega Europe quoted Jacobson's initial statement on the additional cost, saying it's "a price worth paying to help secure the planet's future."
"This initiative underlines Sega Europe's commitment to reducing its plastic waste and its ongoing efforts to implement environmentally friendly business practices," said Sega Europe president and COO Gary Dale.
It was estimated that the decision to go green with Football Manager 2020 would prevent up to 20 tonnes of plastic waste. Sega were unable to provide figures on how much waste this portfolio-wide move could prevent, but suggested it would be exponential.
Dale continued: "We'd like to reiterate Miles [Jacobson's] plea from September 2019 to the entertainment industries to investigate similar packaging solutions, across movies, games and music so we can collectively observe a drastic reduction in the production of plastic packaging and its associated waste and pollution, over the coming years."
The new packaging will be used for all Sega Europe PC titles, and will be distributed globally; this includes games from Relic, Two Point, Sports Interactive, Creative Assembly, and Amplitude Studios. Sega America PC titles are digital only.
Notably missing from the announcement, however, was any mention of console titles from Sega. In a statement to GamesIndustry.biz, a Sega Europe representative clarified that the company must adhere to first-party guidelines, and is currently restricted from making its own recyclable packaging for games released on PlayStation, Xbox, or Nintendo.