Search for a Star 2013 opens to students
New judges and Windows 8 Phone publishing added to popular programming competition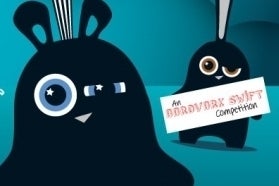 Applications are now open for Search for a Star 2013, with new faces added to the interview panel from Boss Alien, Sony Evolution and Exient.
Final year students are invited to apply to the three-stage competition - a technical test, game creation project and panel interview - with work this year to be published on the Windows Phone Platform. Students who are not in their final year are invited to apply for the Rising Star competition which runs at the same time.
Round 1 of the competition is a 90 minute questionnaire completed under exam conditions designed to assess entry-level programming skills. The top 25 students are then chosen for round 2 where they must fix buggy code, implement improvements and add additional features, to be judged by Lizi Attwood of The Blast Furnace, Headstrong Games' Greg Booker and Lee Stott of Microsoft UK.
The final stage is a panel interview with the above and also featuring Scott Kirkland of Sony Evolution, Rockstar Leeds' Bryan Reynolds, Jason Avent of Boss Alien and Exient's Jason Fielder.
The winning students and runners up will be announced at The Eurogamer Expo 2013. More details of the competition can be found at the official website.