Schedule for GI Academy Stage at EGX is now live
Event will feature talks from Ubisoft, Rare, Remedy, Media Molecule and more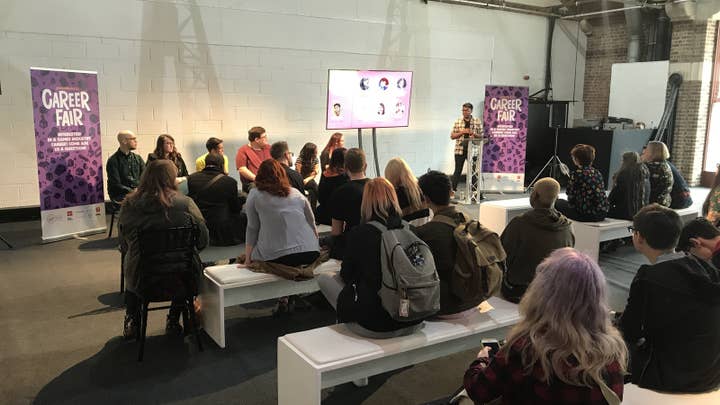 GamesIndustry.biz returns to EGX next week with the GI Academy stage, promising four days of live content, advice and insight on how to get into games or level up your existing position.
Between September 22 - 25, speakers from big name companies including Ubisoft, Rare, Remedy, nDreams and Media Molecule will appear to share insight on a range of topics, from kickstaring your career, growing a successful studio, managing communities and more.
Students can also pick up a free copy of our 100+ page GI Academy magazine, filled with insight into careers in the games industry.
Tickets are still available on the EGX website, here.
Check out the full schedule for the GI Academy Stage below:
Thursday 22 September, 2022
11:30 (UK): Live the Dream: How to Get Your First Job in Gaming (Dan Woodward, learning & development manager, nDreams)
12:30 (UK): The GDD's Not Dead: Writing Design Documents in an Agile Environment (Jo Haslam, design drector, Snap Finger Click)
13:30 (UK): Beyond 'Getting Into Games': Building a Sustainable Games Career (Simon Fenton, Dean, Escape Studios)
14:30 (UK): Play your way to success: Opportunities with younger audiences (Raj Pathmanathan, creative director, Kids Industries)
15:30 (UK): What it Means to be a Narrative Designer in the Industry (Bonnie Patterson and Dafydd Gape, DR Studio)
16:30 (UK): Routes into the Games Industry: An Employee and Employer's Perspectives (James Parker, director, Ground Shatter and Jess Dyer)
Friday 23 September, 2022
11:30 (UK): Scaling Up and Making Hits; How To Grow A Successful Games Studio (Bobby Thandi, XR Games)
12:30 (UK): Voice Acting In Video Games: A Guide for Performers and Game Devs (JD Kelly, Freelance VO)
13:30 (UK): Intellectual Property Rights in the Games Industry: An Introduction (Kulpreet Virdi, game lawyer, and Connor Griffith, associate, Browne Jacobson)
14:30 (UK): Harnessing the power of game communities [TITLE TBC] (Cassie Parkes, community developer, Ubisoft)
15:30 (UK): A Career Q&A with Remedy's Thomas Puha (Thomas Puha, communications director, Remedy)
16:30 (UK): Games as a New Media: A Guide for New Creators (Jay Uppal, game dev. & publishing consultant, Newzoo, and Shahriar Shahrabi, creative lead and technical artist, Realties IO)
Saturday 24 September, 2022
11:30 (UK): Going places in games - How on earth do I 'Network?' (Ioana Cazacu, Mojiworks)
12:30 (UK): Making Games Even if You're Dying: A Beginner's Guide (Sophie Artemigi, indie)
13:30 (UK): Entering Game Audio from Three Perspectives (Jake Gaule/Cai Jones/Kasia Dziekan, game audio freelancers)
14:30 (UK): So You Want to be a Game Writer? (Tim White, freelance game writer)
15:30 (UK): Hi Grandma, I made it!: How Three Artists Went from Augmented Reality, illustration and Car Design to Games (Mel Cummins, Jensen Chung, Joe Coggins, concept art freelancers)
16:30 (UK): Be More Producer (Louise Roberts, Producer, Rare)
Sunday 25 September, 2022
11:30 (UK): What They Don't Teach You About 3D and Character Art (Nele Steenput, Senior Character Artist, nDreams)
12:30 (UK:) The Language of the Video Game Brand (Migeul Sans Vidal, senior brand experience design/senior graphic designer, Media Molecule)
13:30 (UK): Q&A with Edd Coates - Launching my career in Game UI/UX (Edd Coates, UI artist and digital designer, Radical Forge)
14:30 (UK) Dare to be Digital Awards/Presentation
In addition to talks, students and EGX attendees can also have one-to-one sessions with games industry professionals, where they can ask questions and even present their portfolios.
One-To-One Sessions are:
Thursday 22 September, 2022
11am - 1pm:
Madeleine Thrush, Internal Recruiter, PlayStation London Studio
11am - 1pm:
Suraj Mehan, HR Intern, PlayStation London Studio
1pm - 3pm:
Kareem Ettouney, Co-Founder and Franchise Art Director, Media Molecule
1pm - 3pm:
Jon Eckersley, Art Director of Content, Media Molecule
3pm - 4:30pm:
Simon Fenton, Dean, Escape Studios
3pm - 5pm:
Jo Haslam [3PM - 4PM] Amanda Harris [4pm-5pm], Design Director (Jo) // 3D Artist (Amanda), Snap Finger Click
Friday 23 September, 2022
11am - 1pm:
Cassie Parkes, Community Developer, Ubisoft
11am - 1pm:
James Parker, Studio Director, Ground Shatter
1pm - 3pm:
Sophie Artemigi, game designer
1pm - 3pm:
Jessica Dyer/Dave S Preston, Animator/Lead Artist, Ground Shatter
3pm - 5pm:
JD Kelly, Voice Actor/Mo-cap performer
3pm - 5pm:
Kulpreet Virdi and Conner Griffith, Lawyers advising on IP ownership
Sunday 25 September, 2022
11am - 1pm:
Stuart Wilson, DR Studios, 3D Environment Artist
11am - 1pm:
Louise Roberts, Producer, Rare
1pm - 2pm:
Tim White, Game Writer and Narrative Designer
1pm - 3pm:
Mel Cummings, Jensen Chung, Joe Coggins, Concept Artsts, 3D and tech artist
3pm - 5pm:
Jake Gaule, Composer and Sound Designer
3pm - 5pm:
Kasia Dziekan, Sound Designer
Sunday 25 September, 2022
1pm - 3pm:
Nele Steenput, Senior Character Artist, nDreams
1pm - 3pm:
Daniel Woodward, Learning & Development Manager, nDreams
3pm - 5pm:
Edd Coates, Lead UI Artist, Radical Forge
3pm - 5pm:
Miguel Sanz Vidal, Graphic Designer/UX and UI, Media Molecule