Samsung enters gaming space backed by Gaikai
Electronics giant reveals Samsung Cloud Gaming, beta for early adopters this July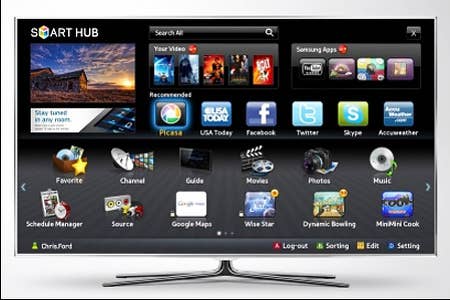 Samsung is to enter the video game business, offering a cloud gaming service streaming PC titles to TVs, with beta testing beginning this July.
The technology is provided by David Perry's Gaikai business and will offer games from big publishing companies already onboard with the visionary games delivery service.
The two companies have been working on the deal secretly for some time and were originally going to announce the partnership at E3 2013. But the absence of new home consoles from Sony and Microsoft has left a gap in the market for early adopters looking for high-end gaming experiences delivered easily to the living room.
"As the consoles are reset to a zero audience, it's a wonderful strategic move"

David Perry, Gaikai
"When you talk about Sony, Microsoft and Nintendo the conversation now has to include Samsung. This is their gaming solution," Perry told GamesIndustry International.
"We were supposed to launch at E3 2013 but we've bought it forward and managed to get it working much faster than expected," revealed Perry. "The timing could not be better. As the consoles are reset to a zero audience, it's a wonderful strategic move."
Owners of Samsung's high-range Smart TVs will receive on-screen beta invites this month. Although the service is current for TVs only, Samsung also manufactures a range of smartphones and tablets that could receive the service.
Any PC controller with a USB connection will work with the service, but Samsung will also be mailing out peripherals that it's chosen with the help of Gaikai.
"This is mass market," said Perry. "This isn't about trying to sell to someone who's already bought two consoles, this is trying to open up the market. And they can add any other devices at anytime of they want to."
According to Perry, electronics manufacturers are missing out on the success of the games business.
"You're making tablets, TVs, phones, but nothing participated in the biggest entertainment launch in history - Call of Duty. The movie Avatar works on everything you make, so you're supporting the movie business but it's the games business that's creating these monster hits. You want to get the real state-of-the-art games running on your devices in the best possible quality and the only way you're going to do that is through cloud gaming, there is no other way."
Samsung's smart TV range isn't cheap, but the company wants to target the early adopters who are ready to move on from current generation consoles and are not being catered to by Sony and Microsoft.
"Someone said recently that in 2013 the graphics on tablets are going to be as good as the Xbox 360. My point there is the Xbox 360 is six years old. You're telling me if I wait another 12 months I can be like it was six years ago? That's not what I want to play. I want to play today's hardware running the best new MMO or FPS on maximum settings, as good as the developer's can make it look."