Saints Row | Critical Consensus
Reboot of Volition's open-world action series launches with distinguished flair but ultimately falls flat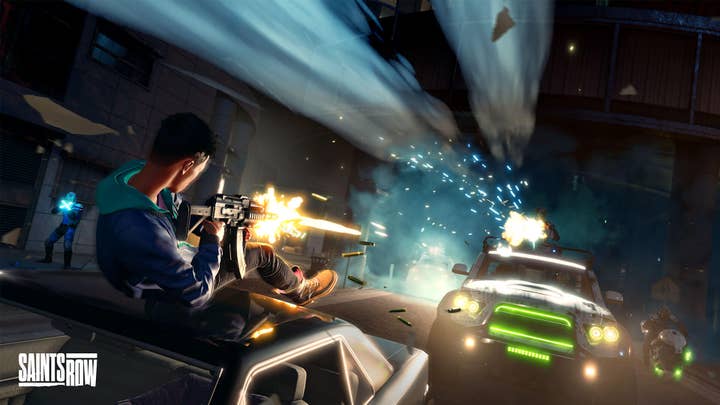 Today sees the launch of Saints Row, the next instalment to the titular game series made by developer Volition.
Saints Row has been marketed as a soft reboot of the series for this console generation, modernising the game's trademark humour and whims while still retaining its chaotic, open-world environment. However, early reviews seem to signify that the game may have fallen short of its ambition to revitalise the series.
As of writing, the game has a PS5 Metacritic score of 63, based on 43 reviews. While there's still time for more reviews to come in, it's currently the lowest rated Saints Row game so far.
Its average rating was cemented by a 6/10 review from IGN, in which Tristan Ogilvie highlighted Saints Row's efforts to dial back some of the more outlandish elements of the series – such as giving its protagonists super powers and allowing them to wield sex toys as weapons – to return to its "open-world gangland roots."
"However, this back-to-basics approach has borne out a fairly primitive kind of crime spree, and stripping the series of its more outlandish elements has laid this reboot's design and technical inadequacies bare – with no pixelated modesty censor big enough to hide its junk," Ogilvie wrote.
"This is a younger Saints Row in vibe, tone, and theme, but much of it plays like a Saints Row of yesteryear"Alyssa Mercante
"While there's a decent amount of fun to be had chasing collectibles and causing chaos, outdated mechanics and repetitive mission design meant that by the end of my time with the new Saints Row I was desperate for something that could genuinely surprise me like a slap to the face from a 40-inch dildo."
Over at GamesRadar, Alyssa Mercante called Saints Row "a new era that's still somewhat stuck in the past," and said in a 3/5 review that it "looks a lot like an open-world crime game from 2012," despite some efforts to modernise its tone.
"Don't get me wrong – developer Volition has made obvious and commendable adjustments to the Saints Row formula to help contemporise it and ensure we don't play a game with the same ideologies as one made during the pre-TikTok, pre-COVID, pre-Brexit, pre-Trump era," Mercante wrote.
"The new Saints are young, diverse, and openly queer. They struggle with student loans and a lack of adequate stemware (hence their frequent 'mugmosas'). This is a younger Saints Row in vibe, tone, and theme, but much of it plays like a Saints Row of yesteryear."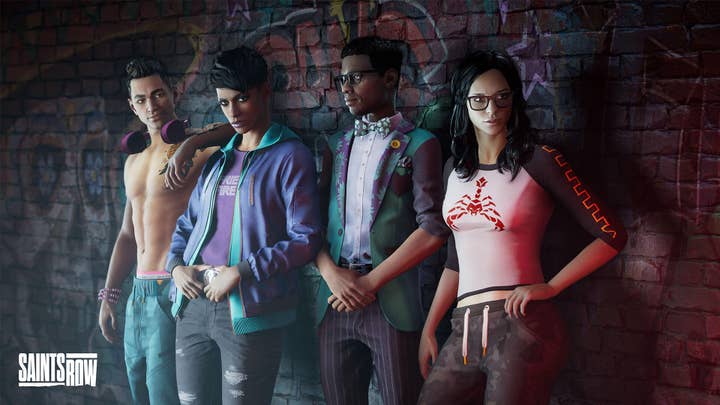 The Guardian's Keith Stuart also recognised that Saints Row has dropped its "dudebro 'anything goes as long as it celebrates the patriarchy' shtick of the previous title," in a 3/5 review.
"Now, everyone is in on the joke – and the joke is about trying to exist as a young person in the post-capitalist hellzone of the 21st century," he added.
Saints Row is set in the fictional urban playground of Santo Ileso, which is loosely inspired by south-west America. Here, the player's handcrafted protagonist serves as the boss of a criminal gang, and must make their way across an open map completing missions to earn cash.
"The plot, such as it is, is to establish The Saints as the numero uno criminal organisation in the Las Vegas-esque city of Santo Ileso, beating your enemy factions – the Panteros, the Idols, and the military might of the Marshalls – to reign supreme," said Vikki Blake in her Eurogamer review. "No, it's not a staggeringly novel concept, but it's not a bad one, either, helped in no small part by the game's admirably diverse mission types that keep the fight fresh and exciting."
Mercante added that "many of the missions follow the tried-and-true drive here, shoot them method that is employed by nearly every game in the genre. But when you focus on the various Criminal Ventures at your disposal, you can unearth a lovely little buffet of variety, whether it's stealing food trucks or getting beamed by oncoming traffic to make money off of insurance companies."
There's a similar flavour to the combat in Saints Row too – there's a myriad of weapons and ways to get things done, and as Stuart noted, even missions that appear in many similar games still offer a fresh experience.
"It works because Volition has thrown everything at the game – meaty guns, crazed muscle cars, ridiculous characters and some imaginative locations – and just begs you to get out there and mess about," he wrote. "And even though you know you've done these train robberies, prison breakouts and revenge assassinations many times before in other games, you do them again here because every face-off is so daft and unpredictable. Gunplay is erratic but also varied and intense, with an array of rifles, rocket launchers and melee weapons to buy and customise."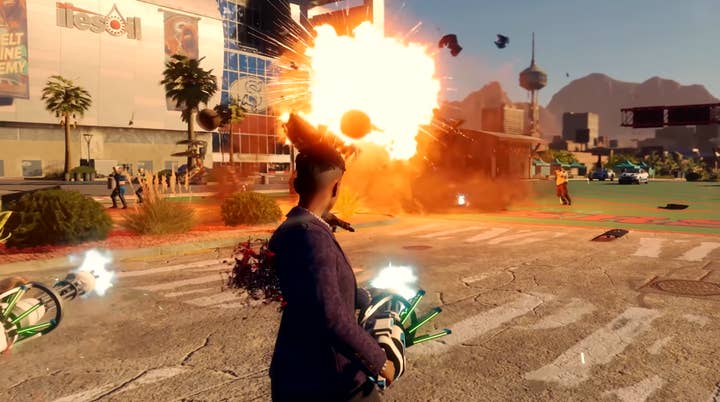 Reviewers did report that Saints Row came with launch bugs across multiple platforms. Gamesradar noted that it was buggy on Xbox Series S, while IGN and PC Gamer both noted regular bugs in the PC version.
"Certain button prompts, such as activating a GPS route or picking up a hidden drug package, were regularly unresponsive, while at other times I'd ride motorbikes with my character just floating alongside the bike in a standing position," IGN's Ogilvie said. "Occasionally missions would just break – like during a heist mission where my gang just never emerged from the bank and I had to force a restart because I couldn't trigger the getaway – and the tense final showdown against Saints Row's main villain turned into a farce when he snapped into a T-pose and started stretching and flailing around like one of those wacky used car yard tube men."
In all, Saints Row appears to be an exceedingly average reboot of an established franchise, that, despite some critical updates to its overall tone, has struggled to find its place in today's era of action shooters.
"There's definitely no shortage of shallow shoot 'em up thrills to be had here, but it's a very familiar and uninspired brand of sandbox fun that's unlikely to wow anybody who's played a Saints Row game before, much less a GTA," Ogilvie concluded.
"There are a few spectacular story moments and the city of Santo Ileso serves as a sprawling new playground full of surprisingly antiquated and non-interactive amusements, but the distinct lack of new gameplay ideas – and the frequency with which some of its least interesting ones are reused – means this Saints Row feels more like a repetitive retread than a proper reboot."
"To me, this is a preposterously fun video game, despite its many faults, or more accurately, because of them"Keith Stuart
Mercante concluded that her Saints Row experience was "enjoyable and more than occasionally frustrating," and added that "at times it feels like Volition is on the cusp of a breakthrough in both social commentary and open-world game mechanics, while at other times it feels like it's upholding the status quo."
While the game does come with several pitfalls, that's not to say that it can't be good fun, as some critics noted.
"I can't help but admit I'm having a smashing time – quite literally – with Saints Row," said Blake. "Yes, the story is trite at times and yes, much of where that story takes you can feel a touch ridiculous, but it's to the team's credit that this deftly side-steps the issues of its predecessors and rarely feels gratuitous or malicious.
"The Saints Row reboot is self-aware and self-deprecating and if you're able to move past its prior reputation, there's a fast and furious shooter here that's worthy of your time."
Stuart said: "While Saints Row is messy, buggy, silly and often derivative, it also recalls a time in the early 2000s when the open world genre was a haphazard, joyful space with none of the codified, dopamine-fracking precision of modern titles."
"To me, this is a preposterously fun video game, despite its many faults, or more accurately, because of them.," he continued.