Rovio's next game is Casey's Contraptions?
The company Angry Birds built may be launching a brand-new title soon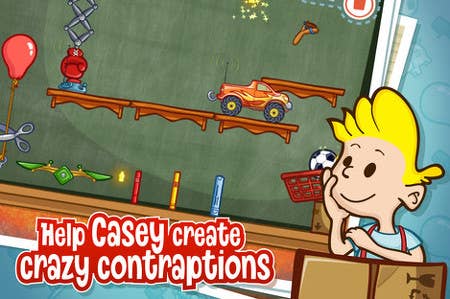 A trailer touting the one billion download milestone for Rovio's Angry Birds may hint at the next title from the publisher. The child towards the end of the trailer lives in a room with a Rube Goldberg-style device on the wall. 148apps believes this is related to Casey's Contraptions, an iPad app created by independent developer Noel Llopis. Llopis hasn't been doing anything to deflect that idea on Twitter.
"Oh wow! The cat is starting to get out of the bag!" he tweeted earlier, linking Rovio's trailer.
"Before rumors start flying, Rovio is a perfect gentleman. Not a Zynga at all. Don't worry, all is well," he later added.
Rovio has not acquired Llopis' company Snappy Touch outright, as Llopis noted that he was "still happily independent." Rovio CEO Mikael Hed previously told AllThingsD that the company was looking into publishing other titles.
No official confirmation has come from either party yet. Casey's Contraptions is currently on the Apple App Store, so it will be interesting to see what changes could come to the title under the Rovio banner.