Riot Games sues developer over League of Legends clone
Heroes featured in Imba's I Am Hero were "deliberately designed to be substantially and confusingly similar to LoL's champions," Riot says
Riot Games has filed a lawsuit against Vietnamese developer Imba Technology, that it accuses of copying League of Legends with its game I Am Hero: AFK Tactical Teamfight.
As reported by Reuters, the complaint was filed last week, at the US District Court for the Central District of California.
The lawsuit says that due to League of Legends' success, "developers of low-budget mobile games have sought to leverage that popularity and goodwill by featuring knock-off versions of LoL champions in their own games."
Imba's iOS and Android title I Am Hero: AFK Tactical Teamfight is one such knock-off version, the suit says.
Riot alleges that the name of the game is a direct reference to League of Legends' spin off Teamfight Tactics, while the heroes it features were "deliberately designed to be substantially and confusingly similar to LoL's champions."
It's not only the character names that Imba has copied, Riot says, but also the lore associated with them. One example given in the lawsuit is around LoL's character Teemo. I Am Hero features a character named Tomee, and his story is the same as the one featured in League of Legends, almost word for word (see below).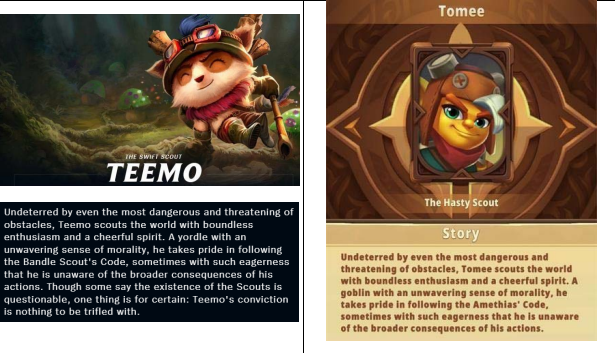 This applies to more than one character, with Riot for instance also mentioning similarities between LoL's character Heimerdinger and I Am Hero's Dinger (see below), but also between Nautilus and Tidus, Viktor/Victor, Vi/Vy, Zac/Zak, and more.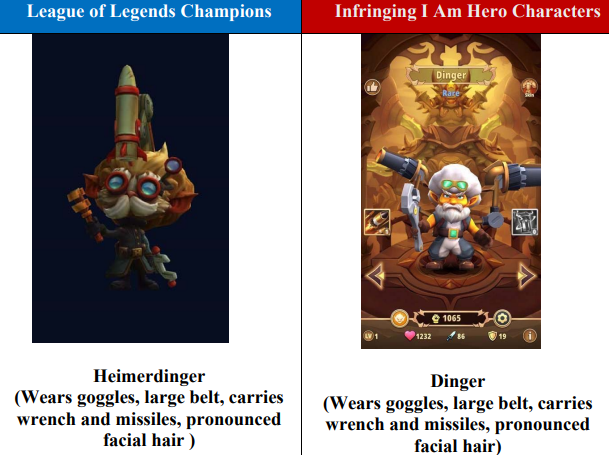 The title's gameplay and character abilities were also taken from League of Legends, the lawsuit continues. It also points to Google Play store reviews, with players complaining about I Am Hero being a League of Legends clone.
Riot is seeking damages for copyright infringement and explains it sent a Cease and Desist letter to Imba in December 2021, to which the developer replied, admitting that "some of its game's content was substantially similar to that of LoL but denying that it had engaged in copyright infringement," the lawsuit says.
Riot is also asking for the court to block I Am Hero's sales.
A similar lawsuit emerged earlier this month from PlayerUnknown's Battlegrounds creator Krafton, which accused Garena Free Fire of "blatantly infringing" PUBG.