Riot Games president confirms Twitter hack
But is coy when it comes to leaked League of Legends: Supremacy art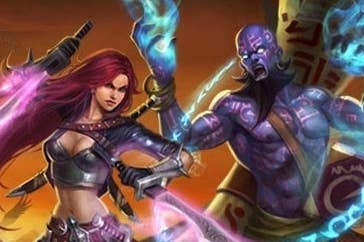 Riot Games president Marc Merrill has confirmed that his social networking account was compromised, but offered little comment on the images of an unreleased, unannounced card game that were leaked as a result.
Yup, someone got onto my Twitter account. Yup, someone shared some old screens from one of the many prototypes we've experimented with.

— Tryndamere (@MarcMerrill) October 13, 2013
We're always working on a variety of new ideas for League & beyond. Lots of experimentation that may never see the light of day :)

— Tryndamere (@MarcMerrill) October 13, 2013
The hack was carried out by an individual calling themselves Jason and requested retweets in return for a look at artwork from League of Legends: Supremacy, which Jason reported was a standalone, fully completed title.
It's worth noting that Riot Games did file a trademark application for League of Legends: Supremacy on May 22, 2012, with the United States Patent and Trademark Office.
The hacker later rescinded control over the account, allowing Merrill to delete the tweets and clear up any confusion relating to the episode.