Return To Monkey Island | Critical Consensus
Critics praise Ron Gilbert's return to the long-absent adventure game franchise as Guybrush is introduced to a new generation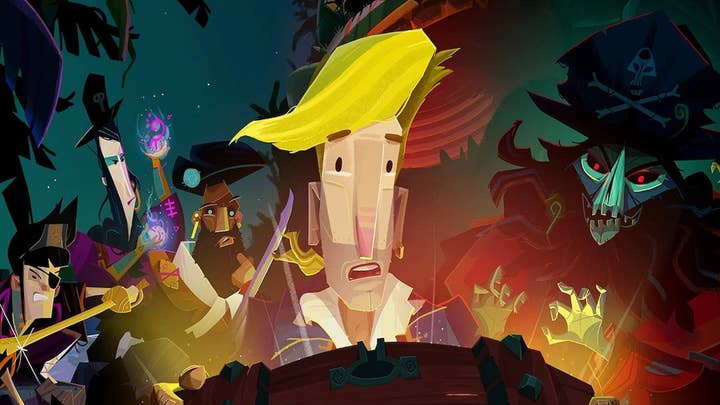 There's pressure on any sequel that builds on a beloved game to live up to the standards set by its predecessor, but when that original game is more than three decades old, the pressure reaches a whole new level.
This is the challenge that faced Return To Monkey Island, a pirate adventure game helmed by series creator Ron Gilbert for the first time since 1991's Monkey Island 2: LeChuck's Revenge. Released earlier this week for PC and Switch, it reunites series fans with (and introduces newcomers to) bumbling pirate Guybrush Threepwood, zombie pirate LeChuck, and a whole host of classic characters from the previous games.
Reviving long-absent IP — the last outing for Guybrush and co was 2009's Tales of Monkey Island by Telltale Games — is nothing new to the world of entertainment, but whether that return lives up to expectations and rose-tinted memories can vary by franchise. In the case of Monkey Island, it appears Gilbert and his team have triumphed.
At the time of writing, Return To Monkey Island has a Metacritic rating of 89 based on 29 critics reviews, which range from 7.5/10 on Checkpoint Gaming to the full five stars on NME.
In his review for the latter, Jordan Oloman says this is "a brave and refreshing adventure game about confronting your own legacy."
"Once you see the new aesthetic in motion, it really does work to capture Monkey Island's charming and zany vibe"

Alan Wen, Stuff
"It answers difficult metatextual questions with surprisingly moving answers, all the while delivering everything that fans might expect from such a coveted sequel," he adds.
The story centres around Guybrush once again searching for the Secret of Monkey Island — the titular mystery from the original game that was never solved in the following four sequels and 32 years.
The most obvious difference this time around is the art style, led by former Tearway and Knights & Bikes dev Rex Crowle. It's the most striking shift in direction since 1997's Curse of Monkey Island (which dropped classic pixel art for Disney-style cel animation) and one that was met with complaints from some of the louder fans on social media. But critics have nothing but praise for Crowle's work.
In her review for Rock Paper Shotgun, which ranks Return to Monkey Island as one of the site's Bestest Bests, Alice Bell said: "The people and locations all look fantastic in the new art style, which is vibrant and lovely, capturing the spirit of the earlier games but in a storybook style that is extremely fitting for this new adventure.
"It's hard to believe that this wasn't always how Monkey Island looked, to be honest, and there are great extra animations in the fore and background that brings everything alive."
Writing for Stuff, Alan Wen also gave Return to Monkey Island the full five-stars and said: "Once you see the new 'animated picture book' aesthetic in motion, it really does work to capture Monkey Island's equal parts charming and zany vibe. This is a series known for its surreal humour and wacky characters, from recurring ones like fast-talking salesman Stan to the new members of LeChuck's zombie pirate crew. Art director Rex Crowle [...] brings them all to life brilliantly. It's also the first of many signs that this isn't a sequel that will go the way people may expect."
The bigger change, mechanically at least, is the absence of the nine-verb interaction grid — an interesting choice given that Gilbert revived this in Thimbleweed Park, which harked back to his LucasArts days working on titles like Monkey Island. This time around, interacting with objects is limited to a couple of context-sensitive options depending on what or who you're dealing with, while using items is built around a drag-and-drop system. While it limits some of the opportunities for comedy, critics report it makes for a smooth playing experience.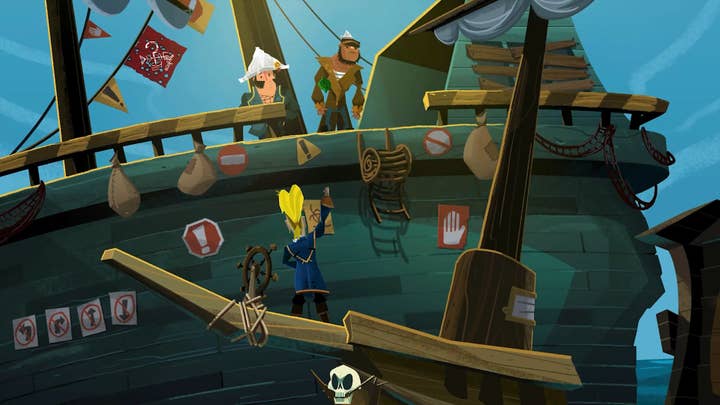 In his unscored but generally positive review for Polygon, Justin McElroy writes: "It makes for a more engrossing experience in which the UI is really in service of the story rather than taking centre stage, as is much more common in the genre. It's a welcome refinement — though I do miss forcing Guybrush to describe how a lamp sounds or explain why he can't talk to a tree."
Oloman notes that it may take die-hard fans of adventure games a while to get used to, but adds that it "feels only fair as a way to modernise Monkey Island for the generations who have grown up without it."
"The loss of Tim Schafer feels like the loss of the heart of the series, [making] Monkey Island... just another competent point-and-click"

Georgina Young, USA Today
Reviews suggest the puzzles are also as comically obtuse and convoluted as they used to be, with the game offering two settings: a casual mode, for players who simply want to get through the story, and a hardcore mode, for fans who want the full experience — but this is not as daunting as it might seem.
"I played on the hardest difficulty, and I didn't struggle as much as I have in previous entries," Oloman says. "But that's not to say Return To Monkey Island is easy. I was profoundly stumped a handful of times, but this was significantly mitigated by the built-in hint system, which is well-written and vague enough to be respectful to the many eureka moments Return has to offer. Stubbornness will decide how much time you get out of it, but I clocked a comfortable 12 hours across a few days, and it never once felt like a chore, thanks to its tight pacing and compelling stakes."
Much of the humour is, as always, delivered through the writing. The reactions vary from review to review but every critic admits to chuckling during their playthroughs, although some were hoping for more. In her review for USA Today's sports and recreation section For The Win — entitled 'A return to the island but not to form' — Georgina Young writes that while she appreciated the continued inclusion of fourth-wall breaking jokes, most of the writing "lacks the sharpness of the old games."
"It seems like the developers knew this," she writes. "Not only is there a skip dialogue button in the game, but you are forced to acknowledge its existence in the tutorial. In a point-and-click adventure, you always expect bucket loads of backtracking, but you hope that you don't spend too much time trapped in old dialogue loops.
"Return to Monkey Island doesn't clearly mark what is old and new dialogue, which means you have to just keep chatting to everyone and hearing the same lines over and over. It doesn't respect your time. The loss of Tim Schafer feels like the loss of the heart of the series. Monkey Island without his unique writing style is just another competent point-and-click."
Others praise the comedy and particularly the story, which is a little more reflective than previous entries on topics like age. Bell writes: "It's not that Return To Monkey Island gets too serious, as much as it is gently self-aware in ways that it wasn't before. It's clear from the start that the ending, which I won't spoil, is going to be a bit metatextual in a way that tiny babies will get cross about — but I thought it was perfect. It's about growing and changing, and what the important bits of the stories we love actually are."
Another element of the game praised by almost every review we read, was the soundtrack. A trio of composers — Michael Land, Peter McConnell, and Clint Bajakian — have returned to the franchise and revived what McElroy describes as the signature "pirate reggae" in a way that will "feel like a snuggly blanket to '90s adventure nerds."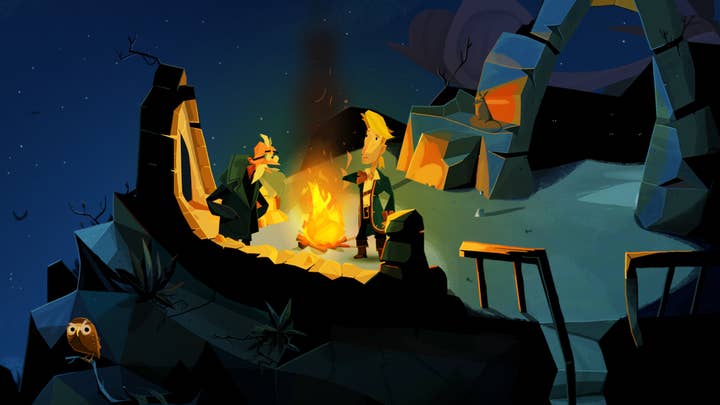 Inevitably, this is a big factor in Return To Monkey Island's appeal: nostalgia. Most writers of the reviews we've come across are established fans — the exceptions being Young, who only played the first two games, and Wen who only played the remake of the original. For newcomers, or fans who may have forgotten the events of previous adventures, there's a scrapbook and collectibles that will serve as reminders and trips down memory lane for Guybrush. (Interestingly, while Return follows directly from LeChuck's Revenge, it treats the subsequent non-Gilbert games as canon)
"Despite these efforts to welcome newcomers though, you should be under no illusion that the primary audience for Return To Monkey Island is people who, like me, get a little swoop in their tummy when the theme music plays and the title card comes up," syas Bell. "I'm not kidding about the nostalgia caramel. There are points where you come across something and the only thing Guybrush can do with it is remember the past.
"To the dev's credit, it's not mandatory to indulge in all the nostalgia, but it's kind of hard to have a conversation with most of the supporting cast without it cropping up."
"A brave and refreshing adventure game about confronting your own legacy"

Jordan Oloman, NME
She continues: "I do think it's one of the best point-and-click games to give someone in the year of 2022 to prove that point-and-click games are good. But I'm also self-aware enough myself to know I wouldn't have loved Return To Monkey Island quite as much if I didn't have a history with the series. But I do. So I did."
McElroy adds: "[This is] an experience that's nostalgic in the best kind of way. Return to Monkey Island genuinely recaptured the joy the series provided in my youth, rather than nudging me in the ribs and reminding me of all the fun we used to have back in the day."
For Young, it's not quite enough. While she praises the tight structure and the implementation of the callbacks, she believes Return To Monkey Island "really needed something new and unique in order to stand out on its own."
"Despite all of this, it is still a good point-and-click adventure game. You would expect no less from some of the best developers of the genre. If it didn't have the name Monkey Island, I am sure that it would be unanimously praised. However, it does have Monkey Island plastered all over it. We return to Monkey Island, but we do not return to the place we once knew. It has changed, aged, and yet stubbornly refused to carve its own niche. Expect the, erm, expected."
Wen concludes: "Like other sequels made decades later, Return to Monkey Island is as much about trying to recapture a series' past glories as well as looking forward and appealing to new generations. It's a tricky balancing act that sometimes makes for an impossible task, but the fact the game doesn't have to take itself so seriously helps.
"There's a degree of poignancy seeing an older Guybrush desperate to take care of unfinished business, and it's debatable whether this long-overdue sequel will be as fondly remembered as the originals. But at heart, this is a game that cares most about making you laugh. That's something we could all definitely use more of right now."