Resident Evil 5 still the top horror | UK Time Tunnel
GfK Entertainment offers insight into how well Village's launch stands up to its forebears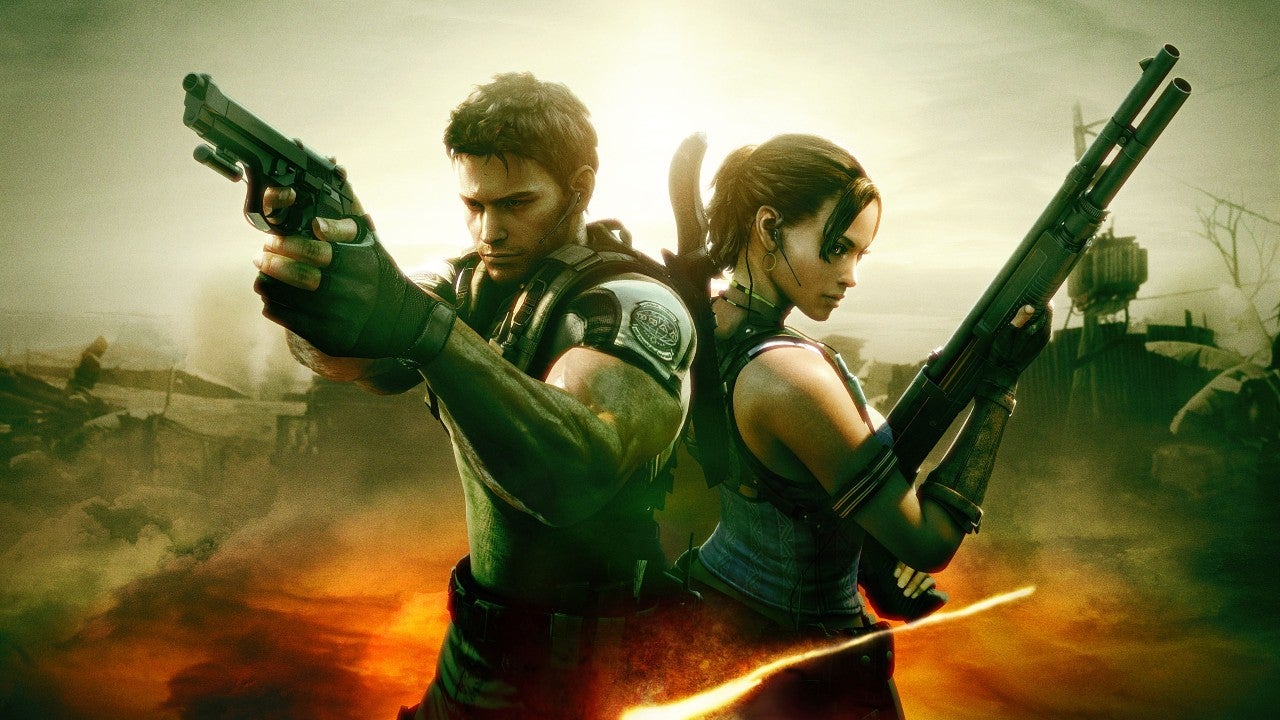 Resident Evil Village is off to a great start in the UK.
At physical retail, it was the biggest launch of 2021 so far in terms of revenue, and the second biggest launch in terms of units -- beaten only by Nintendo's Super Mario 3D World + Bowser's Fury, which was £15 cheaper.
It was the second biggest launch on Xbox Series X|S, after Call of Duty: Black Ops Cold War, and the third biggest on PlayStation 5 after Spider-Man: Miles Morales and Assassin's Creed Valhalla.
But how does it hold up compared to past Resident Evil games?
With the series now celebrating its 25th anniversary, we took a deeper look at how the franchise has reinvented itself time and again -- and GfK Entertainment's Dorian Bloch shared some insight into Resident Evil's performance in the UK.
First, he tells us the series has generated £160 million across 35 releases since the original debuted on the PlayStation in 1995 (and, as with all GfK data, this doesn't even include digital sales). That puts Resident Evil at No.33 in GfK's list of the best-selling games brands and franchises of all time.
But for all the series' reputation as a survival horror outing, it's the action games that have sold the most in the UK.
Resident Evil 5 and 6 respectively stand as the IP's biggest launches in terms of week one revenue, as of December 31st, 2020. They even account for more than a third -- 36%, to be exact -- of all combined Resident Evil week one revenues; Resident Evil Village became the sixth biggest UK debut, so is unlikely to have made much of a dent in this.
The week one sales of Resident Evil 5 and 6 also account for 8% of Resident Evil's lifetime sales across all 35 releases (excluding Village) -- and both went on to benefit from HD re-releases, while 5 also got a Gold Edition in 2010.
Resident Evil 5 also tops GfK's rankings when it comes to lifetime sales for Resident Evil titles, outperforming the first two iconic PlayStation games and the revered GameCube outing Resident Evil 4, which rejuvenated the series.
Together, these four games represent 46% -- nearly half -- of the series' cumulative revenue in the UK.
It's further proof of how remarkable it is that, despite the strong sales of the 'action Resident Evils,' Capcom pivoted the series back to survival horror for the seventh mainline outing. But, given Resident Evil 7's position as the biggest-selling Resident Evil worldwide at 8.5 million units so far, it was clearly the right move for this storied franchise.
Here is the GfK Top Ten for the Week One sales of Resident Evil games:
| Position | Title | Platforms |
| --- | --- | --- |
| 1 | Resident Evil 5 (2009) | PS3, Xbox 360 |
| 2 | Resident Evil 6 (2012) | PS3, Xbox 360 |
| 3 | Resident Evil 2 (1998) | PS1 |
| 4 | Resident Evil 7: Biohazard (2017) | PS4, Xbox One, PC |
| 5 | Resident Evil 2 Remake (2019) | PS4, Xbox One |
| 6 | Resident Evil Village (2021) | PS5, PS4, Xbox Series, Xbox One |
| 7 | Resident Evil 3 Remake (2020) | PS4, Xbox One |
| 8 | Resident Evil 3: Nemesis (2000) | PS1 |
| 9 | Resident Evil: Operation Raccoon City (2012) | PS3, Xbox 360 |
| 10 | Resident Evil (1996) | PS1 |
Here is the GfK Top Ten best-selling entries in the Resident Evil series (as of December 31st, 2020):
| Position | Title | Platforms |
| --- | --- | --- |
| 1 | Resident Evil 5 (2009) | PS3, Xbox 360 |
| 2 | Resident Evil 2 (1998) | PS1 |
| 3 | Resident Evil (1996) | PS1 |
| 4 | Resident Evil 4 (2005) | GameCube |
| 5 | Resident Evil 7: Biohazard (2017) | PS4, Xbox One, PC |
| 6 | Resident Evil 6 (2012) | PS3, Xbox 360 |
| 7 | Resident Evil Code Veronica (2000) | Dreamcast |
| 8 | Resident Evil 3: Nemesis (2000) | PS1 |
| 9 | Resident Evil 2 Remake (2019) | PS4, Xbox One |
| 10 | Resident Evil: The Umbrella Chronicles (2007) | Wii |