Report: Amazon platforms have the highest rate of mobile spenders
Newzoo study confirms some habits, but also holds new surprises
A report on mobile spending from research firm Newzoo has revealed that customers of the Amazon Appstore, using devices such as the company's Fire phone and tablets, have the best rate of spender conversion of any mobile platform, with a massive 64 per cent of customers spending money.
That rate puts the storefront ahead of the iPad at 57.1 per cent, the iPhone at 47.7 per cent and Google Play at 36.5 per cent. Despite being a smaller install base, says Newzoo, Amazon's platform could offer developers a good return.
"These gamers also have a high share of big spenders characteristic for tablets such as Amazon's most popular devices: the Fire Tablets," reads the report. "Combined with it's more family-oriented demographics, the opportunity might be largely underestimated, suggesting developers should shift marketing resources towards the Amazon Appstore."
"When analyzing our data, Amazon's performance jumped out to us," added Newzoo CEO Peter Warman. "The data in the report focuses mainly on reaching a valuable crowd and not so much on absolute reach. But when looking at Amazon's Fire tablet from a quantitative perspective they perform better than most people would expect. For instance, our data indicates that there are about 37 million Kindle Fire users in the US and Canada compared to 58 million iPad users and another 21 million who use an iPad Mini.
"However, please note that these are not installed base numbers. We prefer to focus on number of users because consumers decide to download games and spend money, not devices. And this is exactly where the Fire excels: in reaching family homes with multiple users including kids. In Europe, the iPad devices have a slightly larger lead over the Fire. The UK, Germany and France together have around ten million Fire users and almost 30 million consumer using an iPad (Mini).
"Many households, especially families, have more than one tablet as handheld consoles are substituted. Illustrative is the fact that 24 per cent of the iPad (Mini) users in North America also uses a Fire tablet. What is also key to developers is the fact that Amazon's key strength, one (or two) click buying, pays off in monetization of their games. Why this might come as a surprise to some, is due to the fact Amazon's Fire game revenues are hard to estimate. They do not report on this themselves and indirect analysis is difficult because they do not publish a grossing ranking comparable to those of iOS and GooglePlay."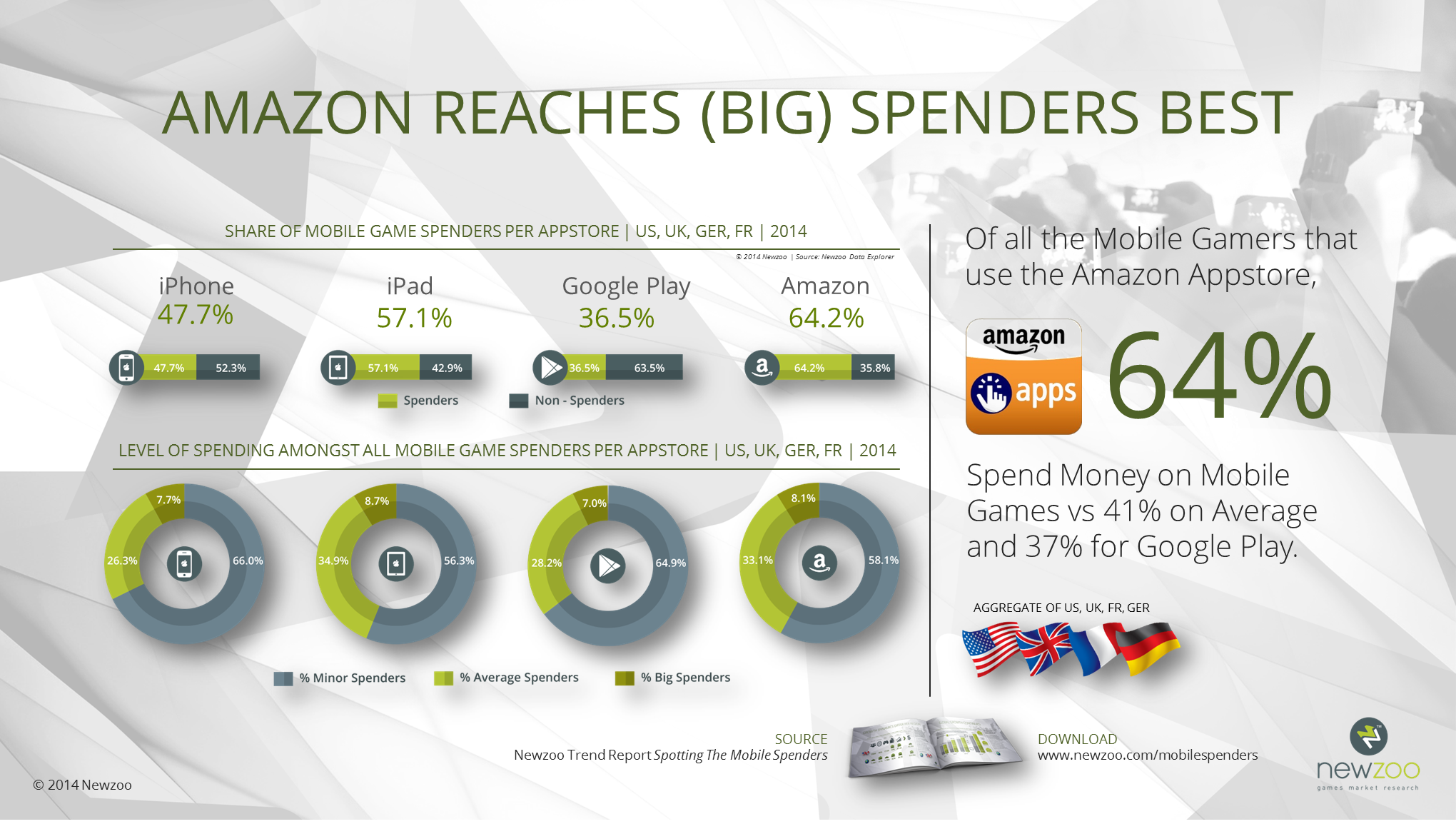 The report, available for free here offers a number of new insights into the psychology of customer monetisation, alongside the confirmation of some established habits. For example, males are identified as the biggest spenders, with those with families comprising the majority of the biggest spending group.
"For men the share of spenders rises with age, for women it drops," the report notes. "On average one in five mobile spenders is a man older than 35. Spenders are also most likely to have a full-time job and a large income. More than a third of mobile spenders play together with their children regularly and spend a large share of their game budget on their kids."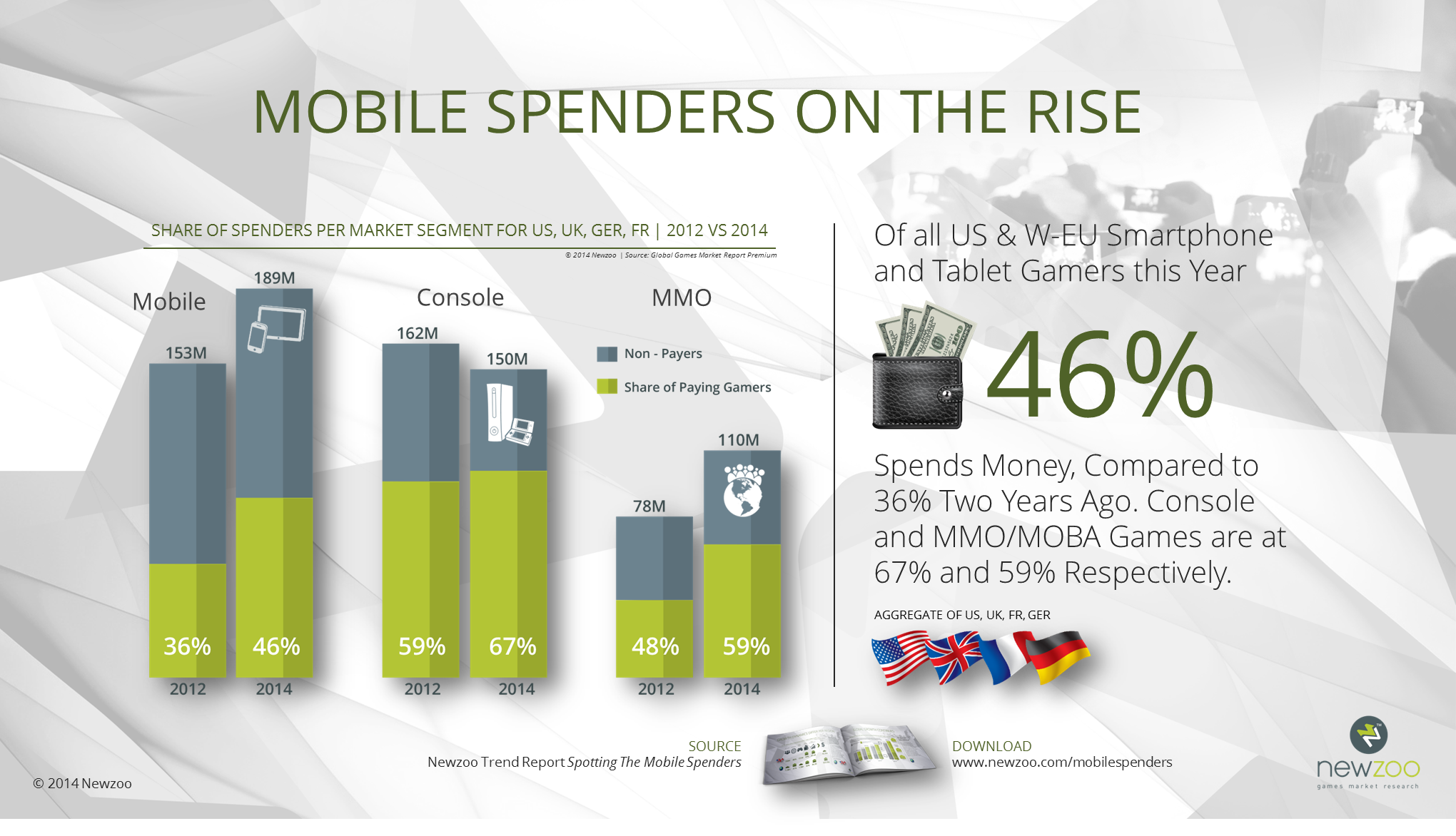 The market is still growing rapidly, Newzoo believes, with the company earmarking a potential 37 per cent share of global gaming revenues to be attributed to mobile devices next year, up from 29 per cent in 2014. That growth isn't just limited to new markets, either. Newzoo's report rejects the idea that North America and Western Europe are saturated, finding instead that these territories contributed 58 per cent of the $7.4 billion growth in the market this year. North America is expected to grow by 51 per cent in 2015, Western Europe by 47 per cent. Japan remains the world's largest mobile market.
The report also offers a glimpse into the motivations of big spenders, finding that they're likely to be regular gamers who download a lot of titles, usually based on the recommendations of friends or online reviews. Competitiveness is also a major driver for whales.
Newzoo's full 22 page report is available for free here