Remembering the original Pokémon Snap launch | UK Time Tunnel
GfK Entertainment shares with us the figures ahead of the game's eventual sequel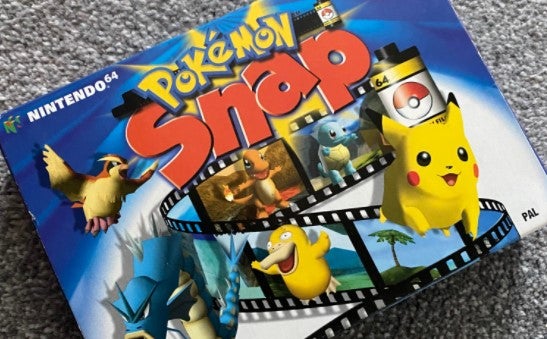 New Pokémon Snap releases this week, the sequel to a game that launched almost 21 years ago. GamesIndustry.biz decided to take a trip down memory lane with GfK Entertainment, to remind ourselves of the original game's launch.
September 2000. Ah, the memories. Britney Spears was dominating the charts with songs like Oops! I Did It Again and Lucky. Ant & Dec had established themselves as the kings of Saturday morning television. X-Men, Scary Movie and Snatch were ruling the Box Office. And then there was Pokémon. Everywhere.
The hit video game franchise may have launched in Japan in 1996 and in the US in 1998, but it hadn't reached the UK until late 1999, and like the rest of the world, it had taken over.
It was a huge boost for Nintendo, which had been having a tough time in the UK, at least in terms of the home console market. The N64 had reached 1.5 million UK sales, comfortably outmatched by PlayStation's 5.4 million install base. Indeed, the gap would only widen further with the arrival of PS2 and GameCube.
Yet the Game Boy and Pokémon were huge. Within a year, Pokémon Red and Blue had exceeded 550,000 games sold each (GfK Entertainment sales), which was a phenomenal result for the time. Pokémon Yellow, which had arrived in June 2000, was one of the best-selling games of the summer and was fast catching up with Red and Blue. It meant that the Game Boy Color ended 2000 as the country's best-selling games console.
Pokémon Snap was the seventh Pokémon title to be released in less than a year when it arrived on September 15th, joining three Game Boy games (Red, Blue and Yellow), one N64 title (Pokémon Stadium) and two edutainment PC titles (Pokémon Project Studio Red and Blue). It was a photography title, with players having to take images of Pokémon in their natural environment, and using items to create the highest scoring photos.
Snap sold a relatively small 6,500 units at launch, reaching No.9 in that week's charts. But it did finally knock Perfect Dark off the No.1 spot in the N64 Top Ten, a position it had held since it launched in June. It was one of four Pokémon games in the All Formats charts that week, with Yellow ahead of it at No.5 and Blue and Red down at No. 22 and 24 respectively.
Snap had reviewed well enough, but was criticised for its short length and lack of Pokémon to take pictures of. And despite the Pokémon craze, the N64 never enjoyed the same uplift the Game Boy Color did. Indeed, there were a large number of retailers at the time (including now-defunct outlets like Blockbuster, Comet, MVC, Our Price, Staples, Virgin Megastores and Woolworths) who had stopped supporting the N64 significantly, giving priority and shelf space to the other consoles.
Nevertheless, Snap would go on to sell considerably more copies as the weeks went on, and attracted a cult following amongst Pokémon's core fanbase.
Now, almost 21 years later, the game is getting a sequel. Although the initial Pokémon craze died away, the franchise has remained a major seller in the UK, generating £404 million in boxed game sales since its 1999 debut. Including the PC edutainment products, New Pokémon Snap will be the 92nd boxed Pokémon release in the UK. There were just four N64 games released in the UK based on the IP (Stadium, Stadium 2, Snap and Puzzle League -- Hey You! Pikachu never reached Europe), whereas this will be the tenth physical Pokémon release for Switch.
Switch is an interesting device. Pokémon games have typically sold best on handhelds, with only 11 boxed games released across N64, GameCube, Wii and Wii U (only one game, Pokken, was released physically on Wii U). As a hybrid device, Nintendo has brought together its handheld and home console audiences on Switch. That, coupled with the strong sales of the new console, means that although New Pokémon Snap isn't launching in the middle of a Pokémon craze like its predecessor, it still has good chance of finding a sizeable audience in 2021.
Here is the GfK Top Ten for the week ending September 16th, 2000:
Last Week
This Week
Title
Platforms
New Entry
1
Spider-Man (Activision)
PS1/GBC
5
2
Tenchu 2: Birth of Stealth Assassins (Activision)
PS1
6
3
The Sims: Livin It Up (EA)
PC
New Entry
4
Star Trek Voyager: Elite Force (Activision)
PC
2
5
Pokémon Yellow (Nintendo)
GBC
19
6
FA Premier League Manager 2001 (EA)
4
7
Sydney 2000 (Eidos)
PC, PS1, Dreamcast
New Entry
8
Age of Empires 2: Conquerors Expansion (Microsoft)
PC
New Entry
9
Pokémon Snap (Nintendo)
N64
3
10
Toca World Touring Cars (Codemasters)
PS1
Here is the GfK N64 Top Ten for the week ending September 16th, 2000:
| Last Week | This Week | Title |
| --- | --- | --- |
| New Entry | 1 | Pokémon Snap (Nintendo) |
| 1 | 2 | Perfect Dark (Nintendo) |
| 3 | 3 | Rugrats Treasure Hunt (THQ) |
| New Entry | 4 | Pokémon Stadium (Nintendo) |
| 18 | 5 | Road Rash 64 (THQ) |
| 4 | 6 | Turok 3 (Acclaim) |
| 5 | 7 | Turok Rage Wars (Acclaim) |
| 12 | 8 | The Legend of Zelda: Ocarina of Time (Nintendo) |
| 9 | 9 | Star Wars: Episode 1 Racer (LucasArts) |
| 17 | 10 | GoldenEye 007 (Nintendo) |