Remedy prepares for a future with more games and more control
CEO Tero Virtala on a "new phase" of the Finnish studio's long history - "We think we're one of the best in the world, we need to preserve that"
With the ink now dry on a global publishing deal with 505 Games, Remedy Entertainment has made the first tangible step in what CEO Tero Virtala described as "a new phase" in its long and storied history. Speaking exclusively to GamesIndustry.biz, Virtala said that the Finnish company intends to safeguard its hard-earned creative identity while releasing more games, on more platforms, and with greater control over the future of each new product.
The deal with 505 Games, announced earlier this week, will bring in €7.75 million for the development of a new cinematic third-person action game, currently known only as "P7." This is Remedy's first new IP to launch for both Xbox and PlayStation consoles since Max Payne, and it is a marker for what Virtala believes will be a more open and autonomous future for the company.
"We had a lot of discussions with 505, and we seemed to share similar important principles," Virtala says, describing 505 Games as the very best of several good choices. "They clearly had a lot of good experience and competencies, especially in the areas that we want our partner to bring to the table.
"A Remedy game launch is still going to be rare, so that game launch has to be excellent"
"In the end, with the direction we are going and the type of game we are creating, 505 was an excellent combination with Remedy."
Crucially, the 505 deal will leave control over the IP in Remedy's hands, which Virtala says is a key part of a strategy devised in the early part of 2016, as Quantum Break was about to ship. The company had existed for more than 20 years, it had 140 talented employees, and, according to Virtala, "a lot of our people felt that, with this talent, we could do even more; we could do more than launch one great game every four to five years."
The company's proprietary engine, Northlight, had advanced to a "completely new level" during the development of Quantum Break, one that made multi-project development feasible for a company that had become known for singular focus on individual games - it should be noted that Remedy is currently collaborating with SmileGate on CrossFire 2, in addition to its ongoing work on P7.
Remedy will launch games more regularly in the future, Virtala says, but any fears that its unique voice would be lost within that busier release schedule are quickly allayed. Virtala lists the company's main strengths as "world building, character creation, and storytelling," and I'd suggest that its keenest fans would broadly agree with that assessment. More to the point, though, a future with more Remedy games doesn't necessarily mean one two every year.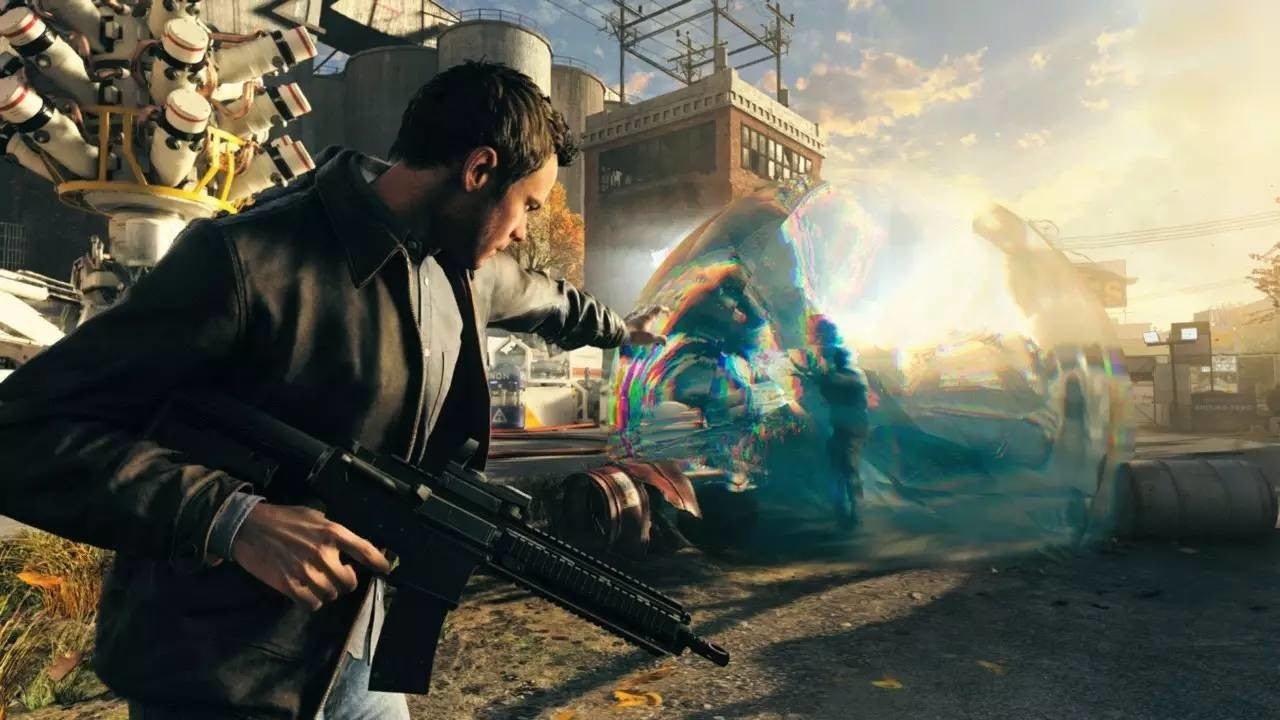 "They need to be really polished gameplay experiences," he says. "No matter if we have one team or two teams developing the games, we won't have a multitude of games coming out per year. A Remedy game launch is still going to be rare, so that game launch has to be excellent.
"We need to take into account where the world is going and what players appreciate, but we won't have that many games coming out. We are proud. We think we're one of the best in the world, we need to preserve that - to find the right way to take our games into longer term experiences."
This notion of "longer term experiences" can be interpreted in two ways. The first relates to the individual games; Remedy has already talked about P7 featuring its "deepest game mechanics yet," and Virtala confirms that finding ways to make the gameplay experience "long-lasting" for its audience is an area of focus. One manifestation of this will be co-op gameplay elements in P7 - "for our new direction of storytelling, co-op fits very well," Virtala adds.
"Based on our past experiences, we have seen that it's really difficult. The decision is not in our hands unless the brand stays in our hands"
The other interpretation relates to the IP, and it's why the deal with 505 Games is so significant. Virtala waves away the notion that, with the company returning to PlayStation development after so long working with Xbox, it is walking away from exclusives altogether. The industry changes too quickly, he says, to rule out anything altogether.
"But there is still this thinking that we want to be more in control of the type of games we make," he continues. "We want to have a stronger say... We always focused on creating one game, and one of our specialities is the way we build the game worlds; the role of the locations, the characters and the stories in the worlds where we then place our games.
"If we make an excellent game - and that's a massive investment - we would like to preserve the possibility that we can then continue those stories in future games as well. With Alan Wake and Quantum Break, that didn't work.
"Based on our past experiences, we have seen that it's really difficult. The decision is not in our hands unless the brand stays in our hands."
The next step for Remedy is a proposed listing on the Nasdaq First North Finland stock exchange, which was announced at the end of April. Virtala insists that the IPO is still being investigated rather than fully confirmed, but the company "is in a good position, so we are positive on the likelihood."
With the money raised through an IPO, Remedy would be in a position to build on its unique strengths around world-building and storytelling, adding "new competencies" that would support its new creative direction. It would also provide more money to invest in building its own brands, and sustaining them over longer periods. The goal, Virtala says, is to manoeuvre Remedy to "a stronger position in the value chain" while keeping strategic control with the company's board, its management, and its employees.
"Remedy has always wanted to decide the direction where it goes, and not always in our games in the past have we been able to fully do that," he says. "Now we want to make sure that, in the future, that holds true."