Raspberry Pi now available for bulk buying
Sales limit lifted, 4000 being produced a day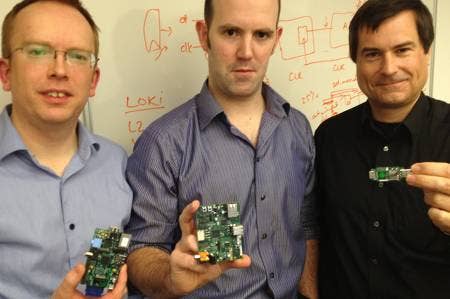 Orders for Raspberry Pi computer are no longer limited, with customers now able to purchase as many of the tiny device as they want.
"Up until now, we've had to restrict purchases of the Raspberry Pi to one per customer because the demand has been (and continues to be) so high," said the official site.
"Both of our manufacturing partners have been working at building capacity so we can lift that limit - right now, 4000 Raspberry Pis are being made every day."
The £22 miniature computer was designed by David Braben and Eben Upton to give children access to the basics of programming. The move opens up availability of the device to schools and businesses that need it in larger numbers.
It's still available just from the official stockists RS Components and element14/Premier Farnell, with the latter predicting delivery lead-times of 4-6 weeks.
When the credit card sized computer launched in February it sold out within hours, crashing stockist websites.