Rare punishes streamers after they complain of Sea of Thieves harassment
Studio's inability to curb harassment prompts other streamers to leave the game's Partner Programme in solidarity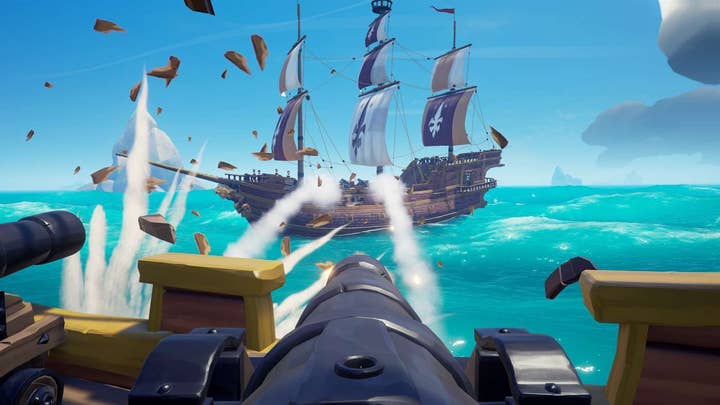 When a couple of Sea of Thieves streamers called some of the game's developers "monsters" for ignoring the months of harassment they had endured at the hands of other Sea of Thieves streamers, Rare responded by removing them from its Partner Programme, according to a Kotaku report.
In July, the couple behind Rocco, a puppet on Twitch who streams Sea of Thieves, posted a statement on TwitLonger detailing a half-year of misogynistic and ableist harassment they said had been directed their way by another Sea of Thieves streamer and his community, as well as Rare's lack of reaction to the bullying.
Rare banned a handful of accounts, which prompted more Sea of Thieves streamers to lash out at the couple and led to increasing harassment of them, as well as doxxing and threatening phone calls made to the couple and their employer.
Kotaku reports that the couple informed the police and eventually sent messages to executive producer Joe Neate and head of video and creator engagement Jon McFarlane calling them "monsters" for letting it get to that point. They said Rare then removed them from the Sea of Thieves Partner Programme, which gives perks to "established streamers who embody the spirit of Sea of Thieves," including in-game currency, merchandise, and collaboration opportunities.
After Rocco's creators were stripped of their partnership, a handful of other Partner Programme members left in protest, including Jason Sulli, Carrillo, and Gullible Gambit.
"We have already implemented changes within the Partner Programme to ensure that our creator community remains a positive and welcoming space, and we will work closely with our partners to ensure it remains so," Rare told the site.
Kotaku also reported that current and former Rare developers "have been dissuaded from speaking out in fear of facing repercussions from Rare for taking a stance on the issue. The few who have commented have either been told they are at risk of losing their jobs or have been frozen out by existing members of the studio, with whom they had previously been on good terms."