PUBG becomes first Steam game to have one million concurrent players 365 days running
UPDATE: Call of Duty: Black Ops 4 beta breaks record-breaking streak for PUBG
PlayerUnknown's Battlegrounds is the first-ever game on Steam to exceed one million concurrent players every day for an entire year.
Despite a marked decline in popularity with the rise of Fortnite, PUBG remains a phenomenally successful game.
As reported by PCGamesN, tracking site SteamDB confirmed that PUBG has maintained a year-long streak of one million or more concurrent players every day since September 2017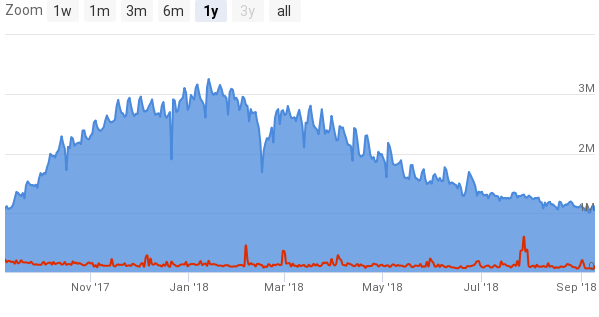 Having peaked in January this year with 3.2 million concurrent players, PUBG has suffered a steady decline, just squeaking past the milestone on September 8.
It was a close call however, as PUBG came within just 5,000 players of falling below the one million mark on September 5.
For the most part, PUBG appears to have stabilised where it is, and remains the most popular game on Steam, ahead of DOTA 2 and Counter-Strike: Global Offensive.
In an effort to combat the declining player base, developer PUBG Corp. recently announced plans to address issues which have been "limiting PUBG's true potential" with the Fix PUBG campaign.
Update (11/09/2018): PUBG has fallen below one million peak concurrent players for the first time since September 8, 2017.
As reported by Eurogamer, the dip below that magic one million came yesterday as the battle royale mode for Call of Duty: Black Ops 4 began private beta testing. While PUBG still hit 960,0000 concurrent players, its record-breaking streak is over.