PS4, Xbox One will both reach 100m units - DFC
DFC has given us exclusive access to their new forecast, which predicts "major growth" among the core gaming audience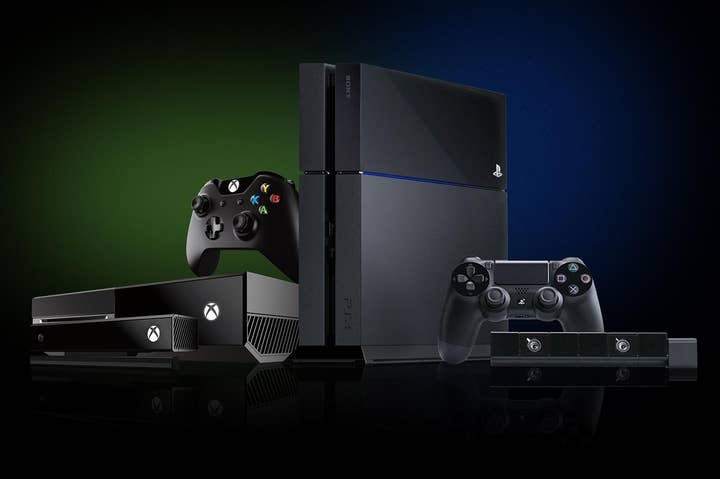 In its new report, shared exclusively with GamesIndustry International in advance of its release, the researchers at DFC Intelligence have raised their worldwide game revenue forecast to $77 billion in 2014 (up from $68 billion in 2013), and by 2018 the firm believes the industry will be fast approaching $100 billion, reaching about $96 billion. The reason for the buoyed optimism? DFC sees the "core gamer spending more than ever."
In fact, while the Wii was the only console of the last generation to exceed the 100 million units sold mark, DFC is forecasting that PlayStation 4 and Xbox One both hit that mark (by 2020) and that "price and strength in Europe give the PlayStation 4 a slight edge." Moreover, PS4 "could easily become lead platform for Western and Japanese developer / publishers." That said, DFC said there's still "a great deal of room for positioning by both companies." If DFC's model holds true, it would be the first time that two competing systems both sold 100 million units.
DFC's David Cole told us that price cuts were factored into his company's new forecast, but they may come slower than gamers would like. "We modeled price cuts into that but we think they are going to happen fairly slowly and there are likely to be more bundles versus just a straight price cut. We think they will do their best to maintain a solid price point," he said.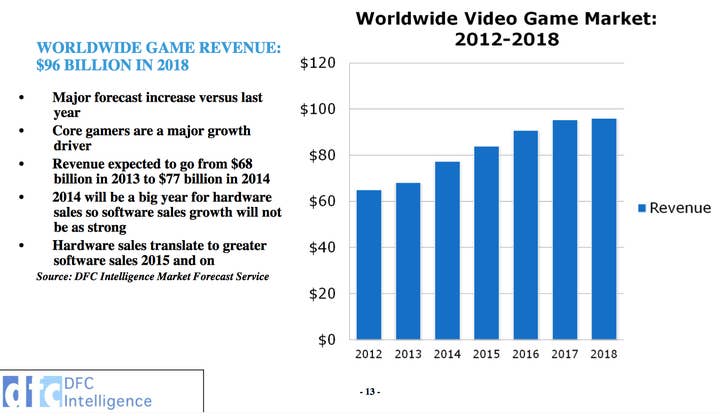 One potential obstacle to the 100 million mark for either console could be if another competitor launches an attractive new system, whether Amazon, Apple, Nintendo or some other company. Because of this possibility, Cole said that DFC was actually "conservative" with its estimates.
While the MOBA genre has been dominating the PC market (which is also forecast to grow this year), Cole said it'll be more traditional genres like shooters and sports that remain on top in the console world. And as Forza 5 tested out, the virtual add-on market is only going to get larger. "Virtual items should become much bigger but we see them more as add-ons for established titles. So you buy the game and they continue to sell new content," Cole said, adding, "Sports will be an interesting category to watch as it always needs to be updated."
The DFC Intelligence brief will be released this week and will be available for free to readers of GamesIndustry International who signup here (be sure to check the box for GamesIndustry International).