PS4 $399, no used game restrictions
Sony counters Xbox One's price, online requirements in E3 media briefing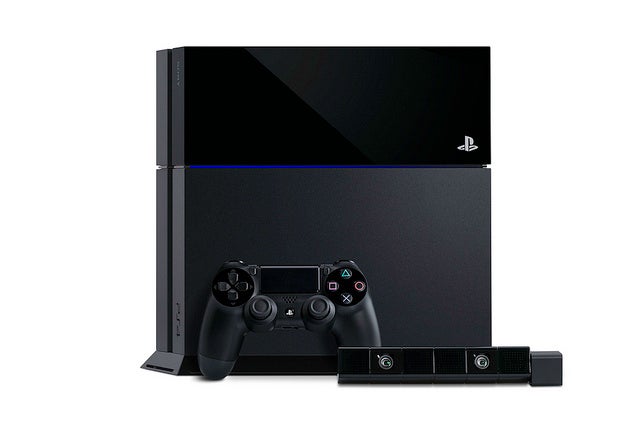 With Nintendo taking a pass on the normal E3 media briefing frenzy this year, Sony found itself batting cleanup Monday night. Microsoft started the day announcing a host of Xbox One exclusives, as well as a $499 price and November release window for its next-gen system. Now it's Sony's turn to fire back.
Sony Computer Entertainment America president and CEO Jack Tretton kicked things off, welcoming the audience to E3 and mentioning that some of the people in attendance began lining up Friday at noon so they could be in the crowd.
Since February's PS4 announcement, Tretton said the momentum and interest in the system has grown tremendously. But before we get to that, Tretton brings up the Vita and PS3, and Sony's goal to change the PlayStation ecosystem in a more vibrant platform that allows people to play and share on their terms.
Vita has more than 175 dedicated games, and access to more than 650 other titles thanks to its PSP, PS Mobile, and PS Classics compatibility. More than 60 percent of Vita games are purchased through the PlayStation Store, Tretton noted, and said the platform will only get stronger this year as developers expand support.
There are more than 85 titles expected this year, including Counterspy, Destiny of Spirits, Doki-Doki Universe, Killzone Mercenary, Tearaway, and Batman: Arkham Origins. God of War HD 1 and 2, Final Fantasy X and X2, as well as Flower and Dead Nation will also appear on the Vita. Tretton noted that number would expand further with PS4 through the system's Remote Play support over Wi-Fi.
"We're making Vita the ultimate companion device for PS4," Tretton said.
Next up were a succession of PS3 trailers for The Last of Us, the upcoming PlayStation move title Puppeteer, rain (now set for release this fall), and an extended look at Quantic Dream's Beyond: Two Souls, which launches October 8.
Sony kept the trailers coming with a new look at Polyphony Digital's Gran Turismo 6, touting features like new suspension models and a new rendering engine.
Tretton returned just long enough to segue to the PS3 version of WB Games Montreal's Batman: Arkham Origins, a prequel which pits the Caped Crusader against adversaries like Deathstroke, Black Mask, and The Joker. Arkham Origins is set for release October 25, and Tretton said that Knightfall DLC and an Adam West TV show skin for Batman will be exclusive to Sony platforms.
Next up is Grand Theft Auto V, which will be featured in a $299 hardware bundle September 17. The system also comes with a GTA V headset.
Tretton said the PS3 was an "epic leap forward" when it launched, but the PS4 represents a vision to make another comparable jump. He then introduced Scony Compute Entertainment president and group CEO Andrew House to handle the PS4 announcements.
House said the PS4 is a console of unparalleled power, and touts the system architecture and cloud technology once again. He acknowledges that people have wanted to see the actual product, and throws to a video showing the black box in all its rhomboid glory. House said the new console's design is uncompromising, and one that lives up to the PlayStation's heritage.
With that out of the way, House moved to talk about the console's media services. PS4 is unique because Sony focuses on its fans and curates content it knows they will love, House said. He then introduced Sony Entertainment CEO and Sony Pictures Entertainment head Michael Lynton.
Lynton talked about the PS4's use as a platform for non-gaming entertainment, saying it will still be curated for gamers on PSN and PS4. Music and Video Unlimited will be there, as will Crackle. Lynton talks about the size and influence of Sony Pictures Unlimited, name-dropping TV shows like Community and Breaking Bad, and movies like The Amazing Spider-Man and Resident Evil. Lynton also said Sony was making new original content that will be available exclusively on PlayStation 4, and stressed again that everything would be tailored to the type of entertainment gamers want, know, and love.
House returned to the stage to talk about Music Unlimited and Video Unlimited service, which will be available at the PS4 launch. Support for Redbox Instant from Verizon will also be added soon for PS3, Vita, and PS4, and Flixster will launch on PSN this fall.
"Of course, at its core, the PS4 is about delivering breakthrough gaming experience," House said, transitioning to the actual games for the next-gen system. To do the honors, he introduced Sony Worldwide Studios president Shuhei Yoshida.
Yoshida said for the last five years, the Worldwide Studios team (comprised of 40 individual studios) have been designing, developing, and testing the PS4 to make sure it's a platform on which big and small developers can realize their ideas. Yoshida said they looked at what developers wanted, as well as how consumers enjoyed their games these days. And that means social media.
Worldwide Studios has more than 30 titles in development for PS4, about 20 of which are expected to launch in the first year, 12 of them brand new IPs.
He then showed a trailer for one of those new IPs, The Order 1886. Developed by Ready at Dawn, the trailer showed a Victorian setting with anachronous flourishes like airships and rifles. A group of four knights ride into Whitechapel in a horse-drawn carriage, and then try to shoot their way out of a monstrous ambush.
The next trailer was for the new Killzone: Shadow Fall, showing off the newest iteration of the first-person shooter franchise. That was followed by DriveClub, Infamous: Second Son, and Knack. Yoshida confirmed that Killzone, DriveClub, and Knack will be out at launch for the PS4, while Second Son is set for the first quarter of 2014.
Next up was the first PS4 game from Quantic Dream, The Dark Sorcerer. The trailer showed a powerful wizard with a goblin familiar, angrily vowing revenge on the world until he flubs a line. At that point, much of the backdrop fades away to reveal a green screen, and a conversation begins between the actor playing The Dark Sorcerer and an off-screen director. The clip ended with a teaser suggesting more would be revealed tomorrow at 1 p.m.
Sony's VP of third-party relations Adam Boyes was out next to introduce Supergiant Games' Amir Rao and Greg Kasavin to show off their new game, Transistor, which will make its console debut on PS4 early next year. Boyes said Sony's commitment to independent creators goes much further, and mentions the ability for devs to self-publish on PS4.
He then turned to the PlayStation indie lineup, doing a rapid-fire introduction of indie games making their console debuts on PS4. The list started with Klei Entertainment's Don't Starve, then moved on to Tribute Games' Mercenary Kings, the IGF-nominated Octodad, Switchblade Monkey's Secret Ponchos, Ragtag Studios' stealth-action zombie puzzler Ray's the Dead, Outlast, and 7-bit Games' Galaxy. Lorne Lanning also made a cameo in the segment to show off a PS4 remake of the original Oddworld. 1
Boyes then introduced a video clip from Tetusya Nomura, director of Final Fantasy Versus XIII, who wanted to show off a new trailer for the long-awaited game. The game itself will be more of a 3D action title than a standard RPG, and at the end of the trailer, is revealed to have been renamed Final Fantasy XV.
Nomura also showed off a short teaser for Kingdom Hearts III, the latest Final Fantasy-Disney crossover game. No release dates were given for either Final Fantasy XV or Kingdom Hearts III, but both are coming to PS4. Additionally, Final Fantasy XIV will be console-exclusive to PS3 and PS4.
Next up was a live demo for Assassin's Creed IV, showing off a mission where the player stealthily tails another character outside of town to eavesdrop on a rendezvous. The player silently dispatches some patrolling guards as he continues to trail the targets. He leaps into action, but things go pear-shaped quickly and he quickly finds himself sprinting through a conflagration to get to a ship for some ship-to-ship warfare. The demo crashes halfway through, and that moves us along to Ubisoft's next title.
Jonathan Morin comes out to talk about Watch Dogs. Morin shows off a gameplay section of Watch Dogs with the player driving around trying to elude police patrols. When a helicopter spots the car, the player drives under Chicago's elevated train tracks and ditches the car in an alley. When a bystander spots the protagonist as the vigilante on the news, he begins to call 911. The player then interrupts, grabbing and smashing the cell phone before moving on.
The next order of business is to help his associate escape a police raid, which he accomplishes with the help of an automated security system, telling his friend T-Bone when and where to go to escape detection. A short firefight later, T-Bone has escaped and the player is once again on the run from police. Another player using a tablet companion app interrupts the action, ordering police choppers away from the scene. That leaves the main player free to take out the handful of police on foot nearby and escape on the Chicago River by speedboat. Boyes is back out to say PlayStation owners will get an extra hour of gameplay and an exclusive skin for Watch Dogs.
Boyes moves to sports and a look at NBA 2K14. Cover star LeBron James has a discussion with his virtual counterpart, and then it's onto The Elder Scrolls Online in one of the choppiest segues of the night. That game will launch on the PS4 in spring of 2014, and will have a beta goes live on Sony's system first.
The next trailer is for a world premiere for Avalanche Studios' new Mad Max game. Driving across the wasteland, Max stops alongside a man begging for death. Max looks at his shotgun and realizes he has just one shell left, so he gets in his car and drives off. Then he drives back at full speed and obliges the wounded man.
Tretton comes back out and says there are more than 140 games indevelopment for PS4. More than 100 of those are expected to be available in the first year, and nearly 40 of those titles will be exclusive to PlayStation.
Tretton then gets the biggest applause of the night by saying the PS4 will not impose any restrictions on used game sales for consumers.
"I guess that's a good thing," Tretton deadpans.
When a gamer buys a PS4 disc, they can trade in the game at retail, sell it to another person, lend it to a friend, or keep it forever, he said. A small "Sony" chant breaks out. Additionally, disc-based games won't be connected online to play or for any type of authentication, which draws still another round of cheers.
"And it won't stop working if you haven't authenticated online within 24 hours," he added in a direct jab to Microsoft's Xbox One.
With that out of the way, Tretton moved on to the PlayStation Network's social features, and promised that Sony would expand PlayStation Plus. He also said PlayStation Plus will carry over to PS4, so the same membership covers PS3, PS4, and Vita for less than $5 per month.
The catch is that "immersive multiplayer" for PS4 appears to be limited to PS Plus members, so gamers who don't pay extra won't be able to play online in the new system.
Back to PS Plus perks, Tretton mentioned that PS Plus members will get new titles every month for free, with Don't Starve, Outlast, and The Secret Ponchos among the first year's PS4 offerings. Additionally, DriveClub PS Plus Edition will be given free to members.
Bungie's Destiny is up next, as Tretton introduces a "world gameplay premiere" for the game. The clip followed a player dropped off into a dilapidated section of Old Russia, looking to meet up with others to explore the area. Two players explore a darkened industrial complex with a Guilty Spark-like floating AI orb called a ghost. Once the lights are turned on, the baddies come crawling out of the woodwork and the players fight them off with assault rifles, pistols, and some melee attacks.
They fight off the enemies, pillage some loot from them in the form of an exotic machinegun, and then meet up with their third squad member, a rocket launcher-carrying "titan." A fleet of ships streaks overhead, and the group join a public event, which appears to be a large-scale multiplayer battle with a dozen or so players cooperating to take down a giant adversary called a Devil Walker. The fight is brief, the enemy is downed, and a short clip teasing some of the game's narrative brings the demo to an end.
House said Sony has established a long-term exclusive partnership with Bungie and Activision that will grow over the years, but neglected to detail what it entails. Destiny is set for release in 2014.
House then turned to talk about PS4 integration of Gaikai, the streaming game service Sony acquired. The PS4 cloud gaming service will launch in the US in 2014 for PS3 and PS4, with Vita added at a later date.
Finally, House dropped the price of the system, announcing it as available for $399, which gets a significant round of applause. In Europe, it will sell for 399 euros or £349. No release date was given.
"At PlayStation, concepts like true consumer ownership and consumer trust are central to everything we do," House said before concluding the show.