PS4 Launch Live from New York, San Francisco and Toronto
Fans, photos and fever as Sony's new console hits North American retail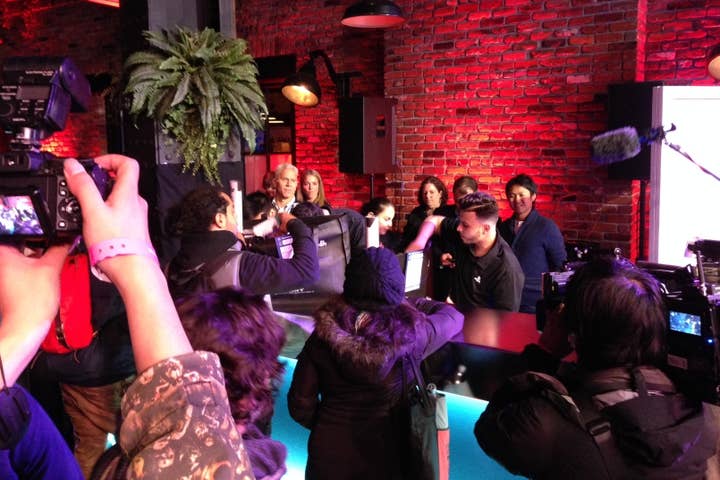 Update 11: The PlayStation 4 launch event in San Francisco took place at the Market Street GameStop, well attended by GameStop executives and Sony representatives.
Many items were being given away, including t-shirts, wristbands - and to buyers of the PS4 a PlayStation carrying bag and other goodies. Raffles were held for prizes like a PS4 autographed by Jack Tretton. Members of Twitch TV were there passing out t-shirts.
GameStop president Tony Bartel chatted with people standing in line, checking on their experience and seeing if they had any questions. Bartel said that the enthusiasm was high at GameStop locations around the country, and he felt it was even higher than what he saw at the PS3 launch. He is pleased that Jack Tretton told Bloomberg Sony expects to sell 3 million units by the end of the year. Bartel hopes this means they will have a good supply of consoles.
Gamers in line expressed general enthusiasm for the PS4, "because it's new. We waited a real long time for a new console, and it's finally here," said one eager buyer. Two young women said they were Sony fans all the way back to "the little gray box" and were eager to get the latest PlayStation "for the graphics." Games that people were picking up ranged from Killzone to Madden to Call of Duty: Ghosts. The most anticipated titles mentioned were Watch Dogs and Infamous: Second Son.
The event had a crowd of about 200 people, with people heading into the store in shifts to get the chance to go hands-on with PS4 titles, albeit for a brief time. The store had a healthy pile of boxed PS4's to whet everyone's appetite. While a DJ outside rocked the crowd with tunes and raffle drawings, people were brought into the store in ones and twos to ring up their pre-orders, add in any other products they wanted, and get their transaction completed so that at the stroke of midnight they could take their PS4 and leave quickly. GameStop associates were going through the lines, handing out PS4 t-shirts and informing customers of all the different games, accessories and options available to add onto their PS4 purchase.
Update 10: With minutes to go before launch, Toronto's PS4 lines are full of restless (and somewhat chilly) gamers. Even though Best Buy only advertised 250 available units, well over 300 people have lined up around and behind the building. A smattering of cosplayers of varying degrees of appropriateness (Bumblebee?) and wisdom (shirtless Kratos is a bold choice for a November midnight launch in Canada) posed for pictures, and the store raffled off some other Sony swag as people packed up their lawn chairs as the hour approached.
Like Best Buy, Future Shop attracted hopeful gamers beyond the number of advertised systems it would have to sell, as nearly 200 people waited in line for a PS4. A stone's throw away at EB Games (literally--you can just barely make out the start of the Future Shop line in the picture below), the line consisted of about 100 Sony fans and at least one dog.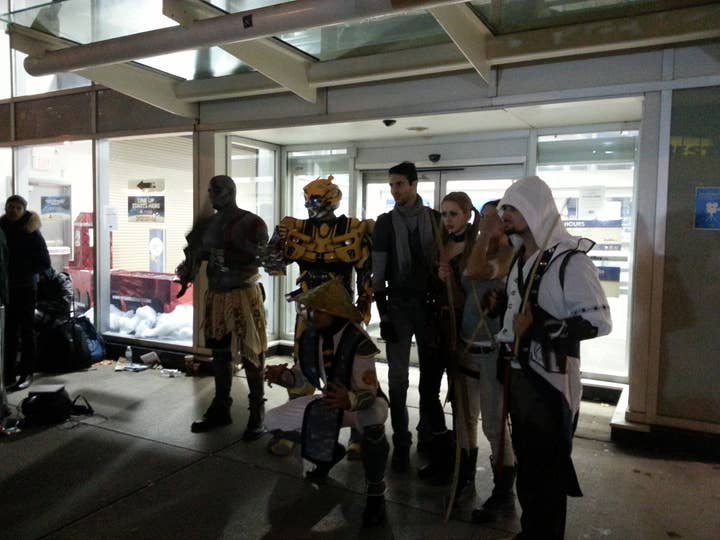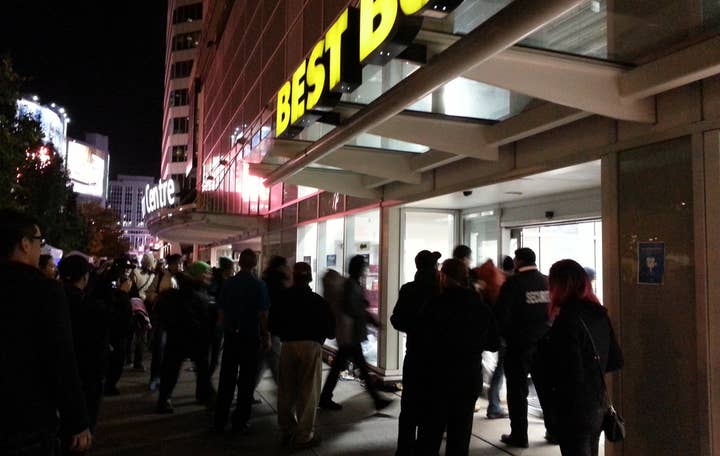 Just before midnight, Best Buy started letting waves of people into the store. Within minutes, they started to trickle out to a slew of people snapping pictures, and an occasional press interview that they, after as much as 18 hours hanging around on the sidewalk with limited access to food, water, and bathrooms, were probably not in condition to give.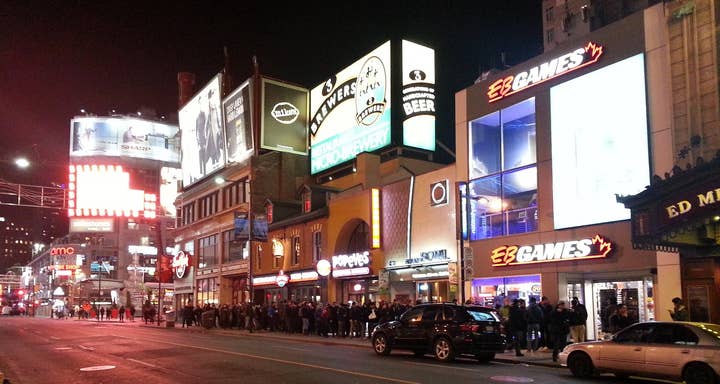 Over on Twitter, Microsoft's Phil Spencer shows some class...
Update 9: It's almost midnight and the festivities are reaching their fever pitch. We're standing near the Spike TV set watching Geoff Keighley broadcasting live. Tons of fans around the US are ready to buy their shiny new PlayStation 4.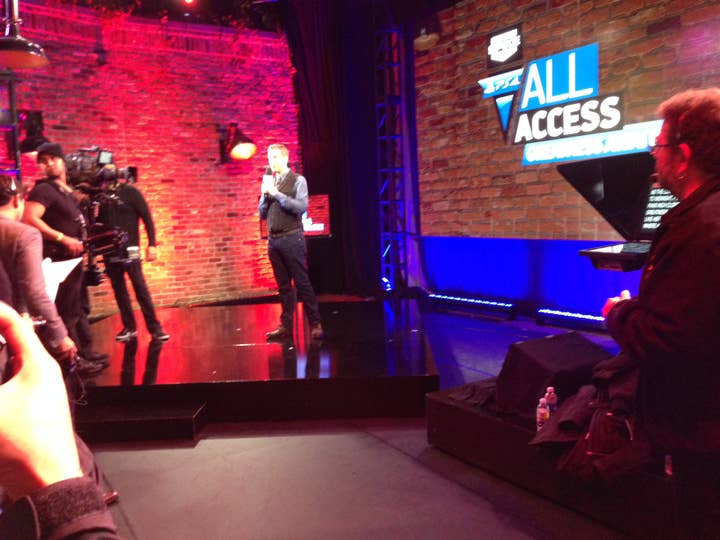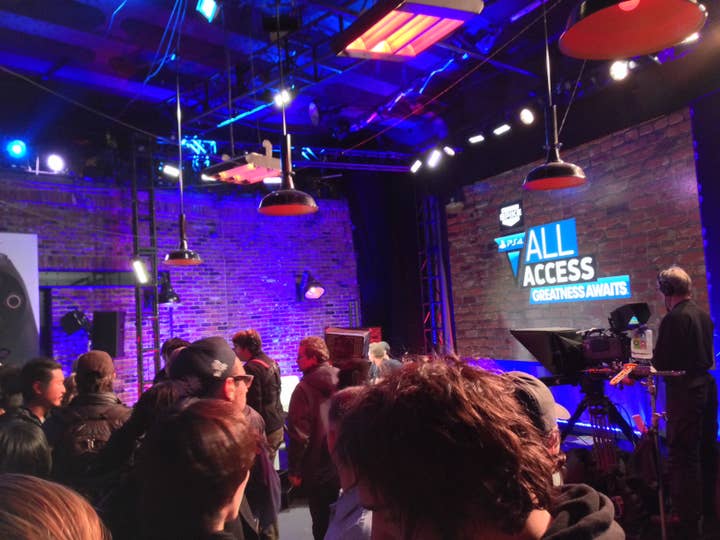 Update 8: It's 10 p.m. and we're only a couple hours from launch now in New York City. It's gotten quite chilly outside but that hasn't stopped the hundreds of fans from lining up and enjoying the celebration. We saw some cosplay with characters from Assassin's Creed, Octodad, Killzone and more.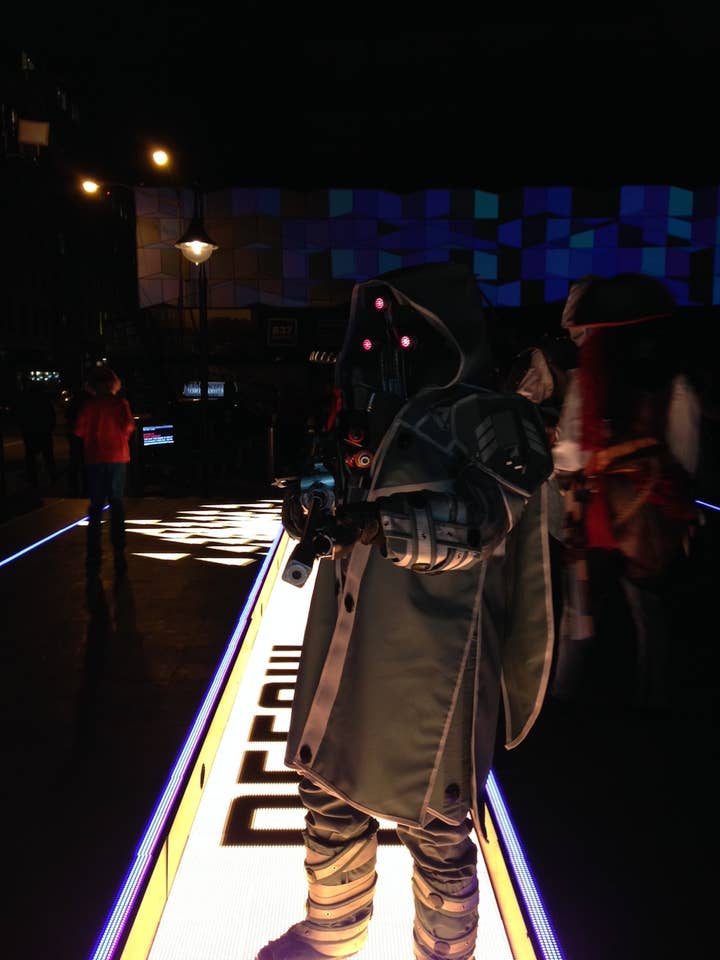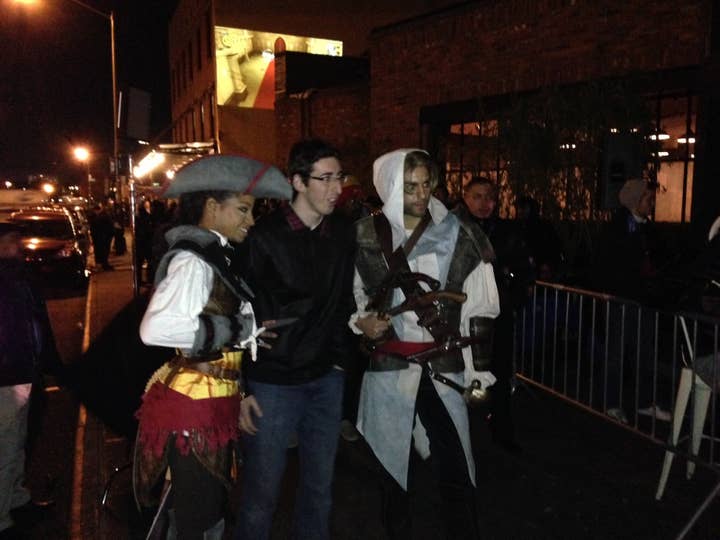 We also watched as fans got to play PS4 games like Killzone and Knack being projected onto the sides of whole buildings or trucks in the street. Sony has gone all out to really make the atmosphere fun for the consumers waiting to buy the PS4 or even those who just want to take in the spectacle.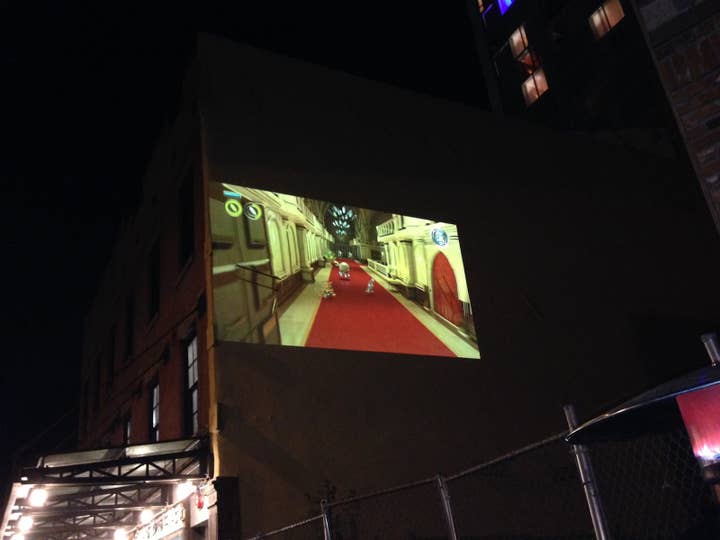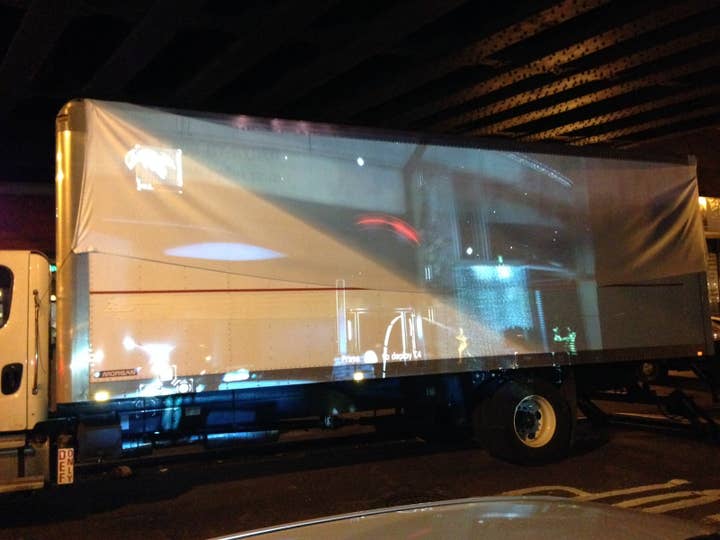 We also chatted with the last person in line, Sean, a student at NYU, who's concerned that he might not get a PS4. He mentioned that he's most looking forward to getting Battlefield 4 on PS4, and while he said he had an Xbox 360, he's now "Sony all the way."
Update 7: By 8 p.m., the launch festivities in Toronto are starting to ramp up. At Best Buy, a line of more than 200 people has wrapped around the corner and far down a back alley between Ryerson University and the Eaton Centre. Best Buy employees walk down the line, handing out PS4-branded knit caps as three small white tents are being set up at curbside to serve as PS4 demo stations.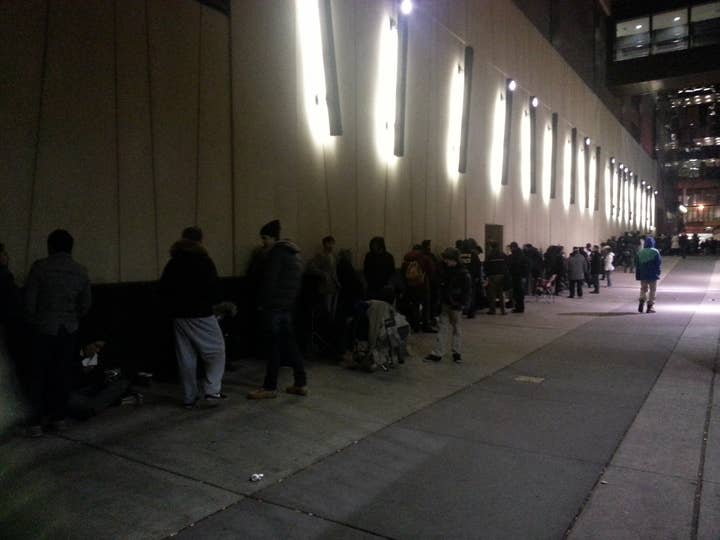 Over at Future Shop, the line has grown to a respectable length, now over 70 people and stretching several storefronts down the block. As with the Best Buy line, the first person in line is not local. Rodrigo says he's been there since 11:30 a.m. When asked what got him to line up so early, he explained that he's actually visiting from Brazil, where a PS4 will cost more than $1,800. While Rodrigo's excited for Assassin's Creed IV, he's open to the possibility of the console disappointing him. Of course, if that's the case, he figures he can sell it in Brazil for far less than the sticker price and still turn a profit.
By this time, EB Games has also ramped up its launch festivities in earnest, doling out PS4 caps, popcorn, and cotton candy to all comers while a DJ tries to bust eardrums on the store's second floor PlayStation Lounge. A few dozen gamers mill about the store in anticipation, and a Sony Canada executive is expected to show up soon to sell the first PS4 in Canada.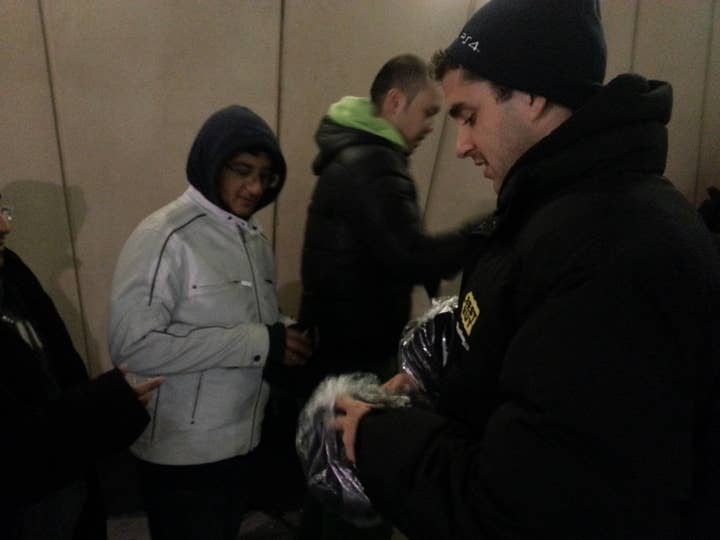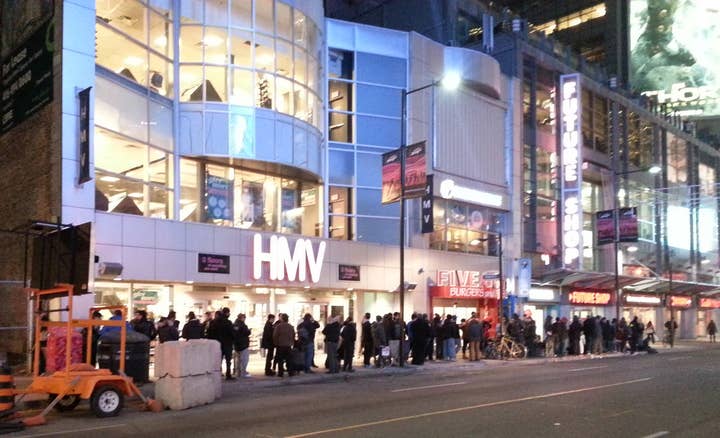 Update 6: Around 5:30, day turns into night and Sony begins to really push its promotion forward. With a Knack mascot roaming around and The Standard Hotel lit up. We're still a few hours away from the PlayStation All Access and the midnight launch, but the fans are excited.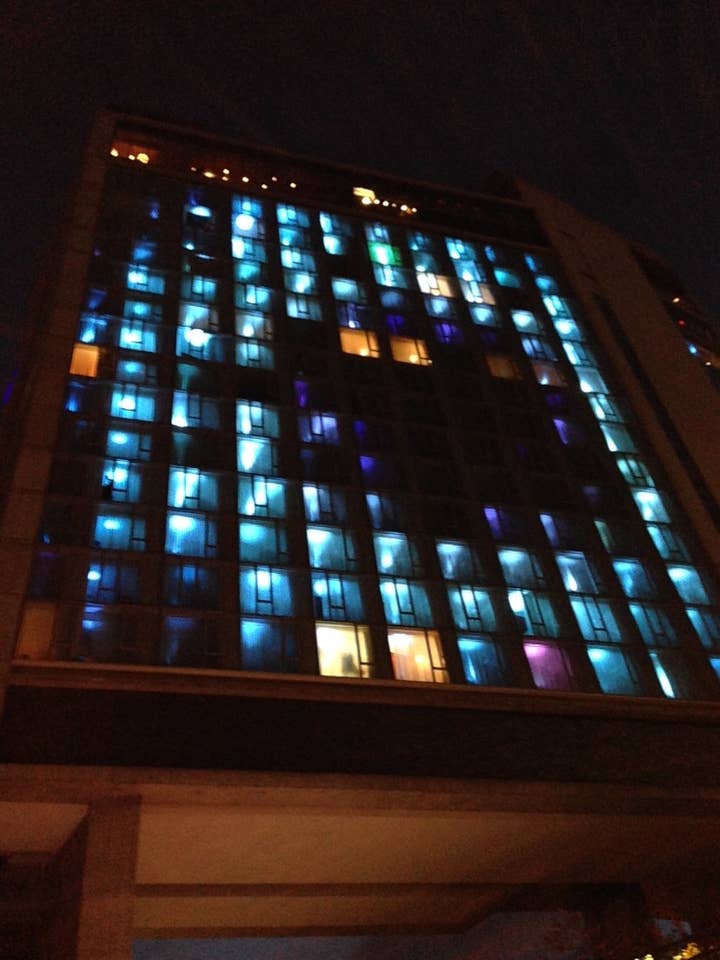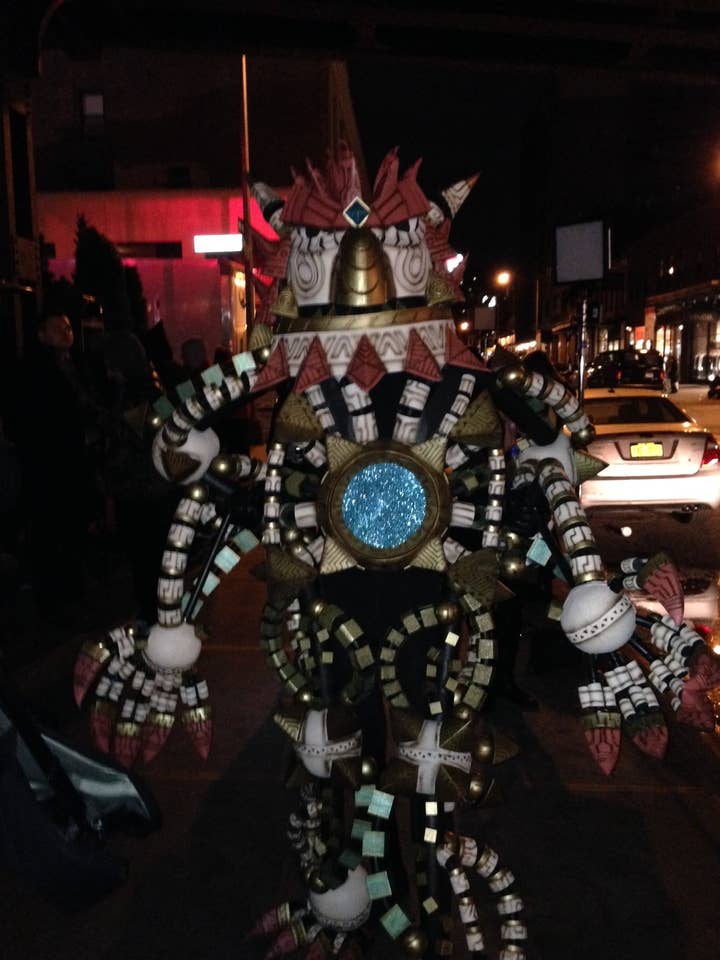 Update 5: It's approaching 4:30PM here in New York and the fans have been moved from the demo stations back onto the line. The line's been growing but it doesn't look like there are 444 people just yet - that's the number of units Sony will be able to sell here when the clock strikes midnight. In a positive for Sony, the media is definitely all over this. We've already spotted a few television crews and interviews being conducted on-camera.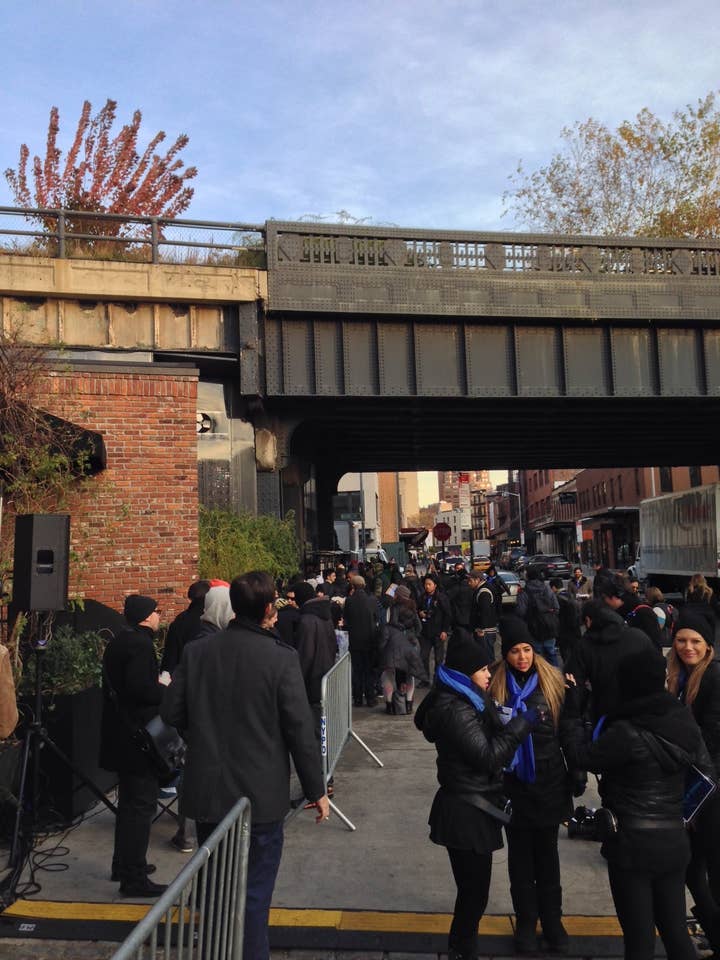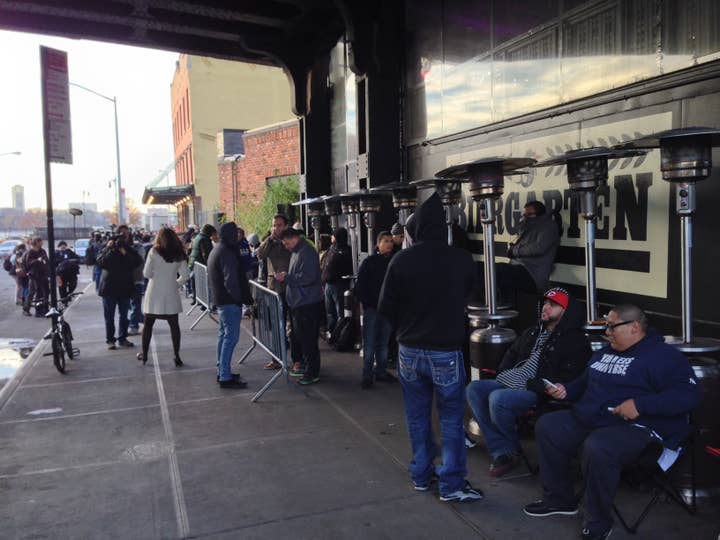 Update 4: By 4 p.m., the line outside of Best Buy had grown to roughly 50 customers and turned the corner down an alleyway. Some of the waiters came bundled in heavy coats and seemed already unhappy about the 8 degree weather, which is expected to approach freezing as the night wears on. There was also some bad news conveyed to the line, as the people in front said a Best Buy employee had come out to inform them that the initially promised 250 unreserved systems the store had to sell was now going to be cut down to just 150.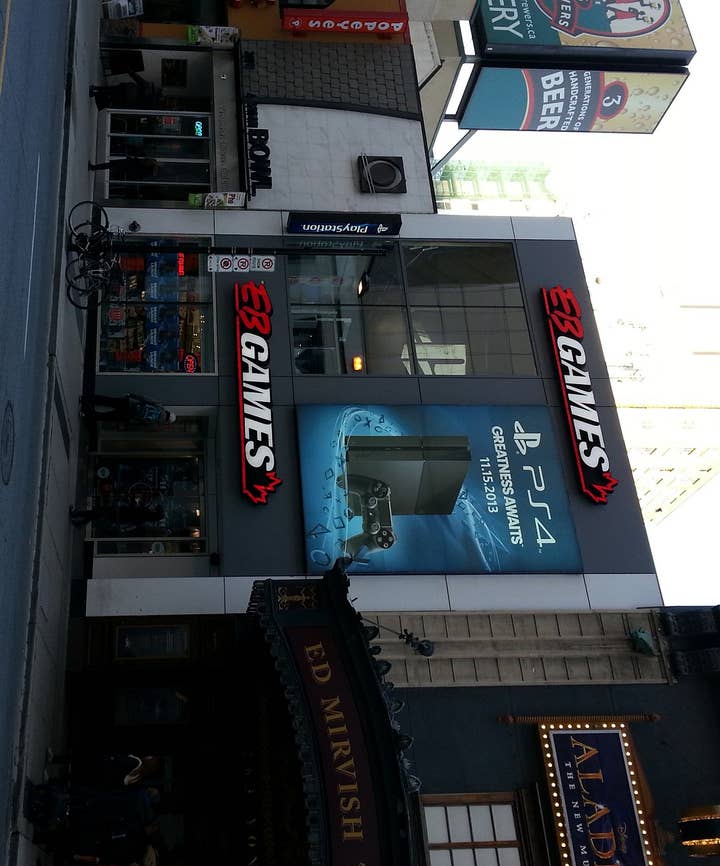 The scene was considerably less busy at Future Shop, where the line of prospective PS4 owners was a small handful of people. Over on Yonge Street, the EB Games was covered with PS4 promotional material. That's somewhat expected, given the store has a second floor it dedicates entirely to PlayStation products as a matter of course. Despite the promotional overkill, there was no line as EB is only expecting to receive systems enough for those who preordered it for launch.
Update 3: GamesIndustry International is at The Standard Hotel in New York today where Sony is already entertaining fans who've lined up for the PS4. The Standard's elevators have been decked out with PlayStation moving images (see picture on left) and the view from the top floor is magnificent. Down below, the first fans who arrived by the PlayStation street sign were brought inside and assigned number badges according to the order they arrived. While they wait until it's time to actually get in line again, they're all playing demos of different PS4 titles.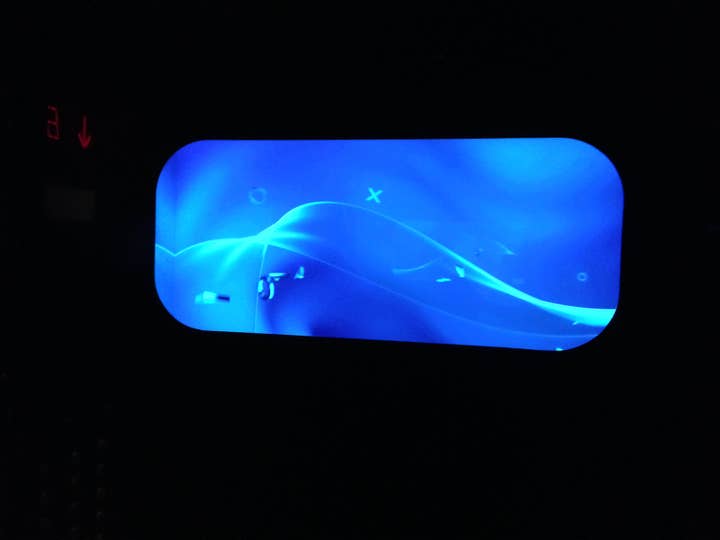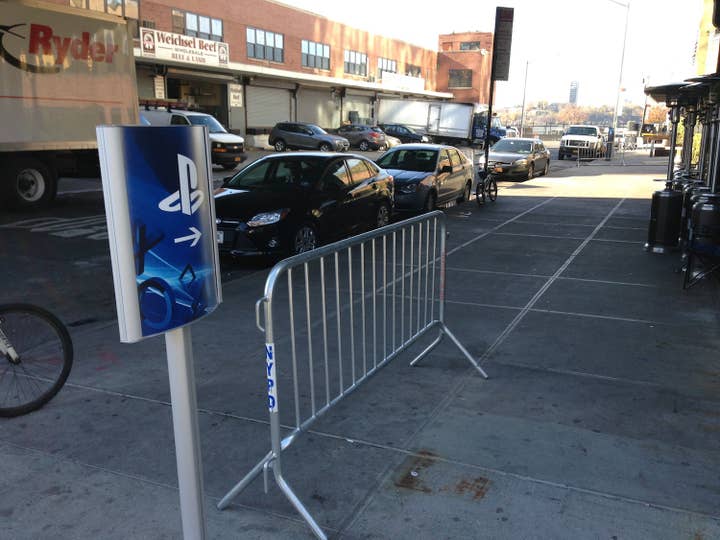 We spoke with the very first fan from the line, Joey from Brooklyn, who told us that he'd been at Sony's launch location since yesterday morning at 9am. He said he'd heard about the event from Sony's publisher and developer relations executive Adam Boyes who tweeted that fans who didn't pre-order would have a chance to buy a PS4 tonight at midnight.
"I'm not a full peak excitement just yet... it'll probably catch up to me. But obviously I'm very, very optimistic for PS4," Joey commented to us. He seemed fairly knowledgable and talked about how he liked that developers won't have to go through "crazy acrobatics" to make the games they want on the console.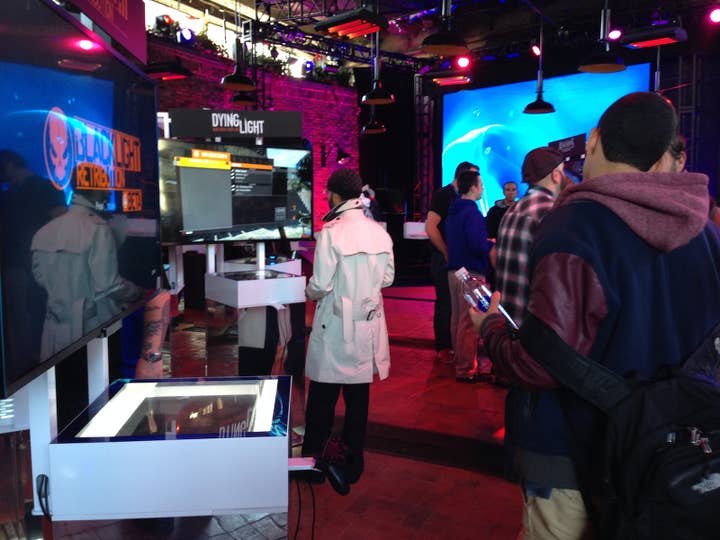 As for launch titles, Joey already got Knack and said he was planning on also buying Killzone: Shadow Fall. Joey added that he "goes where good games are" and he's not personally buying an Xbox One at launch, but he also doesn't like the whole fanboy idea. "I don't believe in deriding another platform just because you didn't buy it," he said.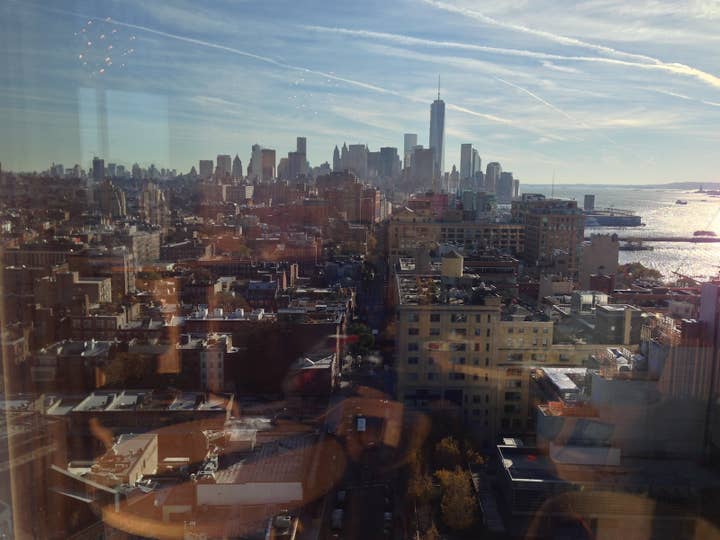 Update 2: The Best Buy at Toronto's Eaton Centre had a lineup of about 20 people a little after noon. This store will be the focus of the chain's Canadian launch events, with an advertised 250 unreserved consoles available for purchase at midnight, as well as giveaways in the hours leading up to release. It won't be the only big PS4 event in the city's Dundas Square area, however. Fellow big box electronics retailer Future Shop has a location with a midnight launch guaranteeing 100 unreserved systems about a block away, and EB Games (GameStop's Canadian presence) will have its flagship event at its Yonge Street location across the street from the Eaton Centre.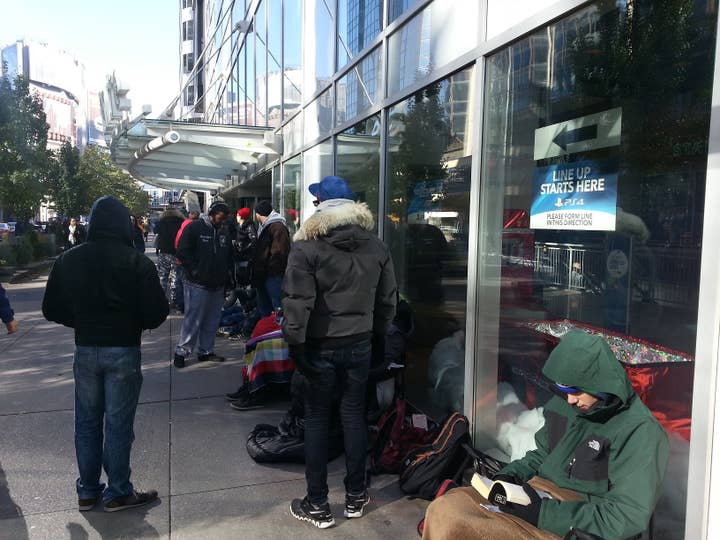 First in line at Best Buy was Paul, a visiting Australian who said he arrived at the store about 6 a.m. in order to get his system weeks before the official launch in his own country. As for what games he's looking to pick up, Killzone: Shadow Fall and Assassin's Creed IV topped his shopping list, while he was also considering Battlefield 4 and FIFA 14.
Update 1: With the PlayStation 4 releasing in the US today, Sony Europe has just dropped the official TV launch video for its territories, featuring multiple video game references. Worth a watch...
Update 0: It's been a whole seven years since Sony Computer Entertainment last launched a home console. The PS3 got off to a slow start but ultimately performed more than adequately on the market. This time around with PS4, Sony is looking to come out firing. Pre-orders are already much higher than past consoles, and, importantly, Sony is expecting to break-even on PS4 in its launch year, Worldwide Studios boss Shuhei Yoshida told us in a wide-ranging interview in New York City.
GamesIndustry International has a team of editors stationed across North America to bring you all the latest updates on how the PS4 launch is going.
We'll be updating this page, live blog style, with comments and pictures starting around 4PM Eastern and we'll continue to bring you information on the launch atmosphere, consumer reaction and how Sony is faring well into the early hours of November 15.
Be sure to come back later today!