PlayStation targets over 50% of the games console market with PS5
PS5 standard edition will break even from next month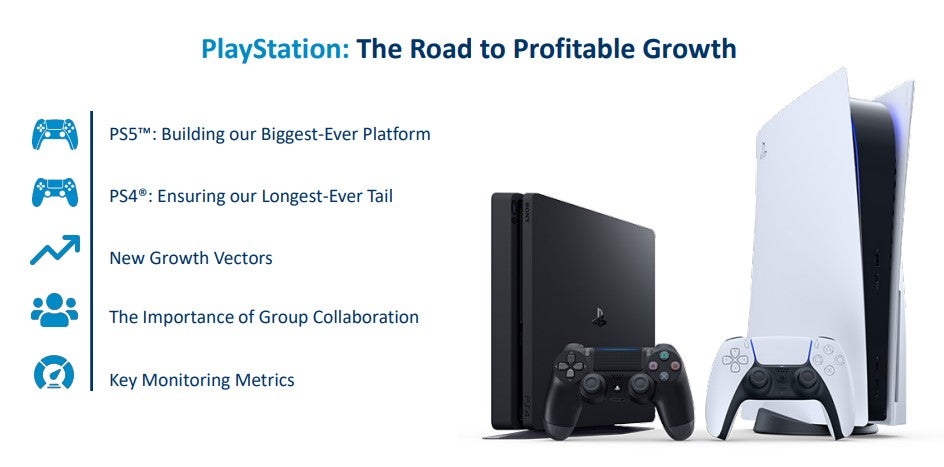 PlayStation has revealed its strategy to growing its share of the console games market.
The firm believes PS5 will exceed the performance of the hugely successful PS4 due to continued loyalty to the PlayStation brand, a growing audience of female gamers, and expansion outside of North America, Europe and Japan.
As part of the firm's IR Day, PlayStation boss Jim Ryan also detailed new growth opportunities around launching games on other platforms, expanding its PlayStation Studios line-up, cloud gaming and VR.
After highlighting the growth PlayStation saw during 2020, including its record-breaking 7.8 million launch year shipments of PS5, the firm says it hopes to achieved over 50% market share in console games revenue with PS5. Quoting IDG figures, the company expects the overall console games market to grow to $88 billion in 2025.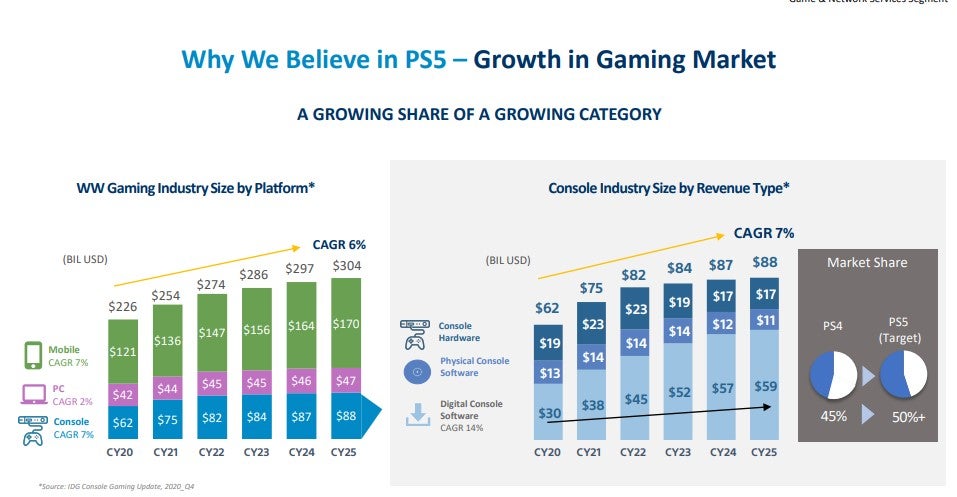 The firm revealed that the age of its gamers were older on PS4 and PS5 than on the original PS1, which it believes shows that its audience has stuck with it over the generations. One of the more interesting statistics is that 41% of PS5 owners are women, compared with just 18% on PS1. The firm also showed that in the year 2000 just 1% of its revenue came from outside of the US, Japan and North America. That grew to 5% by 2010, and now currently sits at 10%. PlayStation views markets like South America, Africa, India, China, Eastern Europe and Russia as key growth opportunities.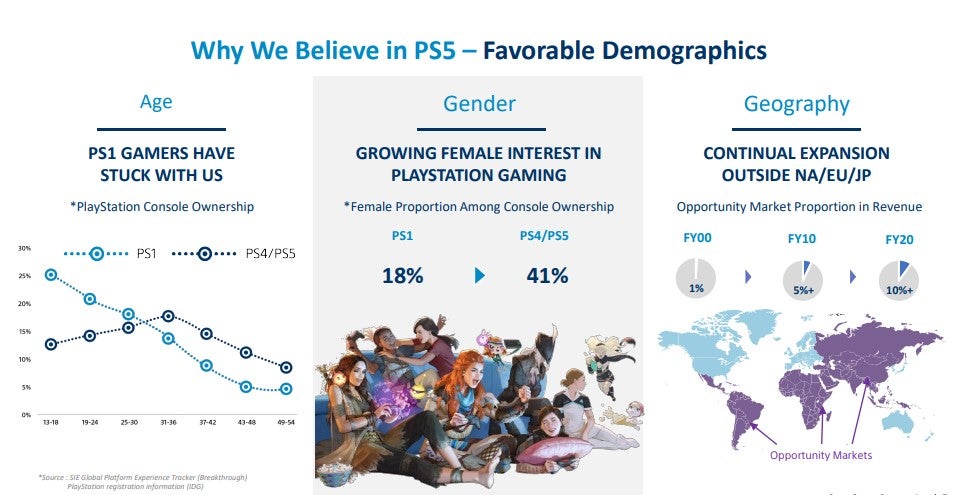 In a separate slide, the business revealed that the standard edition PS5 should become profitable from next month when the cost of goods is expected to fall below the wholesale price. There was no mention of the digital version of the console, but even so, the hardware part of PlayStation's business has become less important over time. In the 2013 financial year, 48% of PlayStation's revenue came from consoles (compared with 52% for software, services and peripherals), whereas in the latest financial year, that number sits at just 20%, with 80% of revenue coming from software, services and add-on products.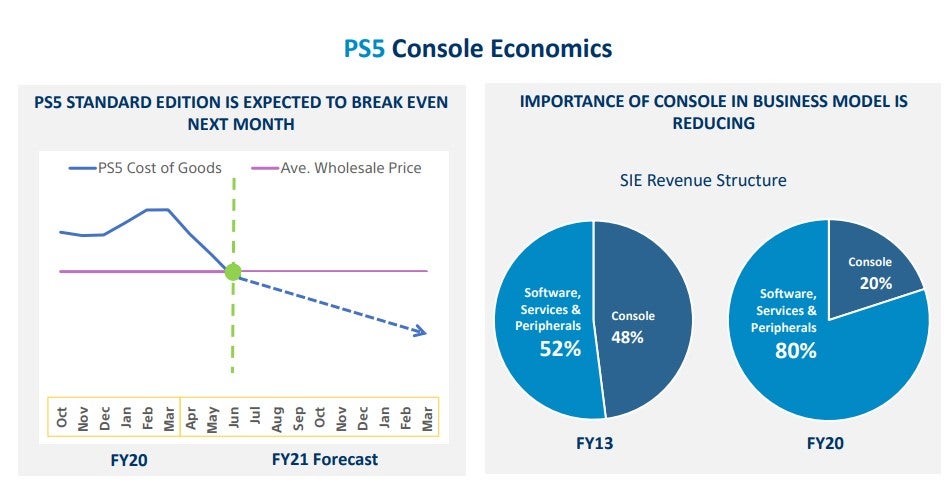 Looking ahead, Sony says that it expects its next financial year to be the biggest 'year two' for a console it's ever had, exceeding the 14.8 million sales achieved by PS4 in its second year. For its 2022 financial year, the aim is to have the biggest sales year for a PlayStation console. The current record is from its 1998 financial year, when it sold 22.6 million PS1 consoles.
In terms of engagement, which is an increasingly important metric for console makers, PS5 has got off to a strong start. Sony says that PS5 had 8.6 million monthly active users in March 2021, vs 7.1 million for PS4. The reason the PS5 active user number is higher than the install base figure is due to multiple unique PS5 accounts on a single device.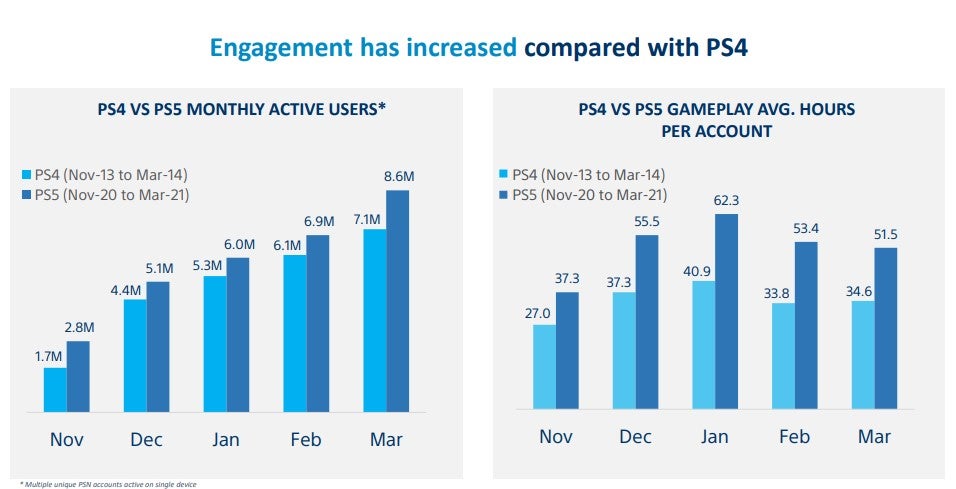 Overall, games spend on PS5 has increased by 15% between November 2020 and March 2021, compared with the same period on PS4 when that launched back in 2013. Sales of full games have dropped 15%, but add-on sales have increased by 231%. A key difference between the two PS5 and PS4 launch periods are the number of games that can be accessed via the firm's PlayStation Plus and PlayStation Now subscription services.
One of the big conversations in games right now is what happens post-pandemic. Over the past 18 months, video game sales and engagement have increased exponentially for publishers and developers in the business. This has included new customers coming into the console ecosystem for the first time, and lapsed players returning. As vaccines get rolled out and the world opens up, it is inevitable there will be some decline in the time spent gaming, but it's not clear by just how much.
Sony showed a slide that revealed that as vaccines have begun rolling out and COVID cases have dropped in North America, the decline in weekly active users has been just 3.3%. Meanwhile in Germany, that number sits at 5.3%.
The presentation wasn't all about PS5, with Sony also detailing its plans to make sure PS4 has its 'strongest ever tail'.
The firm said that in its next financial year, it still expects PS4 to represent 70% of its PlayStation Store revenue (vs 95% in FY2020). A big part of that will be in terms of free-to-play games. In its 2016 financial year, 5% of its PlayStation Store revenue came from free-to-play titles, while in FY2020 that now sits at over 25%, driven by the launch of Fortnite, Call of Duty: Warzone, Apex Legends, Rocket League and Genshin Impact.
Sony reminds us that 48 million people are subscribed to PlayStation Plus (the vast majority on PS4). 40% of people who subscribe are doing so for online multiplayer, 30% to receive monthly free games, 18% for game discounts and offers and 12% for cloud storage of game saves.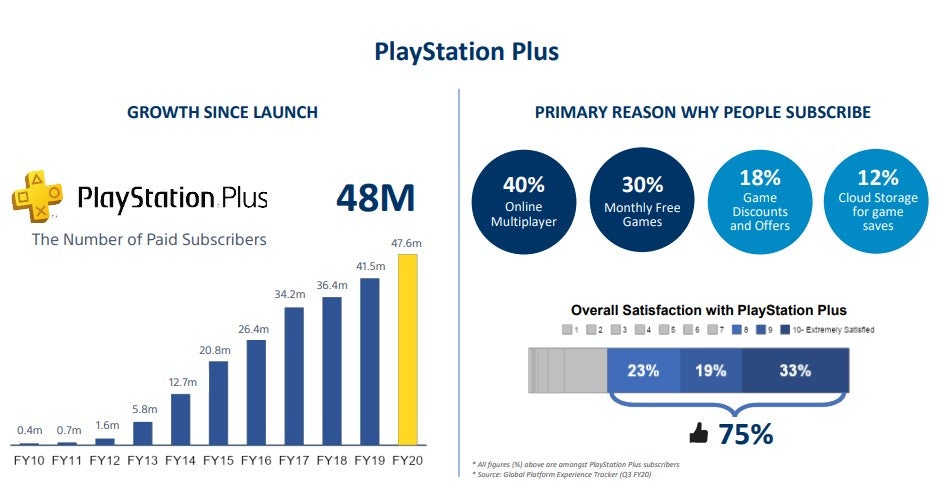 Sony concluded its presentation by looking at the potential growth areas for the company.
The firm's PS5 launch in China is a major focus, with investment in local teams and 'significant pre-order allocation' already sold out. Sony says it expects PS5 momentum to be double that of the PS4 generation.
Another growth area is the PlayStation Direct retail store, which Sony describes as its 'direct hardware distribution channel'. The store grew to over $200 million in net sales during the last financial year, and the company expects that to triple over the next 12 months. That store is currently only available in the US, with plans to roll it out to the UK, France, Germany, Netherlands, Luxembourg, Ireland and Belgium over the next 12 months.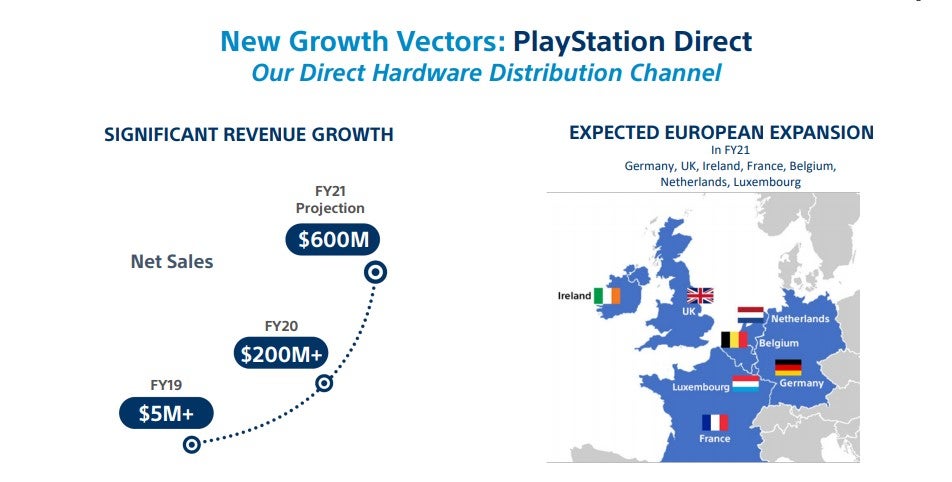 In terms of first-party games, Sony reiterates its plans to expand its studios operation through strategic partnerships, internal expansion and acquisitions. In the presentation, the firm highlighted its recent partnerships with Jade Raymond's Haven team and multiplayer developer Firewalk Studios.
It's not all about PlayStation, either. Sony says that Horizon: Zero Dawn's PC launch delivered a return-on-investment over more than 250% and allowed them to reach audiences in new markets such as China, Russia and India. The company has more PC releases planned, including the recent launch of Days Gone and Uncharted 4. Meanwhile, smartphones are another area targeted by the PlayStation Studios portfolio.
"Horizon: Zero Dawn's PC launch delivered a return-on-investment over more than 250%"
Sony is best-known today for its single-player story experiences, but in the presentation it states a planned expansion into service-based gaming. It highlighted MLB: The Show as a good example, which has the highest paid user spend of any sports title on the US PlayStation Store (as of March 2021). The game has also became a multiplatform IP, with a version launched on Xbox. PlayStation's studios will develop more 'service-led experiences', and they will be available both on and off console, the firm said.
Going beyond console is a key opportunity for PlayStation. In one slide, the firm said it wants to transform its 'current console-centric ecosystem to a future where large elements of our community extend beyond the console'.
Cloud gaming may be one such opportunity. The firm's PlayStation Now subscription platform currently boasts 3.2 million users. PlayStation Now is both a download and streaming platform, and in October 2019 the service was improved with new games, a price reduction and other quality of life improvements. This saw the service become predominantly used for downloading, with streaming playtime dropping to just over 20%. However, things have grown since, with that number increasing to 40% in March 2021.
PlayStation expects its cloud service to continue growing as it adds more games, improves the technology and develops new user acquisition strategies, such as its $1 for one month promotion.
The final growth area for PlayStation is with VR. During the presentation, the company reiterated the technical enhancements it is making with its next VR headset, although didn't make any predictions.
You can check out the full presentation right here.