PlayStation buoyant in mixed Sony quarter
Games and Network Services sees big rise as PS4 shines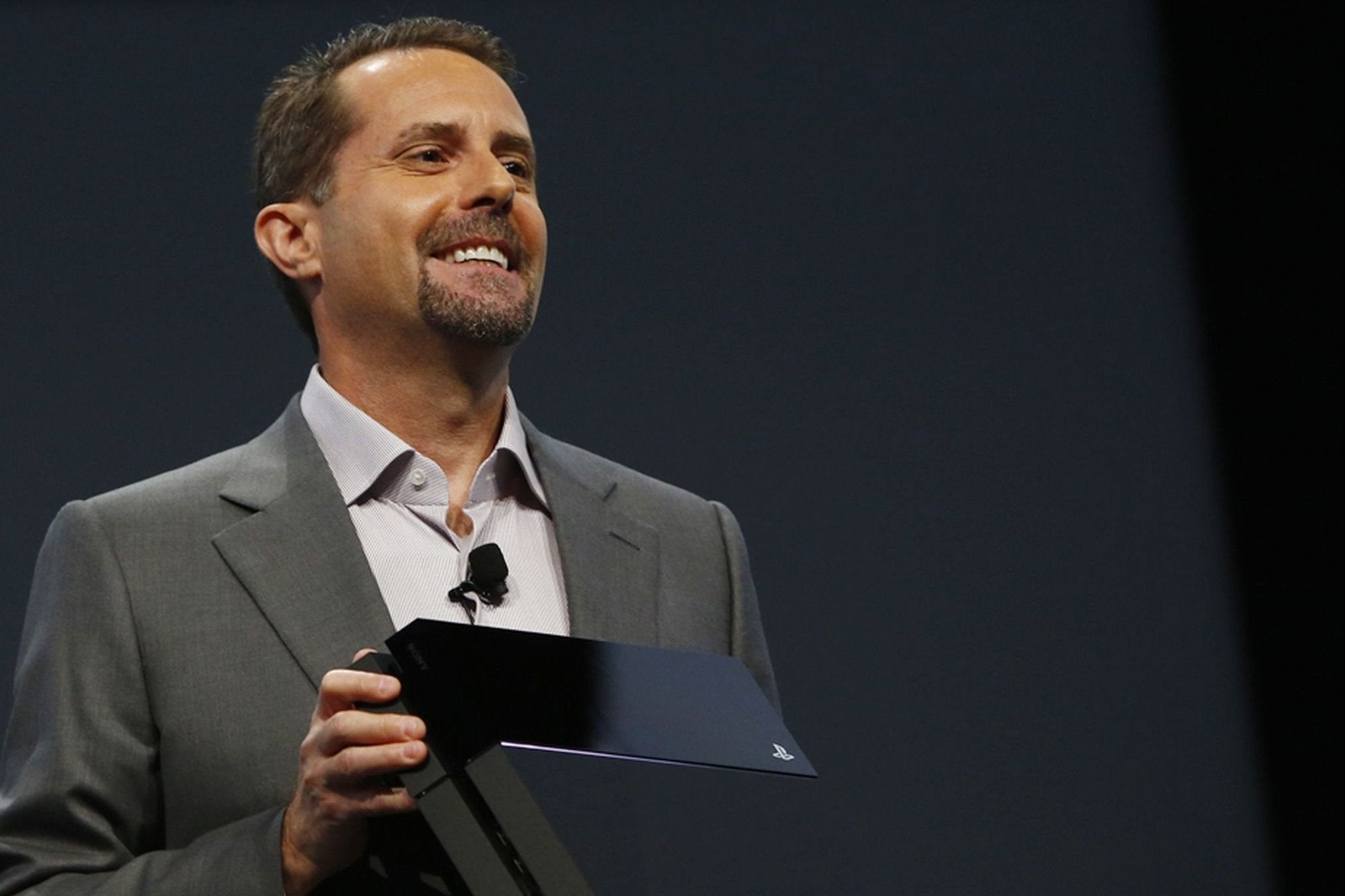 The PlayStation business has shone again in Sony's quarterly reports, which has seen some of the corporation's hardware lines shoring up big losses elsewhere.
Games and Network Services, the slightly re-jigged division which includes PlayStation, PSN and, for the last time, SOE, reported sales of ¥531.5 billion ($4.4bn) for the three months ending December 31, 2014. That represents an increase of 16.8 per cent in Yen value, a success largely attributed to the above-expected sales on PlayStation 4, albeit helped along somewhat by the same favourable currency rates which also boosted Nintendo's recent results. 6.4 million PS4s were shipped to shops in the quarter, up from 4.5 million a for the same quarter a year ago. A total of 7.5 million home consoles were shipped, leaving 1.1 million to be made up from remnant sales from PS2 and PS3. Combined home-hardware sales are forecast to reach 17.5 million units for the year.
Vita TV missed some targets, resulting in an ¥11.2 billion yen ($93m) write down. Close examination of the sales of the Vita remained elusive, but handheld units shipped dropped from 2 million last year to 1.4 million. Handheld sales predictions for the year remain unchanged at 3.5 million.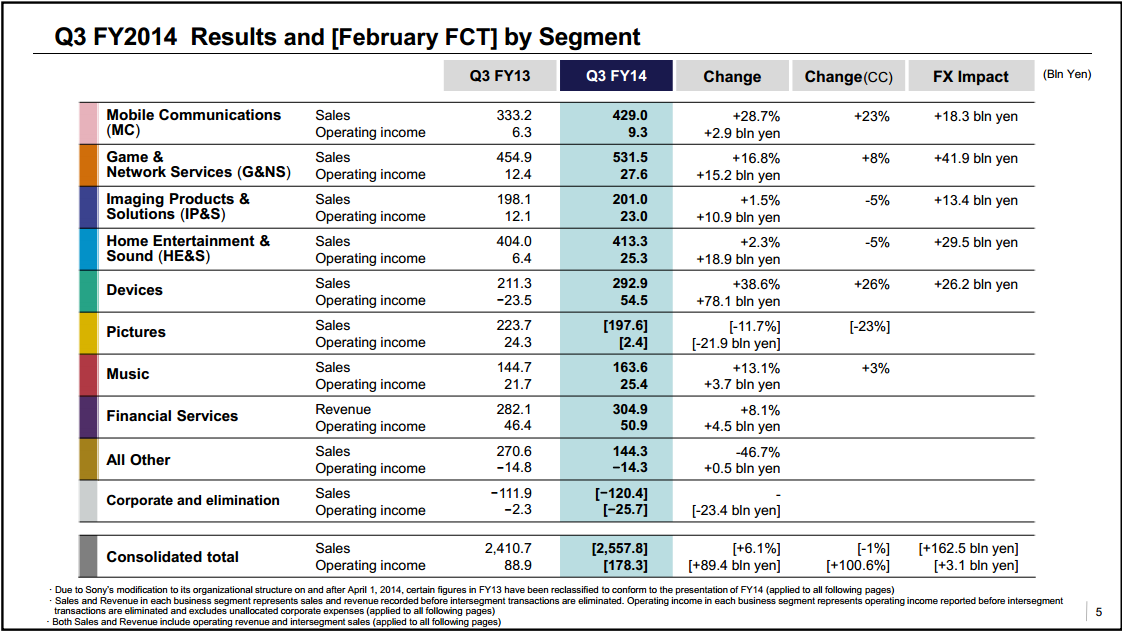 Software revenue also was up significantly, hitting ¥147 billion after last year's ¥128 billion. The full-year forecast is ¥450 billion.
Network Services revues also saw a "significant boost": doubling sales from ¥50 billion to ¥100 billion. That's likely an indication of improved subscription rates and purchases for PSN+, as there was unlikely to be any significant upturn in the business of SOE before its sale.
As a result of all this, operating income for Games and Network Services was up 122 per cent in Yen value year-on-year to ¥27.6 billion ($228m) with a full year forecast of a ¥40 billion. (Whilst Sony saw a favourable result from currency fluctuations on sales, the "the high ratio of U.S. dollar-denominated costs" meant that there was an "unfavourable" impact on operating income from high Dollar appreciation rates.
As a whole, the company had a healthy quarter, too, seeing ¥2,557.8 billion ($21bn) in revenues and a net income of ¥89 billion ($736m). Pictures felt big losses, and the cost of the exit from the PC business was felt keenly, but most other segments performed well, particularly imaging and devices. Smartphone sales were up, too.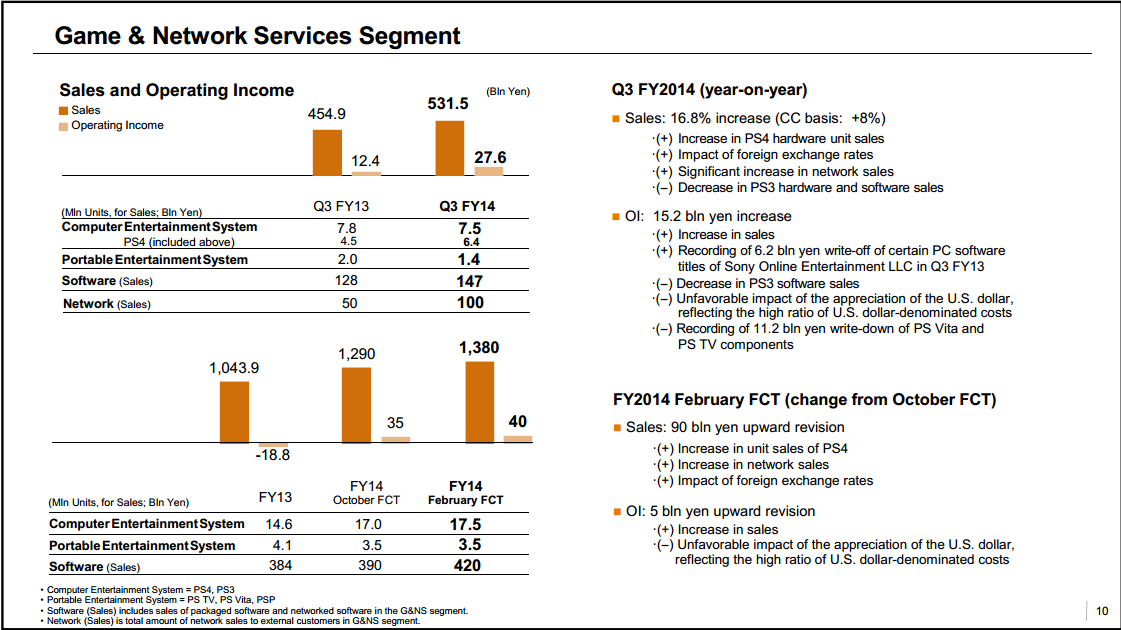 Sony continues to spin many plates, with mixed results. A full year forecast of a ¥170 billion loss is ¥60 billion better than the corporation was expecting in October, but is unlikely to appease shareholders to any significant degree. Andrew House can be certainly be congratulated for his helmsmanship, then, but he's also likely to feel a little frustration as his department's gains are swallowed by the larger picture. Don't expect PlayStation to go the way of SOE, however - there's really no solid case for spinning the PlayStation business out on its own just yet.