PlayStation 5 will cost $500, all-digital version is $400
Both consoles launch November 12 in select regions, November 19 worldwide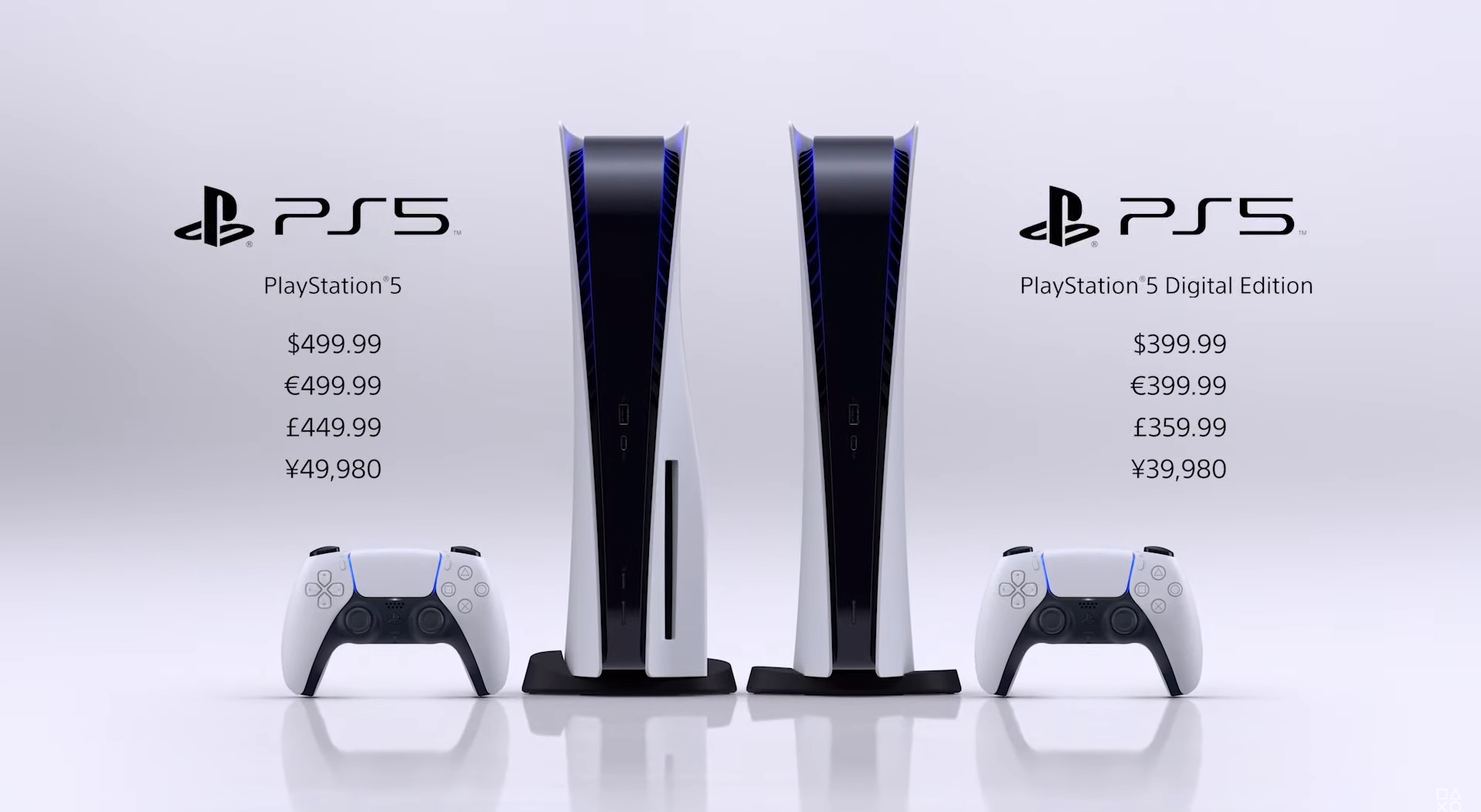 Original story: The PlayStation 5 console will launch on November 12, and will cost $499, or $399 for the all-digital edition.
This was announced today during Sony's PlayStation 5 Showcase, during which a number of games coming to the platform were also highlighted.
The PS5 launch date of November 12 is specifically for the US, Japan, Canada, Mexico, Australia, New Zealand, and South Korea, with all other regions of the world getting the console on November 19 save for China, for which launch plans are "still under exploration and will be announced at a later date."
And according to Geoff Keighley on Twitter, pre-orders open tomorrow at select retailers.
Sony held back on announcing any launch exclusives during the actual presentation once again, though Keighley also revealed on Twitter following the presentation that Demon's Souls would be a launch title for the system.
In the presentation itself, Sony did highlight a few system exclusives, including the announcement of Final Fantasy 16 as a console exclusive being developed by Square Enix's Creative Business Unit III.
Also highlighted was Spider-Man: Miles Morales, which is coming to both PS4 and PS5 at launch and will be sold in a standard edition for $50, or an ultimate edition for $70 that includes Marvel's Spider-Man: Remastered -- both the original game and DLC content.
Avalanche's title set in the Harry Potter universe was finally revealed as Hogwarts Legacy, an open-world game coming in 2021, and Capcom brought both a new trailer for Resident Evil: Village and the announcement of Devil May Cry 5: Special Edition, which will be digitally available on PS5 at launch.
Other games that were shown off were Call of Duty: Black Ops Cold War, Deathloop, Oddworld: Soulstorm, Five Nights at Freddy's: Security Breach, Fortnite -- which will be available on PS5 at launch as well -- and a teaser for a new God of War game.
And Sony also showed off a new PlayStation Plus Collection tied to its PlayStation Plus subscription service, that will come with a number of PS4 titles and will be available at launch.
Update: According to a PlayStation blog post, other launch day exclusives will include Spider-Man: Miles Morales, Destruction AllStars, Sackboy A Big Adventure, and Astro's Playroom -- though at least some of these titles will also launch on PS4.
Additionally, Sony has given pricing for its DualSense controller at $69.99, the Pulse 3D wireless headset at $99.99, HD Camera at $59.99, Media Remote at $29.99, and DualSense charging station at $29.99.