PlatinumGames scores first UK No.1 with Astral Chain
Narrowly beats Wreckfest, The Dark Pictures and Control to the top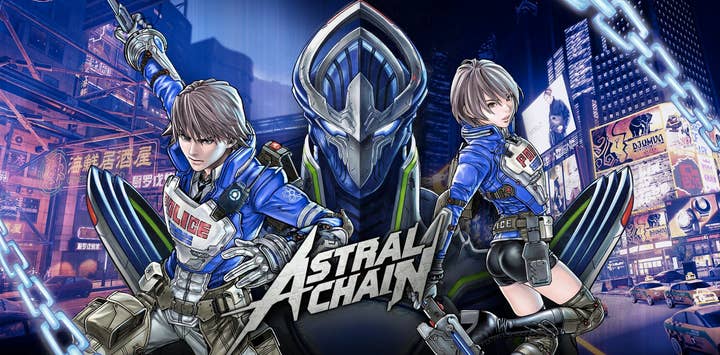 In one of the most competitive battles for No.1 in UK charts history, Astral Chain has emerged as this week's physical UK best-seller.
The disc version of the game is the first time Japanese developer PlatinumGames has scored a No.1 in the UK charts. It is the firm's fourth most successful launch, and its second biggest new IP launch since Bayonetta all the way back in January 2010. Platinum's last highest charting game was Metal Gear Rising: Revengeance in 2013, which reached No.2.
It's the sixth Nintendo Switch game to reach No.1 this year.
It's worth noting digital sales are not included and publisher Nintendo does not share download data, so we'll never truly know how well the game really did. Or if the other games would have beaten it with digital sales included.
Astral Chain actually beat three other new releases to No.1, with just 1,500 units separating all four on them. Missing out on the top spot by 1,100 units is another new IP, Wreckfest, published by THQ Nordic. Wreckfest was developed by Bugbear Interactive and is viewed as a successor to the FlatOut series.
Another new IP is at No.3 in The Dark Pictures Anthology: Man of Medan by Bandai Namco and Supermassive Games. The story-driven horror game was a mere 250 copies behind Wreckfest and follows in the footsteps of Supermassive's BAFTA-winning Until Dawn.
The final new IP is at No.4 in the form of Remedy's new action game Control, which was just 300 units behind Man of Medan. The game was published by 505 Games and is Remedy's first release following a period of making games for Xbox.
Last week's No.1, Mario Kart 8: Deluxe, has been pushed down to No.5.
The only other new release is down at No.22, which is where Collection of Mana for Nintendo Switch can be found.
The biggest riser of the week was Marvel's Spider-Man, which returned to the Top Ten (at No.8) after a 221% sales jump. The increase in sales was driven by some discounting at UK retail.
Here is the UKIE/GfK Top Ten for the week ending September 1:
| Last Week | This Week | Title |
| --- | --- | --- |
| New Entry | 1 | Astral Chain |
| New Entry | 2 | Wreckfest |
| New Entry | 3 | The Dark Pictures Anthology: Man of Medan |
| New Entry | 4 | Control |
| 1 | 5 | Mario Kart 8: Deluxe |
| 3 | 6 | Crach Team Racing: Nitro-Fueled |
| 2 | 7 | Super Mario Maker 2 |
| 34 | 8 | Marvel's Spider-Man |
| 7 | 9 | Grand Theft Auto V |
| 9 | 10 | Tom Clancy's The Division 2 |