Empowerment through development: The Pixelles Game Incubator
A free workshop for Montreal's aspiring female game developers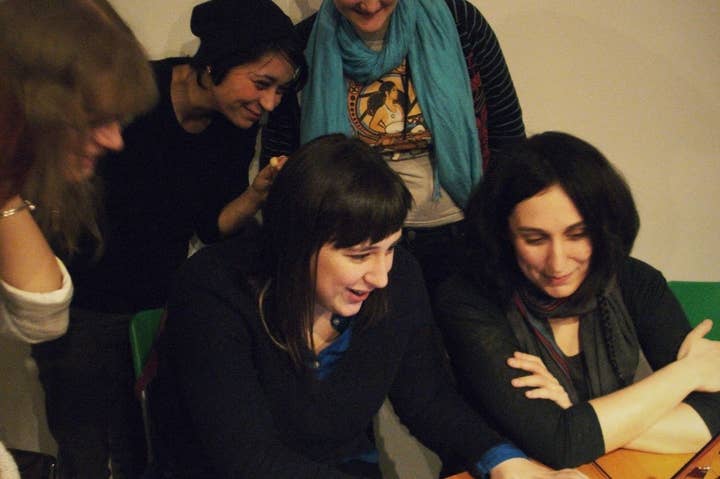 It's an intimidating time to be a woman who wants to makes games. It's always been a male-dominated culture, and recent events have only made it feel more exclusive than ever. Luckily, there are people working to address that issue and give women a chance to overcome the obstacles that stand in their way. Enter Rebecca Cohen Palacios, Tanya Short and the Pixelles Game Incubator.
"The main goal of the incubator and even Pixelles is not just to make games but to be empowered - not only to make more games but as a woman," Cohen Palacios told GamesIndustry.biz
"It's no secret that games culture isn't the friendliest space to women. By offering a safe space to learn in, free from that kind of hostility and cultural pressures, women can explore games, problem solve together, support each other, and finally be empowered by that experience."
The incubator is open to anyone who identifies as female and can attend the workshops in Montreal, no former development experience required. Applications are open until November 30 and successful applicants can look forward to a six week, free workshop that offers advice on tools and applications, input from mentors and support from the rest of the group.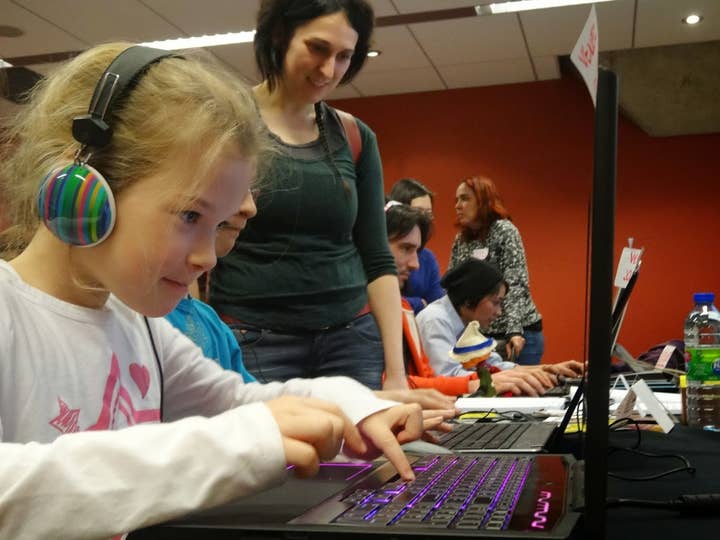 "Empowerment is so important. After the first and second round of the incubator, we saw immediate impact and we're still seeing long-term results. Where previously participants were shy or felt intimidated by male-dominated game spaces (like a game jam, for example), they're in there making new games, actively participating in games culture, and encouraging other women by their presence and enthusiasm for making."
Cohen Palacios identified three main obstacles to women making games, professionally or as a hobby: not knowing programming, not knowing where to start and a lack of confidence around the subject.
"It's no secret that games culture isn't the friendliest space to women"
"You might have been told that games are for boys, especially growing up. Or you might want to go to a workshop or a jam to make your first game but were intimidated by how many guys there were, felt uncomfortable, and walked away. Or that the game you want to make really isn't a game or doesn't fit within the box definition."
The results speak for themselves, Pixelles has provided a handy chart (below) that shows just how active in games development the first set of incubator attendees have been.
"Nearly each of our alumnae have gone on to create more games and be empowered to participate in the Montreal's game community as a culture, professional, and a creative space."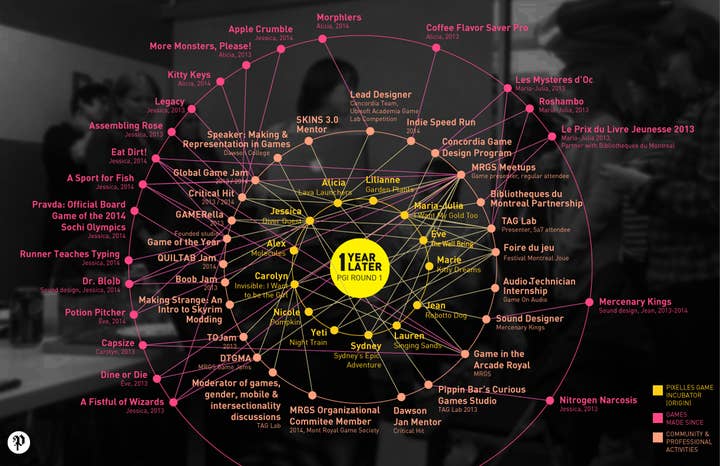 The incubator already has an impressive line up of mentors on board to help out participants, below are just a handful.
Roxanne Blouin-Payer (WB Games)
Leanne C. Taylor-Giles (Eidos Montreal)
Nicolas Barrière-Kucharski (Double Stallion)
Aurélie Le Chevalier (Ubisoft)
Xin Ran Liu (Kitfox Games)
"Anyone, anywhere in the world can volunteer! If you're in the games industry and you want to inspire future generations of women to make and be in games send us an e-mail to info@pixelles.ca. We'd love to have your voice!"
The response to the first two incubators has been enthusiastic and Cohen Palacios is looking forward to even more applications for the third.
"Everyone we've talked to has been super supportive and eager to help out. It's even lead to some stellar partnerships such as Notman House, Funcom, Festival Montreal joue, IGDA, and this year the incubator is being hosted at a certain [and currently top secret while Pixelles confirms the paperwork] AAA game studio.
"At the end of each incubator, we have a showcase to celebrate our new game makers and every year we need to find a bigger venue. Last year's showcase clocked over 150 attendees from friends to indies to people from AAA industry coming out to support and celebrate women in games."
For anyone who doesn't identify as female or can't make the trip to Montreal Pixelles also offers a remote incubator, setting assignments and posting sessions online. More information on that can be found here.