Pixel Toys: From standing start to 3DS publisher in 6 months
Global launch for UK studio after working at "breakneck speed"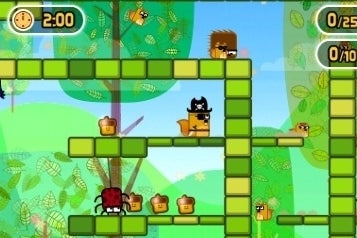 UK studio Pixel Toys today launches its first game on Nintendo's 3DS console, only six months after the business started.
Super Little Acorns 3D Turbo goes live in Europe, North American, South Africa, Mexico and Brazil in a project that has been "executed at breakneck speed" according to studio founder and CEO Andy Wafer.
"More companies operating in this way will stimulate the market further, and that's to the benefit of everyone"

Andy Wafer
"We've gone from a standing start to global video game publisher in record time and this has all been achieved with a small core team," he said.
"The message we want to share is that it's now possible for small companies like Pixel Toys to publish their own console games. If we can, others can too, and we believe that more companies operating in this way will stimulate the market further, and that's to the benefit of everyone."
Officially announced at the end of last year, Pixel Toys' Wafer and partner Alex Zoro had experience at Codemasters and FreeStyle Games before setting up on their own. It's this experience and a more open approach to self-publishing from console manufacturers that has seen the company develop, market and publish a game in such a short space of time.
"I gained a good understanding of the development and publishing process whilst being employed by some of the biggest companies in the industry," continued Wafer.
"At Pixel Toys we've managed to streamline our third-party publishing and get it working effectively in a company structure that's only a fraction of the typical size. It's a clear sign that times are changing in the games industry, that change is driven by a growing independent development company culture and increasing flexible console publishing requirements.
"Not so long ago this would only be possible with the backing of big businesses and deep pockets. Now it can be done with a handful of talented people with the right vision."
While publishing on mobile platforms in a short space of time is common, to do so on a global scale on a console - a process that includes six different languages, age-ratings boards to satisfy and legal approval - is testament to the amount of hard work put in to the business.
"It's actually quite unusual even for larger companies to release a game around the world on the same day," he added.
"We have to communicate the game effectively to Nintendo 3DS owners around the world, Nintendo help with this quite a bit, and provide channels for that, but the responsibility is with us to make it happen and to get those communications right. It's a lot of work and it's not for everyone, understanding the audience and how to reach them cost-effectively is crucial to success."
Now the game is reaching customers, Pixel Toys is looking at expanding to other markets with eyes on China, Japan and South Korea, as well as working on new projects for different formats.