Perlman's "ego" key to decline of OnLive - report
Former employees describe cloud gaming company's struggles, and the role of its "genius" founder and CEO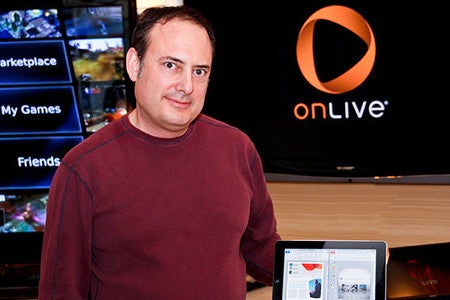 A new report on the once ascendant cloud gaming service OnLive has placed responsibility for its struggles on founder Steve Perlman's "ego".
The Verge spoke to a number of the company's former employees, who describe in detail its decline following its widely discussed debut at San Francisco GDC in 2009.
The sources claim that, prior to its recent transition, OnLive never had more than 1600 concurrent users worldwide, with thousands of servers unused at any given time. The figures released by the company were 2.5 million users and 1.5 million MAUs, but they included anyone who had signed up for a free account or used their account in the last 12 months.
More importantly, very few of those people actually paid any money, taking advantage of the service's free game demos instead. Even a game like Homefront, one of OnLive's apparent success stories, sold in "the low thousands", and its PlayPack subscription service had only 12,000 subscribers.
"We had single-digit income a lot of days after launch," one former employee said.
While OnLive was arguably ahead of its time, with connectivity issues a constant problem in expanding its user-base and convincing publishers to sign deals, many employees have claimed that founder and CEO Steve Perlman sabotaged some potentially vital deals.
According to The Verge, Mass Effect 2 and Dragon Age: Origins were ready for the service's US launch. However, when the news that rival cloud gaming service Gaikai had signed a deal with EA arrived at the OnLive booth at E3 2010, Perlman was enraged - "He went ballistic. We had to slam the conference room shut and crank up the music so people wouldn't hear him."
Despite Gaikai only hosting demos of EA games, Perlman asked for exclusivity; when it was refused, he ordered that all EA games be pulled from the service. After that, any games hosted by Gaikai were off limits, even those that had already been prepared and tested for OnLive: deals for The Witcher 2, Bulletstorm and Ubisoft's games all fell apart.
The problems at OnLive became apparent earlier this month, when the company laid off its entire staff on grounds of bankruptcy. The company's IP and assets were then acquired by Gary Lauder, one of its investors, and OnLive returned as a new company. Initially, it seemed that Perlman would stay on as CEO, but he was replaced shortly after by the OnLive's head of operations, Charlie Jablonski.
The new OnLive claims that half of its former workforce has been re-employed, but The Verge claims that the actual number is closer to 60, with many of them on 30-day contracts. The sources also claimed that key departments have completely disappeared, including the team responsible for preparing new games for the service.