Peak Games: Conquering the Middle East
Peak Games sees the Middle East, North Africa, and other emerging areas as strong markets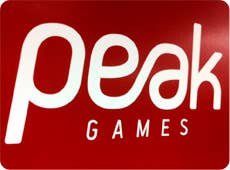 Getting to the #5 position in the AppData leaderboards for social games is an impressive achievement, especially when you've done it without the USA, Europe, or Asia as part of your target markets. Peak Games has done just that. The Istanbul-based developer/publisher currently has over 4 million DAU (daily active users) right now, and has hit 7 million recently. How have they done it, and where are they headed? GamesIndustry International spoke with Peak Games' marketing consultant Nicole DeMeo to get some answers.
Peak Games raised $11.5 million in an investment round last year, fueling its expansion in the Middle East. The company has acquired studios in several countries, as well as publishing games from other places. "It's both a development and a publishing model," said DeMeo. "A number of the games have been developed in-house." One of the keys to their success is proper localization, or what DeMeo called "hyperlocalization." Games need to be culturally competent, which means being properly localized for the culture.
The top game for Peak is Okey on Facebook. This is a tabletop game that people have played in Turkey for years and years, brought to the Facebook platform. "What we've found is that users engage with the game in slightly different ways than are typical of other social games," DeMeo explianed. "It's very cultural. What happens within Okey is people are communicating quite a lot. It becomes a social form of communication. Being in parts of the world where it may not be as prevalent to go out to a cafe and socialize that way, this becomes a great way to connect."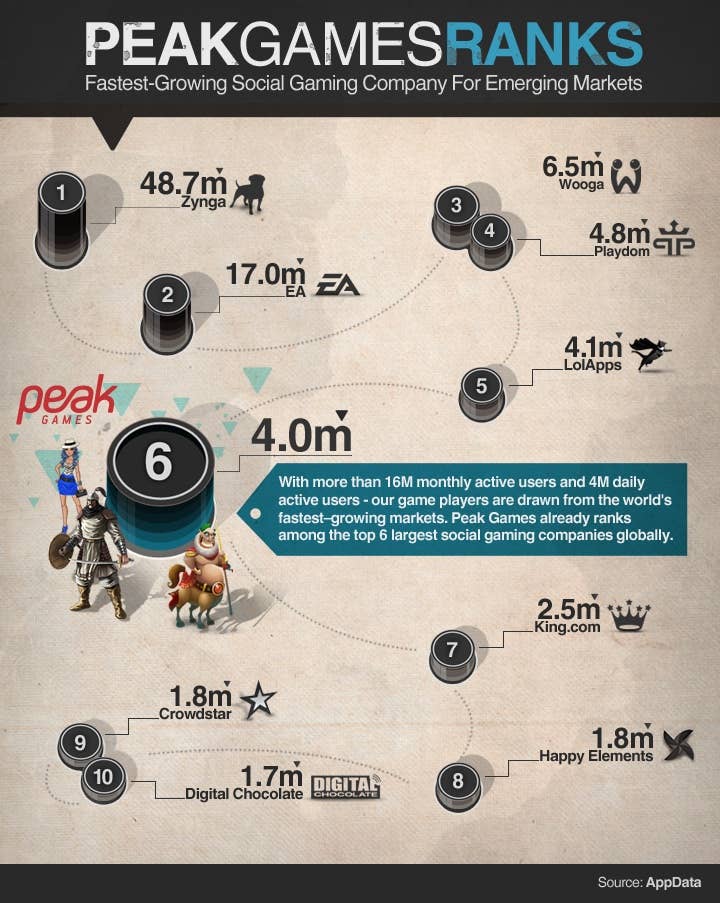 Peak's game portfolio includes a wide range of games. Umaykut is a strategy game based on Turkish history; Erlikhan is a strategy game with a fantasy theme on Facebook. "In the MENA (Middle East, North Africa) region we have Happy Farm, which is the second largest farming game in the world; it's Arabic only," noted DeMeo. "Saudi Arabia is a very exciting market, with a very high number of 'whales'."
More than two-thirds of Internet users in Saudi Arabia play games online, and the country has one of the highest average revenue per user (ARPU) rates in social gaming. There are a number of high-paying customers in the Gulf region, where wealthy families make up a good percentage of those who have easy access to computers and smartphones.
"Like Zynga is to Facebook, Peak Games is to Facebook in the Middle East"

Nicole DeMeo
Sidar Sahin, chief executive officer and founder of Peak Games, has had many game startups in his past, and he and his crew have extensive experience in the area. "He's worked with many of the team members for ten years or more," noted DeMeo. "I think there are a lot of important lessons here, such as hyperlocalization. If you are completely immersed in a culture, you get it, you can make that connection. I think some companies have come into these countries and some of these translations are so bad they're offensive."
Peak Games has been growing through acquisition, acquiring studios such as Umaykut and Erlikhan, both based in Turkey. Over the last year, the number of gamers in Turkey downloading free games climbed to over 5 million, a 534 percent increase since 2010 - and more than 14 percent of the country's total population. More recently, Peak Games acquired Kammelna, a studio of 20 people based in Damman, Saudi Arabia, which produces the hit game Baloot (based on a popular Middle Eastern card game). "We're bringing it to the Facebook platform," said DeMeo. "That's been something really interesting and exciting to see; the growth of these games is helping Facebook to grow in these markets. Like Zynga is to Facebook, Peak Games is to Facebook in the Middle East."
There are around 150 people in the company now, with offices in Dammam, Amman, Berlin, Istanbul. Peak Games is looking to move beyond social game versions of card games and board games to a much broader portfolio of games. "The focus is really to be all things gaming for Turkey and the Middle East," DeMeo said. This means core games, mid-core games, social games, and extending into mobile games. Peak is also taking games from RockYou and publishing them in localized versions for the region.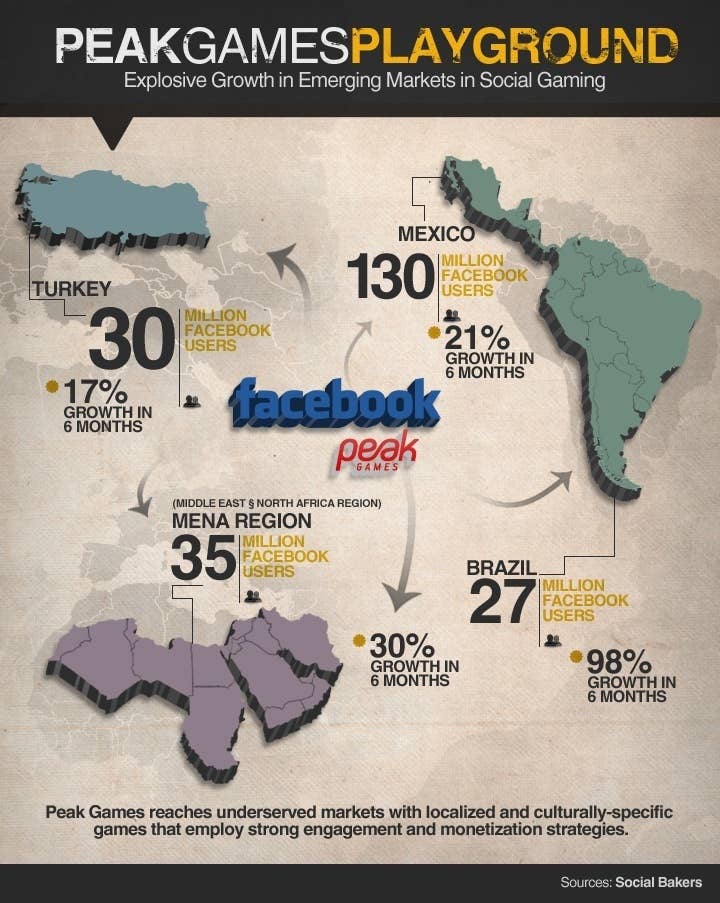 Growth is something that Peak manages carefully. "The publishing partner side of the business is very, very thoughtful growth," explained DeMeo. "Sidhar doesn't do a transaction with a company unless he has a very strong sense of their commitment to partnering with us. It's not just a transaction that happens in a month; this is a very relationship-based business. Peak is focusing more on developing games rather than publishing them, as well as growth by very strategic acquisition." This allows Peak Games to add personnel in a cohesive group that's already in place, and helps extend their ability to localize in different markets.
The potential for future growth in the region is good. There are over 400 million people in MENA, so the accessible market is large, especially as Internet and smartphone usage continue to grow rapidly in the area. Peak will be moving their current games across platforms, including Facebook and mobile, localizing for the different regions. There will probably be more growth by acquisition, and more deals with other publishers to bring their games to the MENA region. Other areas that are under-served by games, such as South America, are also in the plans.
The underlying message for the game industry is that the market for games is more than just North America, Europe, Japan and China. As Internet usage and smartphone adoption continue to grow rapidly around the world, other regions are becoming viable markets for browser-based games, social games, and mobile games.
These emerging areas will never develop the infrastructures needed for distribution of packaged games, nor a market for dedicated game consoles. The revenue possibilities are substantial in these markets if the development costs are kept low, and products are localized properly. This implies using local talent as much as possible, both for cultural/linguistic reasons and for cost reasons. Peak Games seems well positioned for these trends, and we'll check in again to see how the strategy is progressing.