Outfit7 app hits 360m downloads
Talking Tom Cat developer says apps aren't a flash in the pan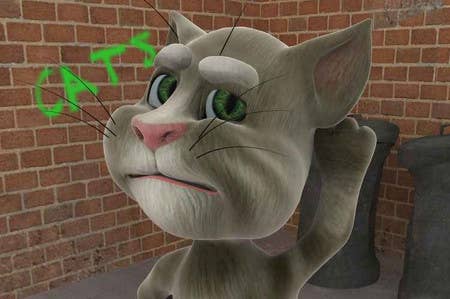 Mobile developer Outfit7 has revealed that its Talking Tom Cat app has now passed 360 million downloads, and has a staggering number of monthly active users.
"We have now passed 360m downloads, and we have a little bit more than 100m monthly active users," executive chairman Narry Singh told The Guardian.
The game, available for Android and iOS, was first released June 2010 and repeats what players say in a funny voice. Outfit7 had previously reported that on Christmas Day 2010 alone it made $200,000. And business is still good.
"The numbers seem to be rocketing upwards at a slightly faster trajectory than last year, and we have very aggressive and ambitious goals for 2012. Over the holiday season, we averaged 1m downloads a day."
The series has expanded to include ten more apps, including Talking Bacteria John, Rex The Dinosaur, Lila The Fairy. Each app is carefully cross promoted so users download more than one. 45 per cent of 100,000 Outfit7 app users have two or more.
"I'm very bullish: I don't think apps is a flash in the pan," Singh said of the company's success. He also explained that other, more traditional media companies, are realising the reach of small mobile developers.
"If you look at our monthly actives, we're already twice the size of America's largest TV network," he said.
"Furthermore, we have a granularity of understanding about our users that they have only fantasised about in the analogue world."
"It helps that some of the CEOs of the largest media companies in the world have grandchildren who are obsessed by Talking Tom Cat... They realise that the next Harry Potter will not come from Hollywood or Bollywood, but from a mobile app."
Four months ago the company announced that its entire range of Talking Friends product had seen 225 million downloads, when Singh also referred to the next Harry Potter coming from the mobile market.