Optimism at Atari?
10 Years Ago This Month: With a high-profile hire, a new vision, and an anticipated Alone in the Dark reboot, gaming's original titan was poised for a comeback
The games industry moves pretty fast, and there's a tendency for all involved to look constantly to what's next without so much worrying about what came before. That said, even an industry so entrenched in the now can learn from its past. So to refresh our collective memory and perhaps offer some perspective on our field's history, GamesIndustry.biz runs this monthly feature highlighting happenings in gaming from exactly a decade ago.
Atari is going places
It may be difficult to remember these days, but for an all-too-brief span this millennium, there was optimism around the Atari brand. We can trace that fleeting glimmer of hope back to March of 2008 and the hiring of Phil Harrison to be president of Infogrames, the French publisher and latest in a long line of companies to wear the grotesque hide of the mighty beast once known as Atari.
Harrison was coming off a very successful run with Sony, which saw him join the company two years before the launch of the original PlayStation to build the London SCEE studio, and ended with him serving as the head of Sony Worldwide Studios. His hiring was a Big Deal, and it wasn't the only thing seemingly going in Atari's favor. The company had also just hired David Gardner to be its CEO. A 25-year veteran of Electronic Arts, Gardner was COO of EA's Worldwide Studios by the time he left, and he arrived at Atari with an online vision for the company.
"It's a testament to how loved this brand is that people are willing to forgive it, it's a brand that people want to succeed"

Atari CEO David Gardner, 2008
"For me, the future is in creating very high quality games that are using technology with games playing on a server," Gardner told us after Harrison's hiring. "That also gives you really seamless multi-user experiences so you can create socially dynamic things that are really interesting. Exactly, not worrying about configurations and all those performance issues. All that stuff should be seamless like a phone service - you pick up the phone and you get a dial tone and that's it. You should be able to go to the computer and get some game time."
Gardner's vision was certainly ahead of its time. OnLive, the first major entrant in the game streaming category, wouldn't be announced for another year, and it would be a year after that before it went live. Granted, OnLive wasn't exactly successful, and companies are still struggling to make game streaming into a sustainable business today.
But we didn't know that at the time. All we knew was that there were unquestionably experienced people at the helm of the company with a history of success, and they had a unique vision guiding the whole thing. It didn't hurt that the Alone in the Dark reboot nearing completion was shaping up to be pretty cool. It was, after all, by Eden Games, a top-flight racing game developer whose only previous non-racing game, Kya: Dark Lineage, wasn't just an incredibly ambitious step outside the studio's comfort zone, but put most other platformers of the era to shame. (Unfortunately, Kya's sales put Atari's publishing and marketing abilities to shame as well.)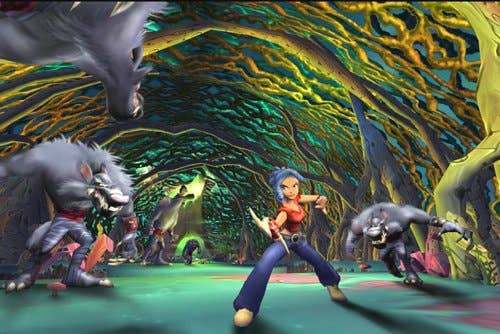 Of course, there was still some skepticism. In the years prior to Gardner and Harrison's arrival, Atari had sold off studios like Reflections, Shiny Entertainment and Melbourne House, along with some of its most relevant IP, like the Civilization and Driver franchises. But as Gardner pointed out, there was still a certain amount of fondness for the Atari name.
"To me it's a testament to how loved this brand is that people are willing to forgive it, it's a brand that people want to succeed," Gardner said. "If you think about that versus some of the major brands that people love to hate, they may be well recognized but people don't cut them any slack."
Unfortunately, Gardner and Harrison were unable to turn the company around. They were both gone a little over two years later, off to form London Venture Partners, and Atari languished for years before declaring bankruptcy in 2013. (Side note: Harrison continued to pursue the vision of on-demand game streaming, as he invested in OnLive competitor Gaikai, which Sony acquired in 2012 for $380 million.)
The current occupants of the Atari skin suit purchased the company out of bankruptcy, and have since taken the company into real-money gambling, LGBTQ dating app development, Bluetooth speaker-equipped apparel, microconsoles, and cryptocurrency. These endeavors have met with varying degrees of success, but at this point it's quite debatable how much people still want the brand to succeed.
Midway, half-dead, one foot in the grave
Speaking of doomed publishers, Midway was still around in March of 2008, suffering the effects of a misjudged transition to the new generation of consoles. The company committed to using the Unreal Engine across its next-gen catalog, and then had considerable difficulty getting the tech to work on the PlayStation 3. And even when Sony's platform wasn't an issue--such as with the Xbox 360 and PC World War II shooter Hour of Victory--quality was.
Midway was by no means relying on Hour of Victory to bring home the bacon, but the same could not be said of 2007 releases like the John Woo-associated, Chow Yun Fat-starring Stranglehold, Unreal Tournament III, and BlackSite: Area 51, none of which could salvage the company's year. When Midway reported its full-year numbers in March, it revealed a staggering $97.4 million in full-year losses for 2007. This was for a company that only pulled in $157.2 million in revenues for the year as it was.
As for how the company would turn things around, CEO David Zucker told investors the company would soon be launching an online casual games portal and casual console titles in the near future, a move that felt like an opportunistic fast-follow of Nintendo's success with the Wii and Brain Training games, but without the "fast" part.
It didn't turn out to matter that much, as in the even nearer future, Zucker would resign as CEO after a five-year stint that left Midway's future in question. Ultimately, Zucker's legacy is a complicated one. On the one hand, his tenure did produce Mortal Kombat: Shaolin Monks. On the other, it failed to produce a sequel to Mortal Kombat: Shaolin Monks.
Even as he was heading out the door, Zucker was insisting the company would turn things around. Within a year, Midway declared bankruptcy, and was acquired at auction by Warner Bros. for $33 million--the only bid received--a few months after that.
While Warner Bros. has profited greatly from the Mortal Kombat franchise it picked up in that acquisition, it uses the Midway name sparingly today. It published a Midway Arcade Origins compilation in 2012, and more recently released the Lego Dimensions Midway Level Pack, which allowed players to build a tiny Lego arcade cabinet and play a variety of the company's arcade classics, including Defender, Joust, Gauntlet, and Toobin'.
Our dystopic past
Just a reminder that Tom Clancy sold his name to Ubisoft (for use in video games). Not licensed. Not loaned. Sold. I didn't even know that was a thing you could do.