OnLive partners with LG, upgrades spectator features
Cloud gaming service also adds one click gaming, plans to show all features at E3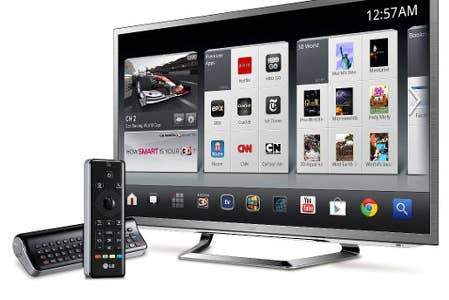 Cloud gaming service OnLive will be showing off its latest partnership with LG Electronics at this year's E3, as well as new features like in-game spectating and one-click browser gaming.
LG's G2 series of televisions, with Google TV, will let consumers access all of OnLive's gaming services without the need for any hardware other than a compatible gaming pad.
"It's always been our mission to make top-quality gaming accessible to everyone, everywhere," said CEO Steve Perlman.
"OnLive adds no cost to LG Smart TVs, but delivers a full console-class experience. We're excited to make on-demand top-tier gaming an integral part of the living room entertainment system on LG's state-of-the-art TVs."
Access to OnLive's social features will be free, along with free 30 minute demos of available games. Access to full games will be available through a subscription. 3D functionality will be added in the near future with a free software update.
"LG Google TV's superior performance, coupled with OnLive's innovative games-on-demand service, unleashes powerful new entertainment possibilities for gaming enthusiasts," said LG Electronics USA's Georg Rasinski,
"Cloud gaming complements the virtually limitless content options already available through our exciting G2 series TVs."
As well as the LG partnership OnLive is also updating its spectator features and browser gaming service, which will allow publishers to give customers one-click access to games. It goes live today in Europe and America.
OnLive MultiView, meanwhile, offers players more social options, and will go live later this year. With it gamers can chat and spectate while still playing their own game, and is available for both multiplayer and single player titles.
"Gaming is increasingly social, and OnLive MultiView builds upon OnLive's exclusive massive spectating Arena to bring spectating right into your own gameplay, whether multiplayer or single player, with teammates or friends," explained Perlman.
"What's more, because of the power of the OnLive Game Service platform, game developers have no additional work to enable their games for this unique and exciting capability."
The company also revealed that since its launch two years ago with 19 games, the service has now expanded to hundreds of games from over 60 publishers and millions of subscribers. Some of the games soon to be added to that line-up include Aliens: Colonial Marines, Darksiders II, Hitman: Absolution and South Park: The Stick of Truth.
"OnLive continues to pioneer exciting new experiences that are instantly and easily accessible for everyone," he continued.
"OnLive cloud technology is the future, and we are thrilled to continue to bring its unique capabilities to light to a broader audience."