Nvidia Shield tablet will launch on July 29
Gaming focused Android tablet will retail for $299 and up, $59 controller sold separately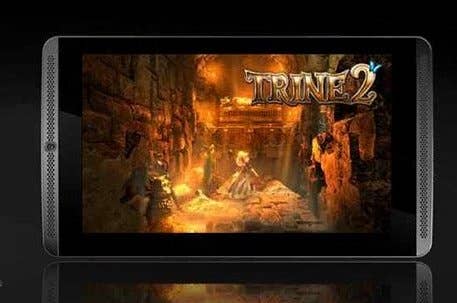 Nvidia will expand its Shield product line with a new gaming focused tablet device and a peripheral controller.
The 8-inch, full HD Shield tablet is powered by the Tegra K1 mobile processor, which has 192 dedicated graphics cores. It will be available in 16GB and 32GB versions - storage can be expanded up to 128GB with MicroSD - with prices starting at $299. The wireless controller will sell separately for $59.
"This is the first tablet with the muscle to handle the technologies that make PC gaming great," the company said. "It lets us bring PC gaming technologies - like tessellation - to mobile devices for the first time. And it lets developers bring powerful, next-generation gaming engines, like Epic's Unreal Game Engine 4, to tablets for the first time."
Besides the power of the hardware, the Shield tablet's most intriguing features are those that integrate it with a larger network of devices. For example, it can stream games from the cloud or from Nvidia GeForce GTX powered PCs and laptops, and it can power a big-screen TV experience using Nvidia's Console Mode. It will also have Twitch built in.
"If you're a gamer and you use a tablet, the Nvidia Shield tablet was created specifically for you," said Nvidia CEO Jen-Hsun Huang in a statement. "It delivers exceptional tablet performance and unique gaming capabilities to keep even the most avid gamers deeply immersed, anywhere they play."
Nvidia has pledged to keep supporting the Shield handheld, which launched in summer 2013.
The Nvidia Shield tablet will launch in the US on July 29, 2014, with a European launch scheduled for August.