NPD: August sales fall 2%, Madden NFL 16 is software #1
93 per cent of console unit sales came from bundles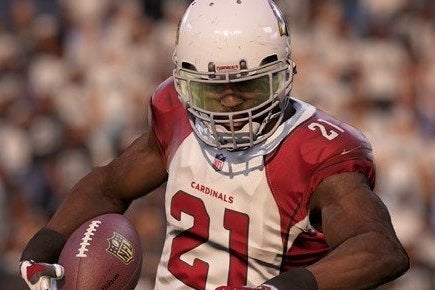 The NPD Group's figures for August are in and showed a 2 per cent drop in sales across new physical software, hardware, and accessories. Software sales saw a 10 per cent drop compared to August 2014 and hardware saw a 2 per cent drop, but accessories saw an increase of 12 per cent.
The top selling game for August was Madden NFL 16.
"New physical software sales for 8th generation consoles, up 34 per cent, did not offset the 51 per cent decline in 7th generation console sales as well as the 24 per cent drop in portable software sales," said The NPD Group's Liam Callahan.
"New launches collectively declined by 16 per cent compared to August 2014 launches. While titles that launched in June trended favorably compared to the performance of June 2014 launches, July launches also declined by 42 per cent."
Looking at hardware in more detail bundles were big news, with 93 per cent of unit sales coming from bundles, compared to 41 per cent in August 2014. In single consoles the latest generation saw a small increase in sales.
"There was modest dollar growth of 3 per cent for eighth generation consoles that was offset by a sharp 61 per cent decline in seventh generation sales. Portables grew 4 per cent over last year."
In accessories video game point and subscription cards, gamepads, headsets and interactive gaming toys all saw growth.
"Perhaps due to retailers clearing out inventory to make room for the launch of LEGO Dimensions, Skylanders: Superchargers, and Disney Infinity 3.0, as well as new amiibo in support of Super Mario Maker, there was a drop in average price for interactive gaming toy accessories, which led to a 30 per cent increase in unit sales versus last August," added Callahan.
Sony Computer Entertainment America reacted to the month's sales with the following statement.
"We would like to thank our fans and partners for their ongoing support of PlayStation and for making PS4 the top selling console and #1 in software sales in North America in August. We continue to demonstrate our commitment to delivering the best content line-up with the launch of first-party exclusives like Until Dawn and third-party titles like Madden NFL 16, which sold more on PS4 than any other platform.
In August we also saw the most successful beta in PS4 history with Call of Duty: Black Ops III, marking a significant milestone in our new partnership with Activision. We look forward to furthering momentum with the launch of Destiny: The Taken King next week."