Nordic Game Discovery Contest reveals 15 finalists for 2019
Finalists were picked during heats at 15 global games events, with the overall winner to be announced at Nordic Game Conference 2019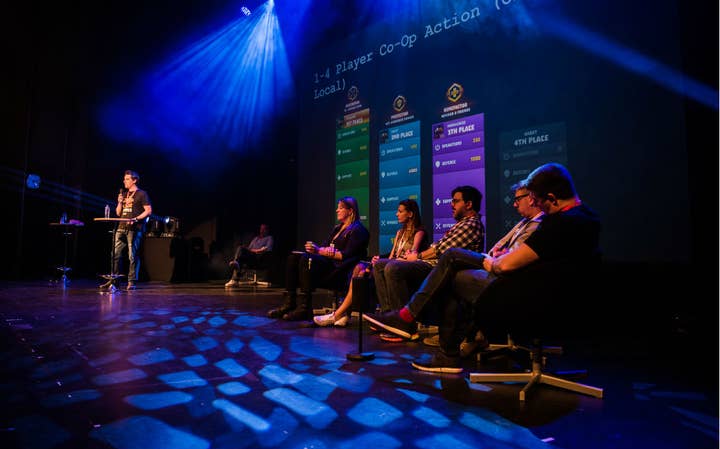 The 15 finalists of this year's Nordic Game Discovery Contest have been announced, with a final "wild card" finalist to be added next week.
The Nordic Game Discovery Contest (NGDC) has already been through 15 heats, which are held at 14 different game events across Europe and one in South Africa. The winners of the heats will all travel to the Nordic Game Conference later this month, where the grand final will be held.
The NGDC 2019 finalists are:
Path Out - Causa Creations, qualified at Game Dev Days, Austria
Keg Wars - Flying Pan Studio, qualified at Game Dev Camp, Portugal
Bossgard - Sand Sailor Studios, qualified at Devplay, Romania
Skábma: Polar Night - Red Stage Entertainment Oy, qualified at Northern Game Summit, Finland
Metamorphosis - Ovid Works, qualified at GIC, Poland
Pendula Swing - Valiant Games, qualified at Sweden Game Conference, Sweden
Robbie Swifthand and the Orb of Mysteries - Pixel Reign, qualified at Athens Games Festival, Greece
Tacticool - Panzerdog, qualified at GameOn, Lithuania
Dusk - Dusk Developers, qualified at GameRome, Italy
Drawkanoid - QCF Design, qualified at Make Games Africa, South Africa
Islabomba - Sons of a Bit, qualified at F&S Play Festival, Spain
Helheim Hassle - by Perfectly Paranormal, qualified at NM in Gameplay, Norway
One Hand Clapping - by Bad Dream Games, qualified at Ludicious, Switzerland
Interrogation - by Critique Gaming, qualified at Reboot Develop Blue, Croatia
Vokabulantis - by Kong Orange, qualified at Nordic Game Jam, Denmark
The overall winner of the third annual NGDC will be revealed at the Nordic Game Conference on May 24, 2019. The event will also host the Nordic Game Awards, and feature a speaker schedule led by OtherSide Entertainment co-founder Warren Spector.
The Nordic Game Conference has also programmed a series of sessions to "burning issues" that the industry faces today. Among this year's topics are loot boxes, working with influencers, alternate reality, and unions empowering workers and the games industry.
The 16th annual Nordic Game Conference will take place at Slagthuset in Malmö, Sweden, from May 22 to 24, 2019. For more information on the event, follow the link.
GamesIndustry.biz is a media partner of the Nordic Game Conference. We will attend the event with assistance from the organiser.