Nordic bringing back MX vs. ATV
Publisher jumpstarting THQ's motorsports franchise in first half of next year with original developers at the wheel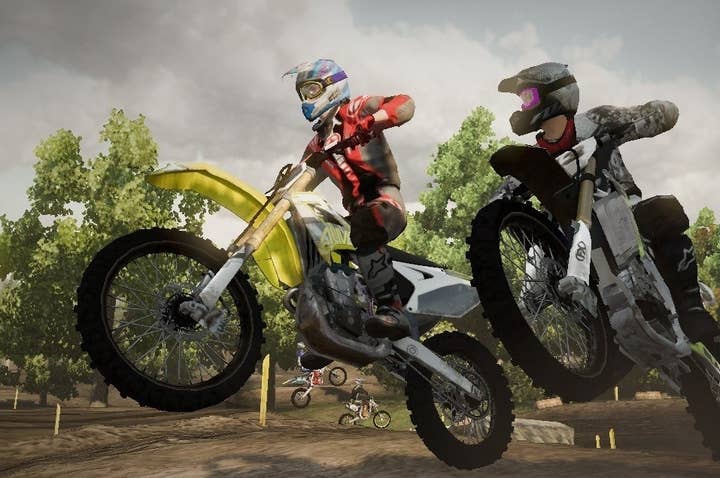 The MX vs. ATV franchise is coming out of the garage. Nordic Games today announced MX vs. ATV Supercross, a new installment in the motorsports franchise that will be released on the Xbox 360, PlayStation 3, PC, Mac, and Linux in the first half of 2014.
Nordic purchased the franchise at a THQ bankruptcy auction in April, along with the rights to Red Faction, Darksiders, Destroy All Humans, Titan Quest, and more for a total of $4.9 million. This is the first of those franchises the company has revitalized with a new title.
"We're all devoted fans of the MX vs. ATV games," Nordic's Reinhard Pollice said.
"So being able to play a part in continuing this brilliant series is a dream come true. We're absolutely committed to ensuring Ken and his team receive the best support and the freedom to create the games they love making - and we're confident that the series will continue to grow from strength to strength. Supercross is just the start of our MX vs. ATV plans. 2014 and beyond will prove to be a hell of a ride."
As for who will create the game, Nordic has assembled a team with prior experience on MX vs. ATV entries or at franchise developer Rainbow Studios. Among the individuals named were Ken George, Dave Dwire, Mike Mamula, Brad Bowling, Scott Hofmann, Justin Walsh, David Knudsen, and Chris Gilbert.
"We're absolutely thrilled to be working with Nordic Games because they appreciate the team's passion and dedication to bring the feel of real motocross racing to MX vs. ATV fans. Not just the adrenaline rush, but the whole experience from top to bottom," added Ken George, executive producer of MX vs. ATV Supercross.
"A lot of the original team members have been aching to continue their passion: building the most authentic off-road racing games possible. The hiatus is over, and the team is back to work on MX vs. ATV with great new things to come."
MX vs. ATV has been dormant since 2011's MX vs. ATV Alive, an experiment from publisher THQ in which the console game was sold for a budget $40 price tag, with the plan being to recoup money with a year's worth of downloadable content added to the mix. Just a few months after the game's release, THQ determined that experiment to be a failure, and shuttered Rainbow Studios (which at that point had been renamed THQ Digital Phoenix).