No Steam Dev Days in 2015
Future events may be contingent on Valve's product line-up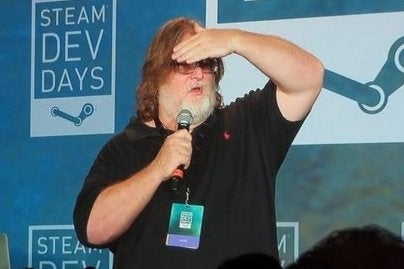 Valve has confirmed that its Steam Dev Days event won't recur this year following its debut in 2014.
Steam Dev Days was introduced in January last year as a conference for users of Valve's sprawling network of products and services, as well as a forum for discussing key trends in the games industry - VR chief among them. It was also off-the-record in terms of press coverage, with most stories seeping out via #SteamDevDays on Twitter.
However, in comments issued to Gamasutra, Valve has indicated that Dev Days may only take place when Valve has something specific to push. Last year, the prototype Steam Machines, the Steam OS and the Steam controller were all major features at the event, but Valve doesn't have enough points of focus in 2015.
"Steam Dev Days was a great way to brief a large number of Steam developers," the company stated. "This year our focus will be a bit different, so we are planning a larger than usual presence at GDC.
"So, there will not be a Steam Dev Days this year, but we will certainly consider doing it again in the future."
San Francisco GDC takes place from March 2 to 6. But you probably already knew that.