"Nintendo will be another titan in the mobile game industry"
The mobile industry reacts with enthusiasm and optimism to Nintendo's huge news this week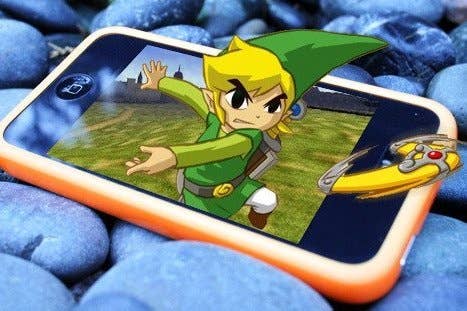 For the first time perhaps since Nintendo launched the original Wii console, there's an excitement in the air that's almost palpable. The news that Nintendo will indeed start making games for smartphones and tablets has taken control of news headlines this week among games media and even gotten the attention of mainstream media (something Nintendo has largely failed to do since the Wii).
While you've already heard from the GamesIndustry.biz staff and our regular contributor Rob Fahey on what the deal with DeNA means, we're now happy to bring you a round-up of reactions from people in the mobile industry.
The general consensus appears to be one of excitement. Rather than being concerned about another top flight games maker entering an already highly competitive space, mobile developers seem to be welcoming Nintendo with open arms. Nintendo helps bring a legitimacy to mobile gaming that some may have felt was missing to this point.
Here, in no particular order, is a collection of quotes from folks in the mobile games industry.
Kristian Segerstrale, COO, Super Evil Megacorp: "It's great to see that more core game developers are taking mass market touch screens seriously as a primary gaming device. We're all huge Nintendo fans and would love to see them do well on mobile! Having more AAA game developers enter the market is beneficial for both players and the industry as it raises the standards for quality. Nintendo has a huge opportunity to broaden their fan base, and also an enormous challenge in ensuring that their brand and in-game experience translates to mobile and tablets."
Teemu Maki Patola, COO of Frogmind: "Nintendo has a lot of strong IPs that are likely to fit mobile gaming well. It also knows how to make good game design. And apparently has realised that strategically it needs to be involved in mobile gaming. DeNA has a lot of experience in making successful products on mobile and knows how to make well performing F2P games. It has a lot of data of analytics, F2P business intelligence etc. I think the partnership can save a few years of Nintendo's time. This way Nintendo is not required to go through the F2P learning curve (in which it has been completely uninvolved) but can skip ahead relying on DeNA's knowledge on the areas it lacks. To really work, the co-operation needs deep strategic partnership which they set with the ritual of buying each other's stock making the success of the other a mutual interest for both."
"Nintendo's move to mobile is another validation of the rapid acceleration of the mobile game market"

Kabam's Kent Wakeford
Jesse Divnich, VP of Product and Insights at Tilting Point: "The 25 percent jump in Nintendo's stock sums up the overwhelmingly positive reaction from investors. Nintendo's partnership with DeNA is Nintendo's acceptance that mobile and tablet devices are a legitimate outlet for interactive entertainment. The partnership with DeNA allows Nintendo to take part in the explosive mobile sector without disrupting their core business. We've seen countless bankruptcies, over spending on studio or tech acquisitions, and outright blunders when large organizations try to pivot on their own. Nintendo made a smart move by accepting a path of least resistance to bring their IPs into other gaming verticals. "More importantly, this is a chance for Nintendo to take back a demographic they once dominated. More kids are getting iPad Minis for Christmas than a Nintendo handheld. We live in a world where more kids recognize Creeper from Minecraft over Mario."
Kabam COO Kent Wakeford: "Nintendo's move to mobile is another validation of the rapid acceleration of the mobile game market. The devices we carry in our pockets have the computing power of consoles. You play mobile games whenever you want, wherever you want, on your time and your terms. The companies offering consumer-favorite IP with AAA high fidelity console quality gameplay on mobile devices will be the winners. Kabam welcomes Nintendo to the battle for consumers' hearts on mobile devices.​"
Michael A. Hoyos, President, Space Rhino Games: "Nintendo has been lagging behind the rest of the industry for some years now. They've been relying mostly on the strength of their IP to see them through tough times; this wasn't going to last very long, especially with their major hardware markets shrinking -- which is also how their IP stays relevant. But one thing they do have is an uncanny ability to materialize jet packs during free falls. They did so when they came up with the Wii and their signature motion sensor controls, and I believe they are doing it again. The deal with DeNA is like a small guy jumping on another small guy's shoulder to punch the big guys in the face. Not that DeNA and Nintendo are small, but the reality is they are no longer the leaders of their respective markets. The Nintendo/DeNA alliance is about to dominate mobile in a big way. From here to a year, we will all be saying, 'Oh yeah, they're back!'"
Samuel Coster, Co-Founder, Butterscotch Shenanigans: "This is huge for mobile games and for Nintendo -- the sort of slumbering giant that's yet to enter the mobile arena in a big way. We're most curious to see how Nintendo works with the mobile market monetization structure: Will they reject the free-to-play schemes of the market and opt for a premium experience, or go full mobile and have us all paying for extra blue shells? It's certain that Nintendo's presence will be a boon to gamers, but it's not clear exactly the effect (if any) it may have on the market itself."
Michael Agustin, Chief Executive Officer, Weaver Labs: "Nintendo's investment and partnership with DeNA gives Nintendo a way to satisfy investors and experiment in the mobile market -- and it gives DeNA a way to move beyond Zynga's fast-follow model into higher quality game design with household brands."
Nancy Lu, Creator of Piiig Inc: "Nintendo will be another titan in the mobile game industry, along the lines of Supercell. With their established brand name and likely support from Apple, they won't have issues getting visibility. The upsetting thing is that they will probably employ the same strategy of free-to-pay and cash in on virtual goods. For those of us who enjoyed playing Mario on consoles growing up, it will really change the way the game is played for the worse. I hope they carefully consider their monetization strategy so that they don't frustrate their old fans. If they do it right, it could really pave the way for a new wave of console-to-mobile games."
Dominic Hamelin-Blais, Creator of Bunnies' Empire: "Considering the successful expertise of DeNA in freemium games, we could expect free-to-play games for the Nintendo IP. It would be interesting to see the collaboration between Nintendo's high-quality standards and DeNA's knowledge of monetization. Nintendo has never been afraid to innovate in the past. The mobile space is constantly changing and is very influenceable. We saw this with Flappy Bird, which introduced quick gameplay loops/sessions. Hundreds of successful games have followed this model. All eyes are on Nintendo and DeNA now. They could have a huge impact on the future of the mobile gaming space."
Ahmed Bukhatir, Chief Executive Officer, Woweez: "I've been a Nintendo lover since 1985, and I always wished that there were other ways I could play their games. Knowing that Mario is now coming to my smartphone, I can't begin to express my excitement. It seems likely that all the original Nintendo titles will be exclusive to the NX device unless Nintendo decides to open its titles to all other platforms, which will allow it to gain a stronger foothold into the mobile game industry. This is a great move, but it could also be dangerous because it's a completely new venture for Nintendo. However, considering that most of the big game development companies are getting into mobile, so should Nintendo. Imagine playing Zelda on a smartphone? Now that's a dream come true."
-András Velvárt, CEO, SongArc Kft: "It will be interesting to see them enter one of the most competitive marketplaces in the gaming industry. Nintendo certainly has the IP and the experience to make a splash."
Ben Cousins, CEO, The Outsiders, via Twitter: "Anyone want to predict which year Nintendo's smartphone game business will be bigger than their home console business?"
Neil Young, Founder & CEO of N3TWORK, via Twitter: "Congrats to @DeNACorp on it's alliance with Nintendo. Huge opportunity for both companies & exciting for fans of Nintendo's amazing games."
Rami Ismail, Vlambeer, via Twitter: "If Nintendo can go into the mobile market, all predictions about this industry are void. Only predictions after March 17th are now valid."