Nintendo runs afoul of GLAAD
LGBT advocacy group takes issue with Tomodachi Life's exclusion of gay marriage, Nintendo says it wasn't attempting social commentary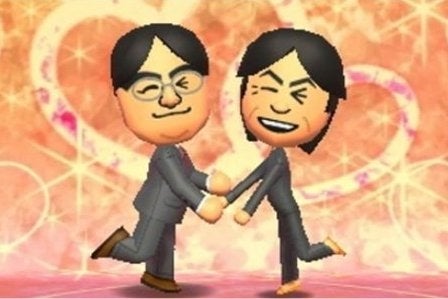 Nintendo is coming under fire for a feature missing from its new 3DS game, Tomodachi Life. The game lets users import their collection of personalized Mii avatars and follow them through a series of life events, including marriage, but it doesn't allow for same-sex unions. While the criticisms to this point had come from within the gaming community, LGBT advocacy group GLAAD weighed in on the matter today with a statement provided to GamesBeat.
"In purposefully limiting players' relationship options, Nintendo is not only sending a hurtful message to many of its fans and consumers by excluding them, but also setting itself way behind the times," a GLAAD spokesperson told the site. "It's been over a decade since The Sims--the original 'whimsical and quirky' life simulator--allowed its users to marry any character they wanted, and many other mainstream and massively popular video games have followed their lead since. Nintendo should do the same."
The issue started gaining traction last week, when Nintendo fan Tye Marini launched a social media campaign dubbed #Miiquality to convince Nintendo to allow gay marriage within Tomodachi Life. Nintendo yesterday acknowledged the campaign with a statement provided to the Associated Press, saying, "Nintendo never intended to make any form of social commentary with the launch of Tomodachi Life. The relationship options in the game represent a playful alternate world rather than a real-life simulation. We hope that all of our fans will see that Tomodachi Life was intended to be a whimsical and quirky game, and that we were absolutely not trying to provide social commentary."
Nintendo also said the possibility of same-sex marriages wasn't part of the original Japanese version of Tomodachi Life, and that other versions were based on that build of the game. As for the #Miiquality campaign, a Nintendo representative said the company was listening and thinking about the feedback, adding it was an opportunity "to better understand our consumers and their expectations of us at all levels of the organization."